Christina Aguilera Bob Hairstyle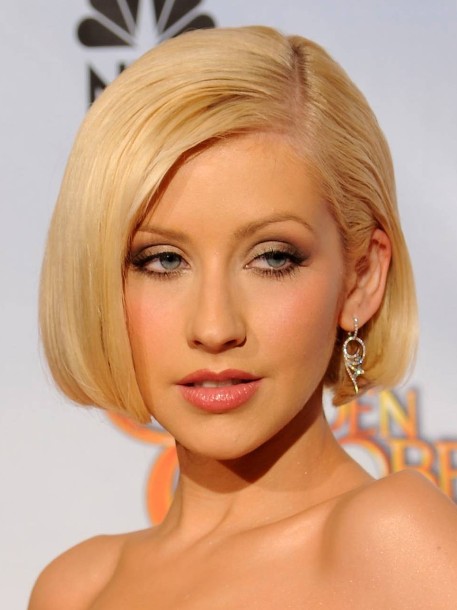 Picture of Christina Aguilera Bob Hairstyle
:
Christina Aguilera Bob Hairstyle:
The length of the fine hair is jagged cut and it shows off the delicate neck. Leave only long layers cut round the edges in order to make the hairstyle softer and tender. Jagged cut bangs place wonderfully on the forehead to frame the top of your face and make the low-fuss hairstyle superbly.
The sleek inverted bob haircut with blunt-cut bangs looks cute and charming.
How to Get Hair Like Christina Aguilera
Use a medium radial brush works well on the medium to long hair types. It can help make the wavy or curly hair textures neat and straight hair voluminous. A pure bristle radial brush is an ideal option as it doses no harm to your hair.
With a brush, start blow-drying in small parts from the nape/back. Tend your head forward, position the comb an inch below the hair roots to hold them neat and put the dryer above the comb for several seconds before going on the ends.
When blow-drying the hair at the sides pull a part of hair from the hair and pin the other part of hair. Position the comb under the section and then drag the comb and hair forward round your face (the curving motion form volume). Hold the hair-dryer on top of the comb till you reach the ends and then turn the ends under. Do the same step till the part becomes totally dry.