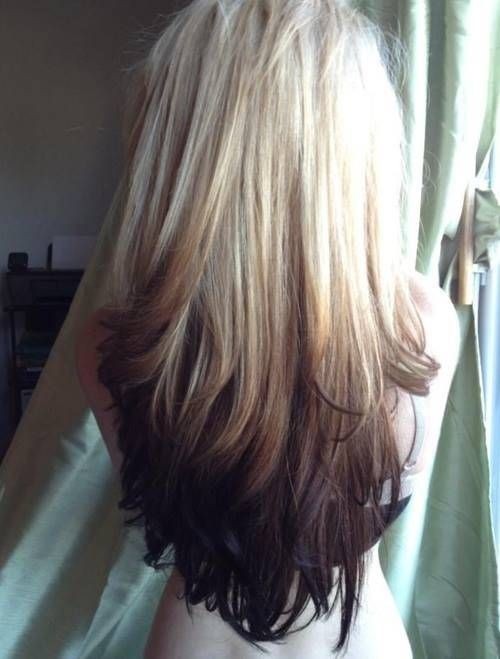 15 Black and Blonde Hairstyles!
Are you ready to rock? You will be – when you've seen the new black and blonde hairstyles, which range from high fashion elegance to 'down and dirty', in your face rock chic!
Stand out
The trend for black and blonde hairstyles may have been begun by animators at Disney productions for Cruella de Ville, star of 101 Dalmatians, but it has remained a favourite of rock singers and celebrities who want to be shocking and stand out from the crowd.
So if you're an extrovert, with the confidence to carry off a highly dramatic look the black and blonde hairstyles are a great choice!
Blonde to Black Reverse Ombre: Cute Long Hairstyles /Via
Maximum impact
With balayage, ombre and the most recent sombré highlighting techniques now opening out to include even more ways to arrange colour accents, for maximum impact, you can design your own black and blonde hairdo any way you want.
Platinum blonde with black roots is looking a little dated now, it may have started off as an authentic, 'street' style, but as soon as the Hollywood film stars started wearing the look, it became main-stream and lost all of its original edge.
Braided Hairstyles for Straight Long Hair /Via
And now it's evolved into a much softer look, as cool blondes with softer brown roots take over, so avoid that look.
Hottest look
One of the hottest black and blonde styles I've seen recently is black with a stark band of blonde about two inches thick that forms a continuous line around the face, the sides and the back.
This is a very flattering touch on black hair, as it will reflect light onto your face giving a 'brightening' effect, whilst you retain the deep black in the rest of the style.
Perfect, Black and Blonde Hairstyle: Cute Messy Bun Updos /Via
In addition, you can do this style with a black band running around a blonde head of hair, but you'll have to wear brighter lip and cheek makeup to counteract the shadow this will cast onto your face.
Contrasting fringes
We've seen blonde fringes on otherwise black 'rock chic' styles, but why not try putting a black fringe on a blonde bombshell look! This would look great on one of the futuristic new choppy layered styles, as it's a total departure from the usual colours.
Black Blonde Ombre Bob Hairstyle for Short Hair /Via
And as the keyword for trend-setting haircuts for this year is 'unconventionality' –you can experiment with black and blonde until you get something truly stunning!
Browse our Pophaircuts.com fantastic Inspiration Gallery now and start planning your new black and blonde hairstyles with these amazing new ideas!
Black Blonde Ombre Hairstyle for Long Hair /Via
Blonde Bob with Black Underneath Hair /Via
Black Blonde Long Hairstyle /Via
Black Blonde Hairstyle for Short Hair /Via
Long Dark Hairstyles /Via
Girl Hairstyles for Straight Hair /Via
Black Blonde Hairstyle for Natural Curly Hair /Via
Lovely and Attractive Platinum Blonde with Black Tailings at the One Side /Via
Blunt Medium Straight Haircut /Via
Loose Side Braids: Cute Long Hairstyle Ideas /Via
Black Blonde Highlights /Via