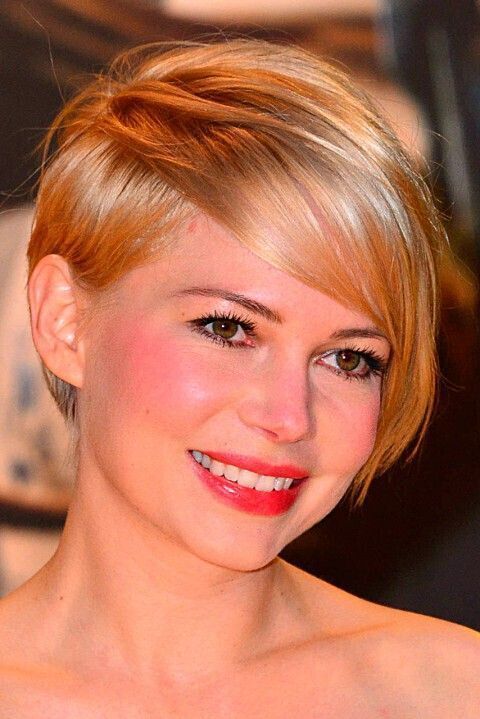 Top 10 Short Haircuts for Round Faces
Excited about the latest trendy cuts – but not sure how to get flattering, short haircuts for round faces? Read on to discover the hairdressers' rules on tailoring short haircuts for round faces and choose a fabulous makeover style!
Aims: Styles that add length to your face and reduce width:
Height on top and around the crown to lengthen the shape – spiky or curly
Curls around the crownonly, add height and lengthen the silhouette
No curls at the sides
No volume at the sides which would add width where you don't want it
Wear a layered, asymmetrical fringe rather than thick or straight bangs
Short haircuts tapering down to long, sleek side-points are great
Sharply textured side-points on short haircuts for round faces add the appearance of contours on plump cheeks
Short haircuts with wispy tips around the face – combed forward – break up full, curvy cheeks
A graduated shag or layers will slim down your face and if you keep them longer, they will make your neck look slimmer
Keep the hair above chin level in a trendy, asymmetrical bob which will draw attention away from a double chin
Make the most of what you have!

Carly Rae Jepsen Short Haircut: Straight Bob Hairstyles for Round Face Shape /Getty Images
Highlights
If you have a short or plump neck, a short haircut will make your neck appear longer and well-placed highlights are perfect way to slim down a full face. Highlights woven around the face in a 'halo'also create a fabulous visual illusion making a round face appear thinner!
Go shaggy
If your hair is thick and coarse, you can give up tedious styling altogether! Just choose a shaggy, tousled short haircut for round faces and live the dream!
Curly girls
If you have curly hair, use the curls to add height at the crown and go for brokentwists rather than bouncy, round curls. Or wear a longer bob, but style it back behind your ears, with a diagonal fringe across your face to minimize the fullness.
Recommended short haircuts for round faces this season:
The angled bob, shaggy short haircuts, a layered pixie cut with spikiness on top, are just a few of the great options you have this season. So get yourself a new style to keep you looking hot and slim your round face beautifully!
And to inspire you, here are lots ofamazing 21st century short haircuts for round faces just waiting to give you a fabulously flattering new look!
Willa Holland Short Hair Cut:Brown Short Wavy Hairstyle /Getty Images
Maggie Gyllenhaal Short Haircut: Easy Pixie Hairstyles for Women Over 40 – 50 /Getty Images
Short Layered Hairstyles: Round Faces Haircut Ideas
Messy, Curly Hairstyle with Short Hair: Best Cuts for Round Face
Chic Easy Short Pixie Haircut for Women
Asymmetrical Long Pixie Cut with Side Bangs: Michelle Williams Short Haircut
Pixie Haircut for Women
Best Short Haircuts by Face Shape – A Great Short Cut for a Square, Round or Long Face Shape