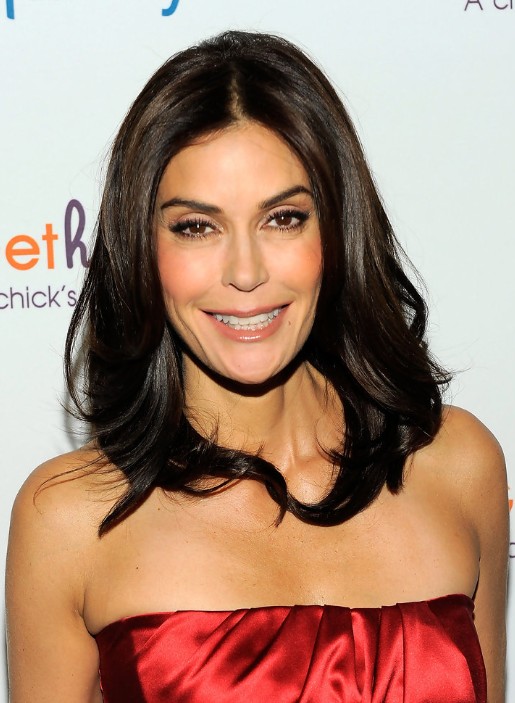 Teri Hatcher Hairstyle: The adorable shiny hairstyle is blow-dried smooth to show off the layers cut round the back and sides to add shape to the simple yet splendid hairstyle. The sleek middle-parted layered cut looks cute and lovely. Thus it can enhance the face shape and offers more softness and tender to the entire style. The various layers can add much style and shape to the whole style.
The medium layered haircut is simple to gain the excellent hairstyle for people with fine to medium hair.
Teri Hatcher Hairstyles Styling Tip
Divide the curly hair into even sections-part hair vertically down the middle and again horizontally about halfway down the back of the head. Start the razoring. Hold the razor lightly. Take a fine-toothed comb to pull up the hair at about a 45-degree angle and slide the razor in short, choppy motions down the ends of the hair. Work your way up throughout the back, and then begin work on the sides. Keep the length at the shoulders to achieve a tender and soft look. Apply a bit of hairspray to make it smooth and shine longer and better.
How to Get Hair Like Teri Hatcher
Use a medium radial brush works well on the medium to long hair types. With a brush, start blow-drying in small parts from the nape/back.
When blow-drying the hair at the sides pull a part of hair from the hair and pin the other part of hair. Position the comb under the section and then drag the comb and hair forward round your face (the curving motion form volume). Hold the hair-dryer on top of the comb till you reach the ends and then turn the ends under.
Blow-dry your bangs to one side, and clip the back and side parts up, keeping your bangs out. Position your comb under your bangs, taking your hair to the side and holding the tension between your hair and comb. Set the blow-dryer on a low level, starting at the roots and stretch your hair out to the ends.
Apply a bit of smoothing shine and then rub it throughout the mid-lengths and hair ends. Try not to add any to the hair roots or overmuch since smoothing shine may weigh it down and getting it oily.
More Hairstyles for Women: