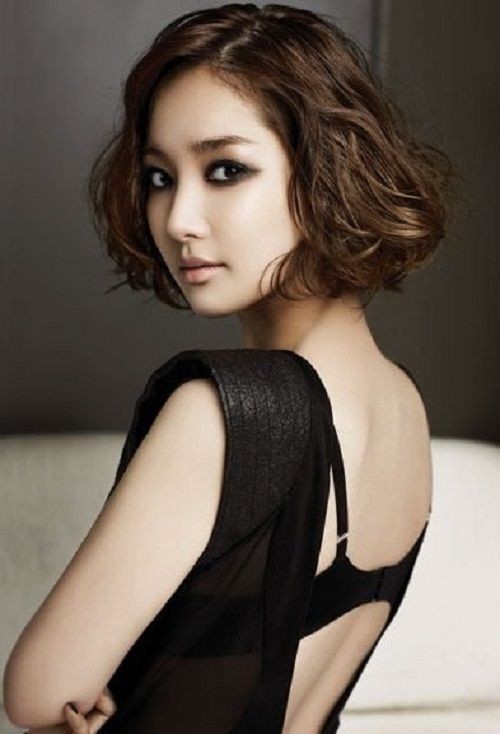 18 New Trends in Short Asian Hairstyles
Here's a snapshot of the main trends identified by Teiji Utsumi, top international hair stylist who does the hair for fashion shoots in Hello, Elle, Vogue, Harper's and lots more top mags! (So if he doesn't know what's hot – no one does!)
Textured bobs
Bobs are totally 'in' for this season and the length will include chin-length, sleek cuts that suit Asian hair types so well. Some stylists are reporting a demand for longer bobs, with a retro-look from the 1960's and 1970's, which means added volume around the crown from a little back-combing. But overall the most popular bobs are the fabulous short chicasymmetrical bob cuts.
Short Curls /Via
Wavy twisty movement
Waves of all types are popular this year and short Asian hairstyles are reflecting this trend with the addition of modern, twisty waves in bobs and unusually for Asian hairstyles, some attractive long wavy fringes or twisty sections in pixie cuts!
Wet look
Wet look short Asian hairstyles are still very popular and will be used to vary the look of a bob or shorter haircut. For instance, slicked back hair produces a style that looks (and feels) cool and professional at work and sporty in your 'off-duty' activities!
Modern Version of the Bowl Cut /Via
Minimalist short Asian hairstyles
Minimalist hairstyles look fabulous on thick, black Asian hair and although Asian women are not usually known for their love of super-short styles, the current crop of ultra-modern pixie cuts are very face-flattering and trendy.
So if you want to change your image to be contemporary and stylish, you must take a look at the fabulous short Asian hairstyles in our Inspiration Gallery below!
Easy Pixie Haircut /Via
Mixed texture hairstyles
A very new idea, that's running through hairstyles for all hair types, is styling that incorporates mixed textures. This could be a mix of choppy layers with a few random twists, or a shag-cut with some rough and some smooth sections or any one of a wide range of permutations!
The major theme for the 21st century short Asian hairstyles is unconventionality, so look out for modern styles with shattered layers, textured tapered tips and choppy, uneven tips giving an almost ragged look.
Bob Haircut with Blunt Bangs /Via
Favourite hairstyle
When quizzed about his favourite short Asian hairstyles, Teiji Utsumi chose bobbed hair with a clean finish for a fresh, modern image that complements a trendy fashion style.
Stylish Hair Color /Via
Favourite hair product?
As an expert on cutting and styling all types of Asian hair for top fashion shoots, Teiji recommended Bed Head from TIGI, for its super-light texture and creating great volume on curly, straight or wavy hair.
So now all you have to do is browse our Pophaircuts.com latest Inspiration Gallery of amazing short Asian hairstyles for a fabulously flattering new look!
Cute Short Haircut with Side Swept Bangs /Via
Short Hair with Braid /Via
Pretty Bob /Via
Adorable Short Asian Hair Styles /Via
Chic Short Haircut for Summer /Tumblr
Short Haircut for Thick Hair /Pinterest
Short Thick Hair Style Ideas for Women /Via
Easy Straight Bob Haircut with Bangs /Via
Round Bob Haircut /Via
Popular Asian Short Hairstyles /Via
Straight Long Bob Hairstyle /Tumblr
Bob Hairstyle Ideas for Girls /Via
Shaggy Haircuts for Short Hair /Via