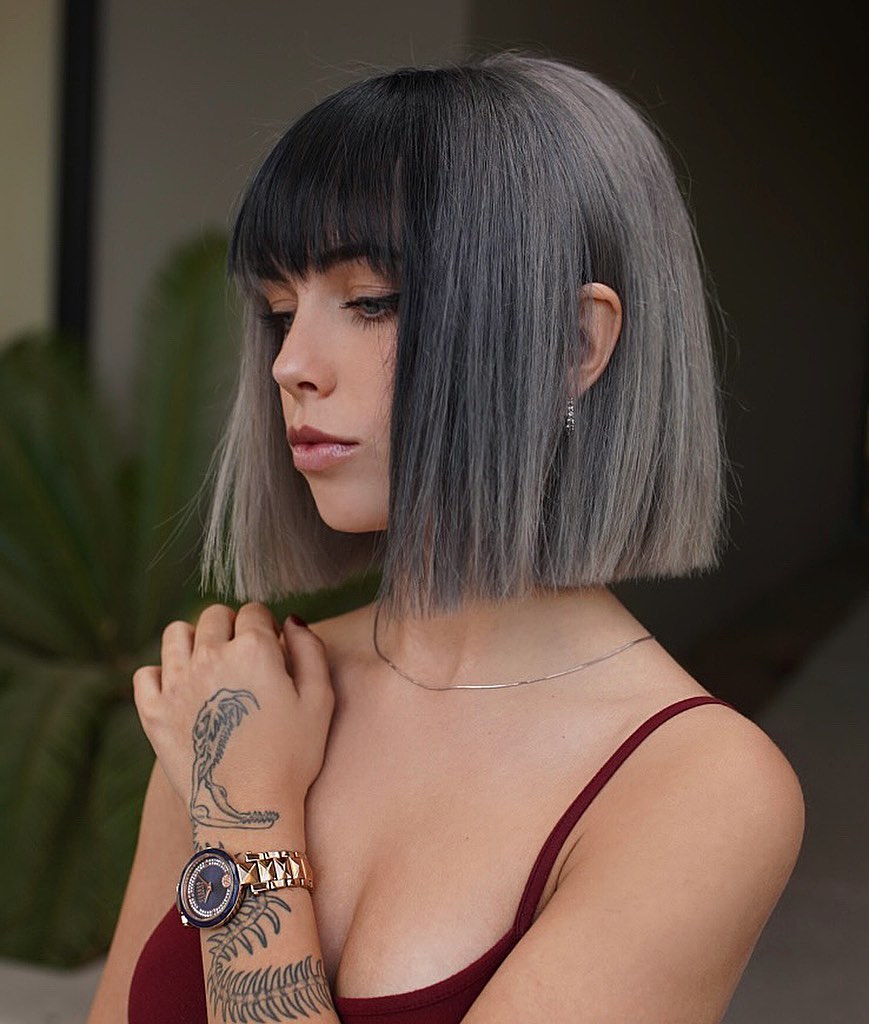 10 Stylish Short Bob Haircuts for Thick Hair in Freshest New Hair Colors!
Whatever else is happening in the world, nothing affects the importance of new, hair fashions! And you'll be as excited about hair color designs as we are, when you see these rad new looks. So if you're feeling a bit behind the times, why not dip into our gallery of fabulous high-fashion hair colors and stylish bobs! They're all designed especially for thick hair, so you can see exactly what's right for you. And there's nothing like a trendy, hairstyle makeover for lifting your spirits!
1. Copper-orange with blonde 'border' highlights – stylish short bob haircuts for thick hair
Copper-orange is such a brilliant color and a fabulous, high-fashion color that anyone can get! It's one of those colors that always turns heads, for the richness and warmth it brings to your hair. And to show it's a totally up-to-the-minute look, the colorist has added broad, border highlights to the 'curtain-like' front strands. That's an absolutely new and trendsetting feature, that reflects light onto the face in a flattering way. And it transforms a simple, easy-care, stylish short bob haircut into a stunning makeover idea!
2. Neon-orange roots on flirty brunette bob – stylish short bob haircuts for thick hair
This is a chic and flirty look! Who would ever have thought that neon-orange roots could look so bright and lively on a brunette short bob? Orange balayage in the lower lengths really helps accentuate the shape and texture of the model's pretty brunette hair. And dark, neutral brown lowlights also add 3-D color depth and accentuate the lovely movement! Blue and orange are complementary colors and this hairstyle really shows off the model's lovely blue eyes and nicely shaped chin.
3. Minimalist gray straight bob with border highlights – stylish short bob haircuts for thick hair
Just as orange is a complementary color with blue, pink is a complementary color with green. So a gray hair color design with pink tones is the perfect way to really bring out the gorgeous color of  green eyes. This is a minimalist short bob hairstyle, that's very classy and sophisticated. The trendy center part suits oval faces and the high-fashion, curtain highlights add a wonderful new look that's decorative, but in a subtle way.
4. Futuristic ash-white geo lob with green tips – stylish short bob haircuts for thick hair
Japanese stylist love to do futuristic styles on their clients' thick hair, and they lead the world in edgy, geometric cuts like this. Shadowy blue tones highlight the roots and the long layers move down the head in ice-white perfection. But only as far as the model's eye-level, when you see unexpected lime-green border highlights! It's an exciting, new short haircut and color design that contrasts razor-sharp lines with a curved back section, short/long layers, and smoothness with tousled tips. This fabulous green-tipped style frames the model's green eyes and accentuates their color beautifully!
5. Copper-orange short hairstyle with yellow balayage
Warm copper-orange hair looks great with yellow-blonde highlights to add 3-D color depth. And what better way to decorate a simple, easy-care short bob than a head-turning, hair-color design! The hair has been cut in sliced layers, which are the best way to shape thick hair and remove the bulk at the ends. And the ends are heavily textured, to create a fuzzy bottom edge. A center part opens out to show off the facial features, with a pretty face-framing wave that also gives a very attractive profile view!
6. Beige balayage on brunette choppy short haircut
A choppy, short bob hairstyle always looks trendy and when you add alternating straight and beach-wave texture, you give it an edgy twist. But what if you want even more fashionable style out of your haircut? Well, first of all you can style it to show off super ear-crawlers, ear-cuffs and earrings, worn in one ear. And finally, add vertical balayage highlights to create lots of extra texture, movement and color depth. Adding warm beige balayage can transform brunette hair and add light-reflecting touches that are very flattering!
7. Apricot-blonde & pink short haircut with brown border lowlights
Here's another look that's genuinely new, and I'm sure has never been seen before in the history of hair color designs. It's an imaginative re-working of the trend for face-framing highlights, which in this case are lovely, dark brown lowlights! The top layers are apricot-blonde which transitions into soft, coral pink ombré lower down. This is a trendsetting short stylish bob haircut, that's simple and fashionable to start with, but absolutely amazing with this original, new hair color design!
8. Blonde wavy short haircut with orange border highlights – short hairstyles with glasses
This tousled and layered short bob haircut is definitely a high-fashion look to copy! It has a base of pale-blonde, with a yellow, rather than beige or ashy, tone. And yellow is a cool color that harmonizes with orange-red, plus yellow-orange balayage. The tortoiseshell glasses' frames with a gold bridge need to be matched with a warm color. And this modern hair-color mix, combines both warm orange and cool red and yellow colors. This is a vivid hair-color design, which will add lots of eye-catching glamor to your cute, wavy bob. And the stylist has created attractive waves to frame the glasses, for a pulled-together beauty look!
9. Gray with yellow & black vertical highlights on short hairstyle with bangs
This easy to manage short, symmetrical bob haircut with straight-across bangs is transformed into a stunning avante-garde look with an inspired hair color design! The colors are all cool, with yellow and black used as border highlight colors on a medium gray hair color. And the colorist has used a new and unusual pattern to apply the highlights, creating an exciting asymmetrical vibe. This is definitely a haircut and color design that will appeal to daring minimalists and 'alternative scene' fashion fans!
10. Minimalist grunge gray & black straight choppy short haircut
Grunge-gray hair matches perfectly with rich burgundy and gray, purple, aqua, mustard-yellow, plus cool pastels, are all popular fashion colors this year. So why not go for a black and gray hair color duo, which will look great with your fashion clothes, and complement deep-blue tattoos. This is a super, minimalist style for thick hair, which starts with soft, charcoal-black, straight-across bangs and face-framing balayage in an asymmetrical pattern. The choppy ends and gray shades work together to create a modern, grunge look, lit up by the model's blue eyes and interesting tattoos!