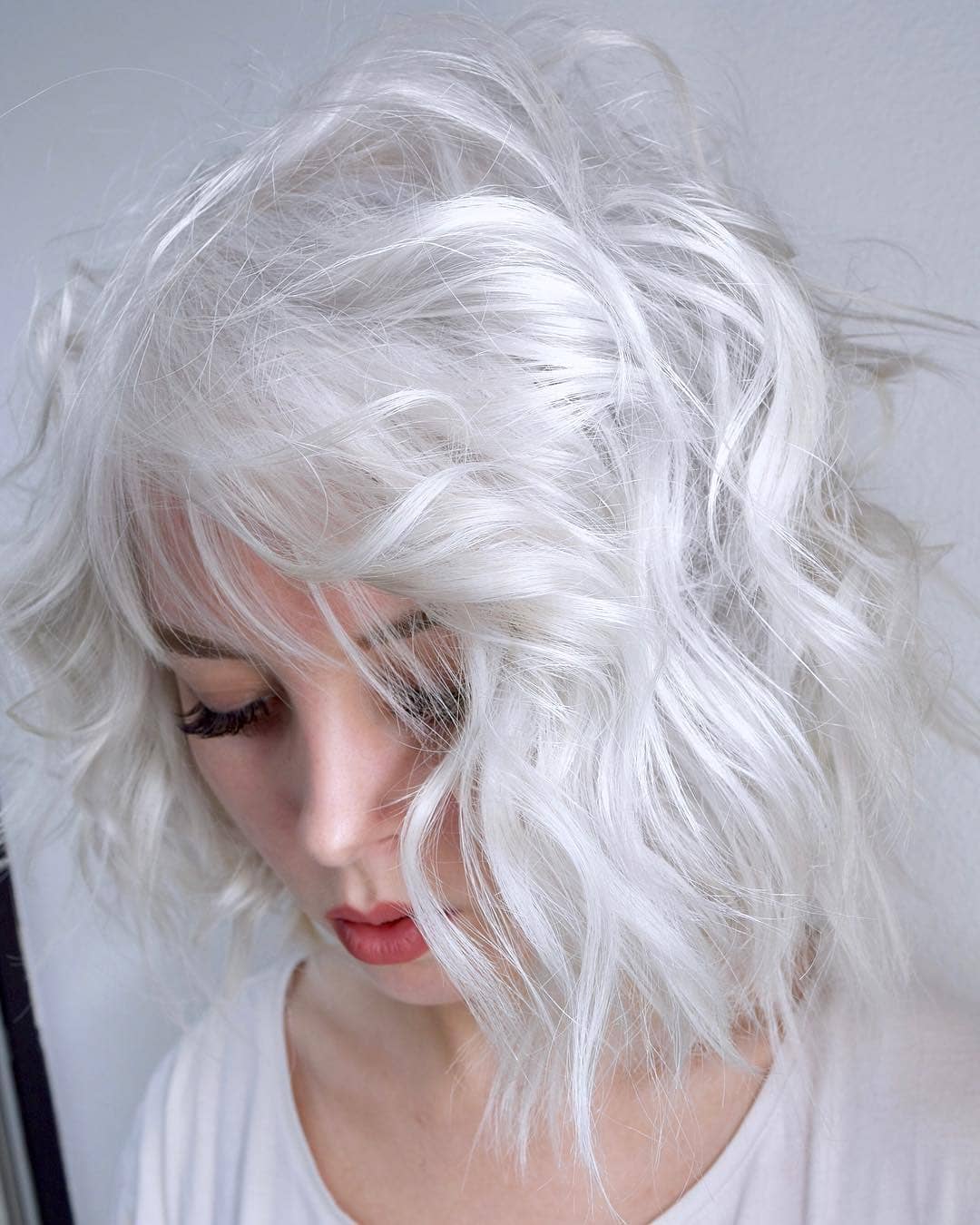 10 Hair Color Trends for Short Hair in Rainbow Designs
Ready for a fantasy hair color makeover, but not sure which color to choose? Read on and see the most popular colors for this season and different color placements we haven't seen before. From canary yellow underneath layers, to rainbow short cuts and totally original tapered sections in orange, heliotrope over indigo – you'll be amazed and delighted with what's on offer right now!
1. Golden-brown hair with yellow 'underneath' highlights
The newest color technique is to colour underneath sections of hair from root to tip, so that the top layer covers the color. Then as your hair moves, or you style it in different ways, the strong undercolor is revealed! The model's hair has been colored light-brown with a golden tone, so that it matches the yellow and orange under-highlights. This is a fabulous way to add interest to a simple, easy-care bob. And just imagine how great this haircut looks when styled in a pony-tail, bun or hair-knot!
2. Pastel-blue with ash-blonde balayage highlights
This unstructured short bob has a casual finish with heavily-textured tips adding a shaggy vibe. The three main colors are pale-gray roots, with light steel-blue and ash-white balayage. And this creates the popular 3-D color depth that makes hair appear thicker. The tousled finish and visible, vertical brush lines in the hair make it full of texture and interesting glimpses of the blended colors. It's a fabulously modern look that needs little styling, but always looks high-fashion owing to the wonderful hair-color design!
3. Cute pink pixie with white & indigo highlights
This jaunty pink pixie is full of mischief and projects a fun, high-fashion image. The front quiff adds tousled texture and height to the top, which contrasts well with the close cut sides and back. The sides have expertly-cut layers at the ends to create a pattern around the ears and nape. And the nape is highlighted in indigo-blue to match the model's beautiful blue tattoos. It's a trend-setting look full of contrasts like indigo-blue and pink and the smooth/textured finish!
4. Faded rainbow color design on short haircut with long fringe
The colorist has done an expert job on this beautifully blended, hair-color design from planning the colors to applying them in such an attractive blend. There is a high-fashion twist of cool and warm colors being mixed, but most of the shades are cool colors – like pink, mauve, lavender and blue. And there are cute balayage touches of coral-orange adding unexpected warmth on the top and side. The colors look great with a contemporary pixie haircut, which has a trendy extra-long fringe cascading over one eye and with highly textured, uneven tips!
5. Ivory & ebony dual-color chin-length short bob
You can change how these two contrasting colors appear in your hair by changing where you put the parting. And that adds even more variety to a bob that can be worn in several very different styles! The ivory-blonde side is an underneath color, which could be covered by ebony brunette if the parting was moved nearer to the center. These two colors look softer than if the colorist had gone for a strong black and white color contrast. So the look is warmer, to suit the model's skin that has warm/neutral undertones.
6. Mid ash-blonde straight short haircut with forward movement
Styling your hair forward is a fashionable look that also creates lots of interesting texture and movement. This trendy short bob haircut is lightly shaved at the back to leave a clean-cut, arched line at the nape. There are edgy, disconnected layers at the sides accentuating the tousled, uneven look. And the gorgeous, silver-gray all-over color has tiny hints of purple in the blend, too!
7. Artistic hair color design on straight bob – neon orange, heliotrope & blue-black
Wow! What a fantastic job the colorist has done here! This is one of the best hair-color designs we've seen on a straight, slanted bob. The base color is deep indigo blue, that matches with the model's cute tattoo. And the thick hair has been cut in 'sliced layers' to give a curved shape with no extra bulk at the tips. Then the colorist has colored tapered sections in bright yellow, orange and heliotrope to create a fabulous trend-setting color design! Imagine how it looks in a half-up hairstyle!
8. Delicate pure-white tousled bob for fine hair
And here's a look that's the opposite of brightly colored fantasy hair color. It's a pure white, romantic hair color that would look, 'fairy-tale' cute on a bride. The cut is a graduated short bob that's suitable for fine hair, as the stylist has created lots of extra volume with waves and tousled texture. There's a delicate fringe, and a side-parting that creates fashionable asymmetry and pretty waves framing the face. Worn with a natural make-up look, this is another head-turning, hairstyle for a special event!
9. Lavender short-back-&-sides pixie short haircut
These six views of a short pixie haircut show a fun side of this model's personality that's very attractive. It's also a great hairstyle choice for all age groups as it keeps all the attention up around the top of the face accentuating the eyes. The short-back-and-sides has graduated layers from the shaved nape to a longer band above and then longer layers around the crown. The hair is styled out from the crown creating natural volume and a short, forward swept wispy fringe. And lavender-blonde hair color suits green eyes perfectly!
10. Sea-green & faded green on pixie cut with long bangs
Green eyes look gorgeous with green hair, too! This long pixie cut is a high-fashion look that will draw attention wherever you go. The gray tones in the fringe are especially good at bringing out the green of the model's eyes. And there are several different types of green in this fantastic hair color design, including sea-green, aquamarine, pastel green and forest-green in the short side-points. The extra-long fringe and tousled finish complete a very edgy, new look!