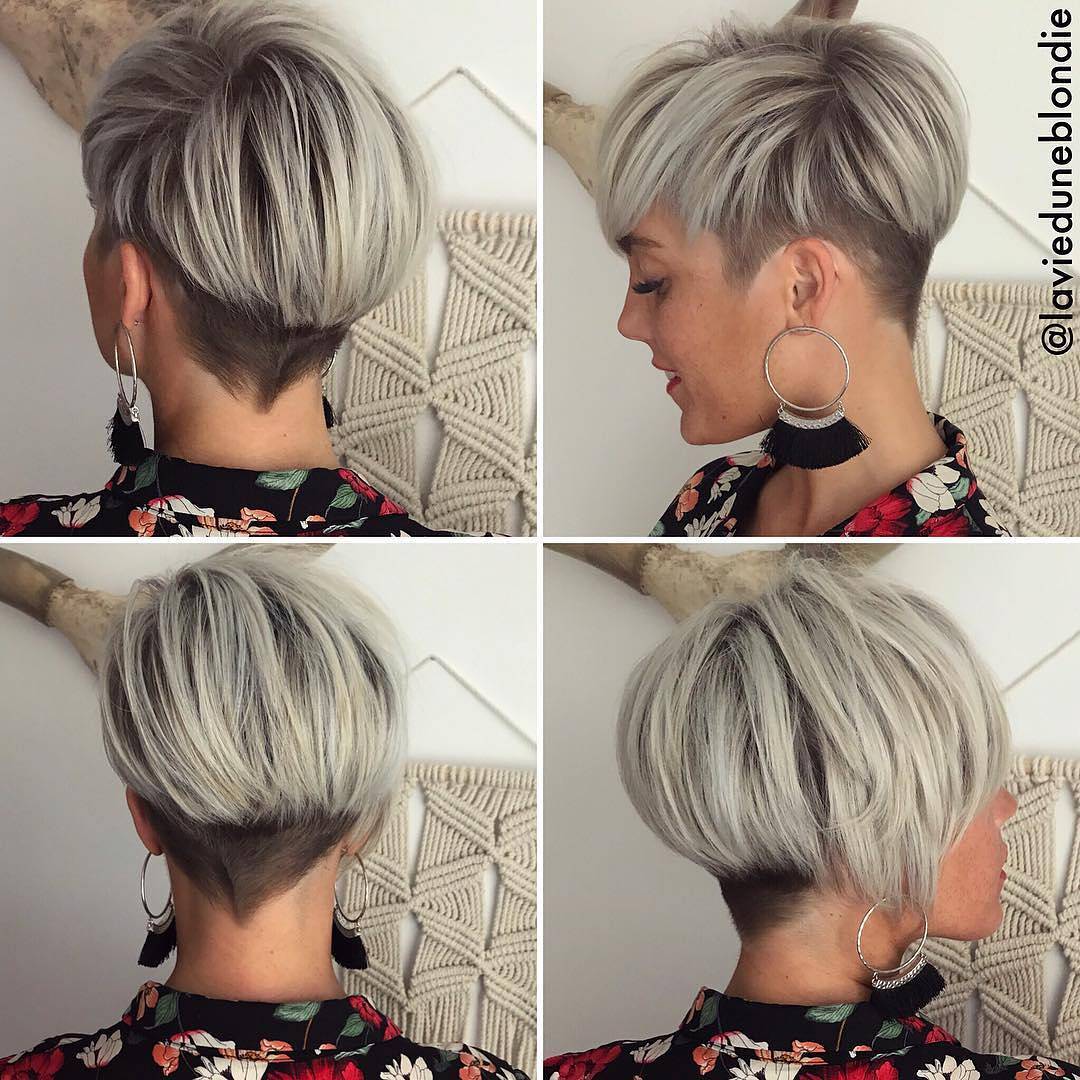 10 Long Pixie Haircuts for Women Wanting a Fresh Image
Long pixie haircuts are generally agreed to be the most modern and stylish way to wear your hair.  Long pixie haircuts are equally suitable for thick, medium and fine hair and the latest looks have new shapes, textures and color designs to keep you looking as fresh as a field of wild flowers.  Or as chic as a Chanel suit!  The cutting varies from precise and shapely to cute and casual feathered hairstyles and all in the latest hair colors! So if your image is ready for an upgrade, take a look at these super, long pixie haircuts for women of all ages!
Forward styled ash-blonde long pixie haircuts for women
Young and stylish women need a hot hairstyle to complete their trendy image and this slick haircut is full of high-fashion features!  It's a short back and sides cut with snazzy buzzed side-points and the latest V-shape decorating the nape.  The top layers are a modernized basin cut, with long layers styled into an attractive bouffant curve at the back.  The cut is asymmetrical with one ear exposed and the other completely covered for an ultra modern look.  And finally, the ash-blonde layers part to display glimpses of dark brown roots!
Sporty brunette long pixie haircuts for women in a hurry
If you're a sporty type or just a V.B.W. (a very busy woman), this long pixie creates a casual, but stylish look.  This natural look does have a teeny touch of blonde in extremely fine highlights in the longer side.  They are very subtle, but will add interesting texture and movement to medium to thick hair. Cut in fairly long layers, you can wear this style on fine hair types too, with some styling product and clever blow-drying. The asymmetry and long fringe over one eye look cute and feminine. And the fine side-point on the shorter side makes a great place to show-off your favorite earrings!
Beige with ash-tones over dark cocoa – long pixie haircuts for women
Adding the latest shades of blonde to any haircut is a great way to bring your look bang up-to-date!  This long pixie haircut has more volume and length at the sides and back, allowing for fabulous wavy texture.  The choice of beige-blonde with just a few touches of ash-blonde toner, keeps this short waved hairstyle looking soft and warm.  Remember, ash and blue hair-color suits skin with cool undertones, but skin with warm undertones (as above) is flattered by beige shades.  The short side has a short side-point finishing in the perfect spot to draw attention to the cheek-bones.  And the warm brown nape finishes this relaxed and fashionable two-tone look beautifully!
Deluxe basin-cut in neutral blonde shades – long pixie haircuts for women
This is a casual, but chic, haircut that uses light and dark shading to add more density to medium and fine hair.  The long layers cut in 'sliced' sections, taper down to finely textured points at the tips.  This creates a light and airy look and a style with a trendy, tousled finish.  And as we know, tousled haircuts are great for adding extra volume to fine hair.  For a change from the side-parting, you can comb this style forwards into a deep fringe with defined, separated sections. This softens the line and really draws attention to the eyes.  If you ask your expert colorist to choose shades that flatter your natural coloring, you'll have a short haircut that really accentuates your eyes, too! This casual, but very sophisticated color design uses beige, neutral and light ash-brown blondes within a closely matched range for luxury and fabulous style!
Super sculpted long black pixie with forward styling
Thick black hair is a wonderful medium for hairstylists to work with!  Thicker hair strands tend to stay in place and there's never any problem with volume.  This style may be a short haircut for straight hair, but multi-directional styling and the variety of textures create loads of lively movement!  Asymmetry in the sides and the back brings together a short side point and a layered, longer side-point for an unconventional style.  The super-quirky vibe continues in the short, stacked layers at the nape, which have a cute little point detail on the shorter side!
Chic copper & raspberry color design on pretty pixie haircut
If you already have a fashionable long pixie haircut, and want to 'pep it up' this is a great color idea.  It's a clever blend of warm copper highlighted with raspberry-pink over roots in coffee-brown.  The brown roots emphasise the lovely shaped-in layers at the nape and the side, creating a well-defined outline.  Styled with one ear showing, identifies this as one of the latest fashion styles.  This is a chic look that's casual, but expertly colored to avoid looking like a summer DIY color-rinse.
Baby-blonde neutral & natural shade for fine hair pixie
If you already have fair hair, this neutral-blonde shade is just what you need to add fashionable style to a short hairstyle.  This cut suits many different face shapes, and is full of the latest style features.  For example, the short-back-and-sides gives a modern, edgy outline and hair combed forwards from the crown adds volume to fine hair.  And wearing a straight-across fringe, curving to one side just above the eyebrows, really accentuates your eye-color!
Pretty makeover creates a young & carefree pixie cut
This is one of the rare photos of a model wearing glasses and it's a perfect example of how your hair and your glasses should complement each other.  In the 'before' style, too much of the model's face is covered by hair and glasses.  And although it's a cute bob style – it doesn't bring out this young woman's pretty features and skin.  The pixie haircut in the 'after' hairstyle has tousled volume on top and short, feathered sides.  This shows a lot more of her face, which is vital to balance out those trendy, large, dark-framed glasses!
Young tousled asymmetrical pixie haircut
Here's a lovely style for curly hair or if your hair is naturally straight, you can have a casual perm done on the longer side.  It's very asymmetrical and suits lots of different face shapes.  A deep side-parting helps disguise a long face, or a round face, with a pretty cascade of hair creating a diagonal line across the face.  The short side is parted to show the ear and has pretty side-points highlighting the eyes and cheekbones.  The nape has feathery tips and a sweet, little point decorating the centre!
Super-charge your image with bubble-gum pink curls
Looking at these photos of the same model shows how two very different hairstyles project highly contrasting images.   The 'before' image shows a conventional long, straight look that emphasises a long face and has no trace of modern 'style'.  Switching to the 'after' pic shows a high-fashion long pixie with a vivid, hot-pink top over brown short-back-and-sides!  There's lots of texture and movement in the snaking curls and volume around the head balances the model's face shape beautifully!  A great example of how to change your image to look younger and full of life!