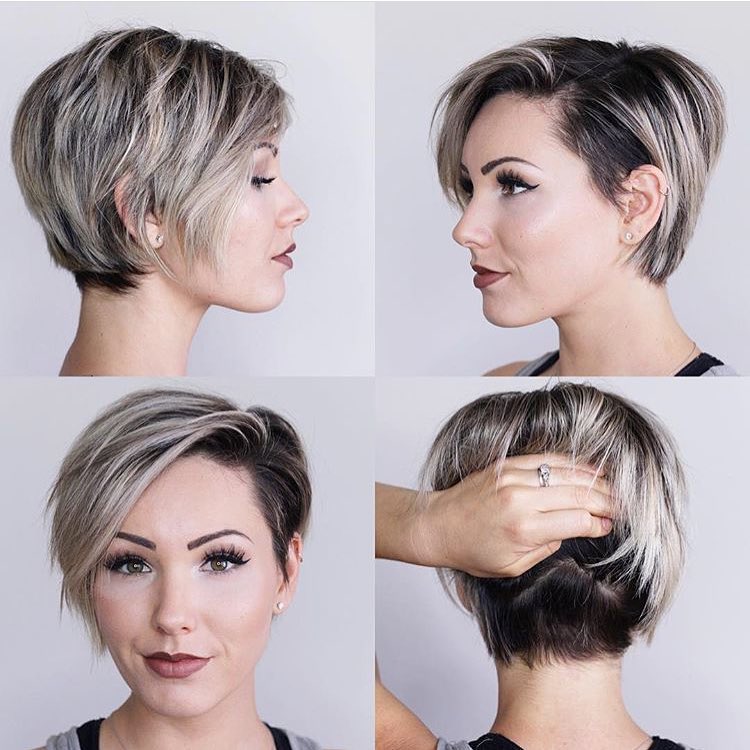 10 Long Pixie Hairstyles to Fit & Flatter – Women Short Haircut
There's no doubt our love of chic, long pixie hairstyles reflects how much this easy-care, fashionable cut overcomes several 'beauty' problems!  Fine or thin hair always looks thicker and has more volume when cut in a layered, pixie cut.  Certain color combos and well-placed highlights can make a huge difference to your facial features. And long pixies can be tailored to slim down a round face, 'shorten' a long face, minimize a big nose or hide a wide forehead with trendy, side-swept bangs.  Short haircuts increase the focus on your eyes, which is always flattering  and when you move the focus up, you draw attention away from a 'double-chin'!  So why not take a moment to browse the hottest and 'coolest' pixie cut and color options!
Chic long pixie hairstyles in true ash-blonde
I've noticed that a lot of hair-fashion writers are confused between ash-blonde and beige-blonde.  And this could cause a terrible misunderstanding between you and your colorist!  So here's how to identify the new blondes and decide which is going to suit your complexion best.  Ash-blonde is definitely gray in tone, like the style shown above.  But pale beige-blonde is a neutral shade that doesn't look gray or golden!  Ash-blonde suits pale skin with pink in it, because this signals cool undertones.  But beige-blonde is a softer shade that suits cool, warm and neutral undertones in your complexion.
Windswept chic – long pixie hairstyles for thick coarse hair
Thick, coarse hair is perfect for this unstructured pixie haircut as the natural volume and density won't go flat on you!  This asymmetrical haircut has a deep side part, to cover a wide forehead on the model's heart-shaped face.  The cut also features messy tips, which have been carefully thinned-out to avoid unwanted bulk at the sides.  Height on top adds length to round, wide and heart shaped faces and this haircut really accentuates the model's eyes and red lips.  This draws attention away from a wide forehead and a narrow chin in a very well-tailored pixie hairstyle!
Lavender & white-blonde chic – long pixie hairstyles to balance wide jawline
Wow!  This individual haircut in a cool futuristic color is another perfectly tailored pixie cut, which echoes her urban-chic style and balances her face shape!  The fluffy, textured pixie balances the model's oblong or 'diamond-shaped' face.  This face-shape is wider than usual between the nose and chin, with a sharply angled jaw, instead of a tapered jawline and chin.  So the face has strong, straight sides with a 'chiseled-point' chin.  And if you look at the flattering shape of the textured top, you'll see that it echoes the shape of her wide jaw and pointy chin exactly!  The focus is firmly fixed on her center face – bright lips, nose-ring, mirror shades and the stunning cut and color on top – and not on the model's wide jawline!  A brilliant job!
Chic long pixie hairstyles to minimize a large nose
Here's an attractive model with a clear complexion, large gray eyes and a nice jawline. But in the 'before' image you also notice a curved nose, which you don't see in the 'after' shot!  Hmm!  Now, I know that the lighting has been improved in the 'after' image, but the shorter hairstyle is a lot more flattering.  The long bob has strong, straight lines which emphasize the solid line of her nose and forehead.  But the short bob has no solid lines, so her face appears softer.  The side-part and swept-over top add flattering height at the crown, and the wispy asymmetrical fringe also breaks-up any hard lines.  This style puts the focus on the model's eyes, lips and curved jawline, so her nose is less noticeable.
Which color should she keep – blonde or brunette?
Here's an interesting question – do you prefer the dual-blonde, pixie with brown roots or the strong lines of the natural-looking brunette?  Well, it's clear that both looks suit her skin tone and eye color. But they do raise the question of how your hair color affects the way people you meet each day relate to you!  We all use non-verbal information like hairstyle, hair condition and color to evaluate new people, it's just instinct.  So when you're deciding on a new hair-color makeover, get clear in your own mind what type of image you want to project!
Natural white-blonde asymmetric pixie with long bangs
Is this model's beautiful ivory-blonde hair color natural or chemical?  Well, from her skin-tone and healthy hair texture, I'm guessing she has naturally fair hair, slightly lightened to this gorgeous, fashionable shade.  A trendy, side-swept bob on natural-blonde often needs help to get volume and movement, as it's one of the thinnest hair types.  However, that's easily fixed with soft, tousled waves draped casually around the model's face in a fashionable, feminine pixie!
Fix a big forehead with this super-chic long pixie
Remember when I said that even if you don't realize it, we all base our first impression of new people partly from their hair?  Well, this fabulous makeover gives you the chance to test out the idea, right now!  One image shows a model with corkscrew curls in a casual, unstructured style.  She doesn't wear bangs and has a high, wide forehead that's out of proportion with her lower face. Compare your impression of the 'before' with the 'after' hairstyle aimed at flattering her face shape.  The trendy, asymmetric pixie cut covers the large forehead perfectly with smooth, sweeping bangs.  Removing all that curly, side-volume makes her face appear slimmer and the side-point draws attention to her eyes, cheekbones and ruby lips!
Jaunty textured pixie makeover for thin hair
Straight, fine hair does not look its best in long, straight styles, because below a certain length, the thin texture is accentuated.  Compare the before and after images above and you'll see exactly why the short, layered pixie haircut is a better choice for fine or thin hair.  The long style may have a blunt-cut pattern at the tips, but you can tell the hair is thin and lank.  But the after pic projects the image of a lively, young woman with a spiffy, modern hairstyle!  Side-swept layers create attractive texture, added volume and stylish 'movement' around the head.  And finished with the original Mary Quant '3-point' nape detail, you'd never guess this model has a 'fine-hair' problem!
Smooth coffee & cream contrast – sophisticated pixie cut for fine hair
The lovely feature of fine hair is it's silky texture and soft feel! And this pretty pixie cut with long layers shows off the flowing lines and curvy shapes you can only get on fine hair.  And to add style and interest to hair that doesn't have much natural volume, why not try a sophisticated two-tone hairstyle!  The strong contrast makes the cream-blonde top layer almost jump out from the coffee-dark back and sides.  And varied textures like dark, buzzed sections and sharp side-points, also add a thicker look contrasted with your silky blonde bangs!
Amazing asymmetric pixie with copper balayage on dark aubergine
At first glance this color looks black, but it's actually a softer, warmer color from the new ranges of 'saturated' hair-colors.  Dark colors used to need some (harsh) black in the mix, but the latest hair-color products can give you a deep, intense shade of red or purple with no black added.  So you can get richer colors and stunning balayage streaks in vivid, complementary shades!  Yay!  So I'm ending today's gallery with a truly trend-setting pixie cut and color, with a cute single point detail decorating the nape, too!