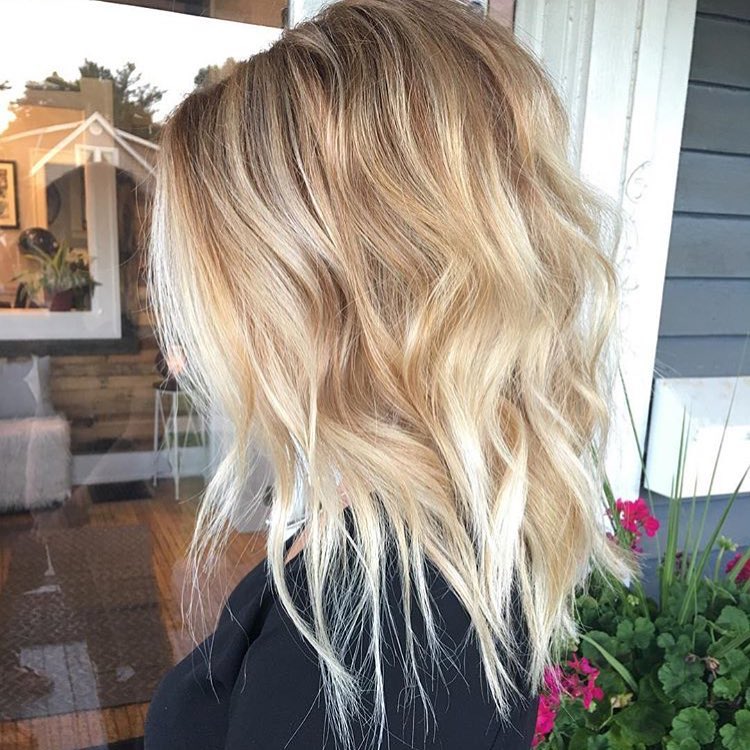 10 Best Medium Hairstyles for Women – Add Some Blonde to Your Life!
Looking through today's classy, super-flattering beige, honey, caramel and ice-blue medium hairstyles for women, comes with a warning!  These cut-and-colors ideas could make us all rush out and get a blonde makeover!  'Cos there's no doubt that tasteful, beige-blonde balayage on light, medium and dark hair adds depth and sophistication.  The aim of today's gorgeous hair-colors is to copy soft, gentle and very natural blonde shades. So even the coolest, ice-blue blonde, medium hairstyles are softened with trendy, dove-gray roots! And if you're a brunette, discover how a few, beige- or nude-blonde balayage highlights can transform any brown or copper haircut!
Flattering blonde mix – sexy medium hairstyles for women
Even from the back and profile views you can tell this medium hairstyle is a re-working of the classic, sexy Brigitte Bardot look!  The front has a center or slightly off-center parting and face-framing waves to show off an oval face-shape.  What's different and better than the original BB hairstyle is the gorgeously blended medium-beige, caramel and honey-blonde colors.  The crown has extra height from teasing and there's modern edginess from the spiky, textured tips.  With today's application techniques permitting blends of 5 or 6 closely matched shades, the results will make you look and feel fantastic!
Natural pearl & nude-blonde ombré – medium hairstyles for women
Here's a chic, medium hairstyle for women wanting a fabulous, soft-blonde image! The colors are cool, but very natural and flattering to skin with a warm undertone.  I've counted about 6 different tones, including pearl-white, nude- and ash-blonde, ash-brown and several beige tones adding up to 3-D dimension.   Overall it's a totally up-to-the-minute casual bob for medium and fine hair, that's full of texture, movement and density.  It's a relaxed, but classy, everyday hairstyle you can vary with a head-braid, waves, a pony-tail or a chignon hairstyle!
Trendy beige bob – choppy medium hairstyles for women
Gorgeous café-au-lait colors create another 'natural-look' blonde hair design that's great for fine hair.  Long layers retain all the density of fine hair  and textured tips add a modern, shaggy finish.   Closely matched beige and nude-blonde tones shimmer and gleam to highlight gentle waves cut with a choppy bottom line.  There are fashionable mid-brown roots and another quirky section of warm-brown at the nape.  Shorter white-blonde layers around the face flatter and highlight eye and skin-tone, with taupe eye-shadow and pink lips completing a fabulous beauty look!
Grunge medium hairstyles for women – taupe & ash-blonde
This simple, easy-care, medium hairstyle packs a powerful fashion punch!  These fashionable shades are cool, but not harsh, with a two-tone pattern of taupe fading to medium-light ash ombré.  A centre-parting suits oval faces, but the part can be adjusted to suit a variety of face shapes.  The absence of a fringe adds length to round or square faces, which also benefit from having the 'corners' cut-off by framing 'wings'.  The ends of this gently angled long bob have textured tips for a shaggy, uneven vibe.
Icy blonde ombré from mid-brown roots
From the softer, beige-blonde shades we move on to blue-white, cold color that suits those with blue or green eyes.  The long layers of this long, angled bob are full of lively movement and trendy 3-D color technique.  Defined waves in 4 or 5 different shades, from mid-brown, light-beige, nude and blue-white tips create a mass of glittering reflections that make hair appear thicker.  This medium length haircut has long layering with choppy, textured tips making it a great cut and color for fine hair!
Groovy gray roots to ice-white ombré on straight medium hairstyle
The extreme color design is a high-fashion look with a huge impact, when teamed with totally straight styling and sun-tanned skin.  Dove-gray roots soften the cold color which looks fabulous with blue, gray and green eyes.  This image shows the light touch of golden-beige in the main section between roots and tips.  And blue tones in the white ombré complement skin with a cool undertone.  On naturally straight hair, this is a trendy, easy-care option with a strong, 'footballer's wife/girlfriend' vibe!
Centre part brunette medium hairstyle in cocoa & beige
And this is the complete opposite of the icy-blonde cut above!  This hairstyle creates a warm and gentle aura that's very alluring.  The model's soft features and natural make-up are perfectly complemented in this hairstyle which brings out her femininity.  The centre parting looks great on a balanced, oval face and soft waves, draped casually down, draw attention to a pretty nose and lips.  Trendy, textured tips add a touch of fashionable edge to warm cocoa brown hair with delicate beige balayage highlights!
Two-tone coffee roots & mid-blonde ombré long bob hairstyle
Here's a hairdo that makes a definite fashion statement with two blocks of color and no complicated or expensive upkeep required!  With naturally dark roots transitioning to medium golden-blonde at eye-level, this color design will really accentuate brown, honey or other dark eye-colors.  Straight styling accentuates the angle of this easy-care look, softened by mid-blonde, which is the most forgiving shade for anyone over the age of 30.  It's a great, everyday medium hairstyle that has loads of versatility for wavy, half-up and up-hairstyles to show off the two-tone colors!
Gorgeous nude & natural blonde blended bob
It may take hours to achieve the latest beige and ash-blonde multi-shade blends, but the results are fantastic!  The overall aim is to replicate the colors of true, natural blonde shades, which are soft and cool.    Lots of today's mousey-blondes miss the light baby-blonde locks they had as cute, little girls!  So this image demonstrates exactly how to recreate a natural, hazel-nut color lightened by the summer sunshine!  Instead of obvious dark roots, you get a more natural look with mid-beige fading to baby-blonde around the face.  Just make sure you keep your hair very well-moisturised and protected from hot sunshine, as dry, over-bleached tips are quite ageing!
Edgy shaggy bob in soft light copper & blonde balayage
There is a lot of emphasis on the beige, nude and ash blonde colors right now, as we're in a period of change towards cool hair-colors.  However, there are also plenty of super hair-colors in the range of warm, copper colors!  This youthful, angled bob is designed to make fine or sparse hair types, such as naturally copper hair, look thicker and trendier!  This style has lots of contrasting texture, from ringlet waves at the sides, through random twists to straightened, sharp tips just brushing the shoulders.  The roots are a muted, medium-copper creating a soft background to gentle, copper-beige with clever touches of blonde balayage highlighting!  It catches and reflects light beautifully!