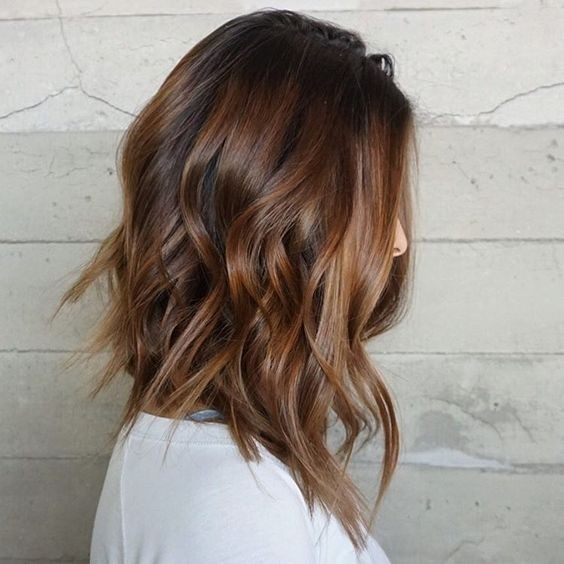 30 Chic Everyday Hairstyles for Medium Length Hair
Medium length hair is simply perfect, and in our eyes just does not get enough attention in the fashion world. Short or long hairstyles are often considered some of the most fashionable styles. Medium length hair is neglected – and it can offer you some of the most beautiful and stylish looks of all! Medium length hair actually offers some of our most favourite looks that are on trend.
When it comes to posts about hairstyles, long hair and short hair are always the styles which get the most attention. From bobs to lovely long locks – these are the styles which dominate hair styling websites everywhere. However, we think medium hairstyles can be every bit as gorgeous as longer or shorter styles, which is why we've chosen to gather some of our favourite medium length hairstyles in one gorgeous post to show off how you can liven up your medium length hair to perfection. Let us know which ones are your favourite!
#1. Mid Length Graduated Curly Bob Hair Style
Graduated bobs offer some of our favourite medium length hairstyles of all time. This incredible bob starts with longer layers towards the front of the face. The layers then get gradually shorter to the back of the head. Add a side fringe if you like, and finish the hairstyle with lots of curls from top to bottom for a bouncy end result.
If your hair is mid-length or medium length, then it occasionally be difficult to know exactly what to do with it. It's not quite short enough for a low maintenance bob look, but not quite long enough for some of the more elaborate braided hairstyles which have been so popular over the past few seasons. However, the PoPular Haircuts team are here to prove that mid-length hair is the way to go, providing a versatile platform for some seriously amazing hair looks. Here's our pick of the top medium length hairstyles around. Here are a selection of chic every day hairstyles for medium length hair.
#2. Sleek Long Bob with Flicked Ends
The above picture is a classic image of a medium length hairstyle. We can't get enough of this glorious cut! Chop your hair to around an inch or so below the shoulder. Add a few layers throughout for a beautiful finish. Add lots of stunning highlights throughout to add light and lift to the locks. Keep your hair straight and flick the ends out to perfection.
#3. Blonde Bob with Loose Curls – Balayage Hairstyle
Another stunning graduated bob to add to the collection! This gorgeous blonde bob is absolutely to die for. Opt for the classic graduated edge with longer layers towards the front of the face and shorter layers at the back. Choose a stunning and vibrant shade of blonde with plenty of highlights throughout and finish with loose curls.
#4. Tousled Bob Hairstyle, Ombre Balayage Hairstyle
Balayage is an incredibly fashionable hair transition which will blend your hair from one colour to the next seamlessly. In this instance, the hair blends from a dark brown to a light blonde to absolute perfection. Recreate this look by opting for a shoulder length bob. Add loose curls throughout and tousle softly.
#5. Golden Blonde Bob with Ringlets
Ringlets are the perfect way to finish a bob. They add lots of bouncy and vibrancy to a cut which is utterly striking. Chop your hair to an inch or so below shoulder length. Add lots of incredible layers throughout the back of the hair. Be sure to dye your locks the prettiest golden blonde you can think off. Work tight ringlets from top to bottom to create the most striking silhouette.
#6. Ombre Bob with Loose Waves
Ombre is another incredible hair transition which melts one colour into the next. Brown and blonde go together perfectly – so use this style for inspiration. Start with brown at the root and blend into a pretty caramel blonde at the ends. Chop your hair into a straight bob and add loose waves throughout for a fantastic result.
#7. Voluminous Long Bob with Highlights
Volume will absolutely transform your medium length hair – which is why you need to learn how to work volume into your hair! Start by keeping your hair in a long bob which falls several inches below shoulder length. Add tons of golden blonde highlights throughout and curl the hair from top to bottom. Use your fingers to add lots of volume to the style.
#8. Dark to Light Brown Loose Curls
Brown bobs are super trendy and another stunning way to wear your medium length hair! Opt for a shoulder length bob and dye the roots a deep brown. Using the balayage technique, add some light brown highlights to the ends of the hair. Loosely tousle and curl the locks for this super cool beach wave end result.
#9. Long Blonde Bob with Curled Ends, Women Hairstyle Ideas
When it comes to curls, sometimes simply curling the ends can transform your hair the best! With your medium length hair add lots of layers throughout. Finish the style with a side fringe towards the front of the face. Add lots of gorgeous blonde highlights throughout. Curl the ends of the hair for a fabulous finish.
#10. Balayage Bob with Beach Waves, Ombre Balayage Lob Hair Styles
Beach waves are super trendy and balayage is fashionable too – why not combine the two for an incredible mid length look. Start with a light brown at the roots and blend it into a gorgeous blonde. Loosely curl the bob from top to bottom and use your fingers to tousle the hair loosely. Finish with a touch of hairspray to keep in place.