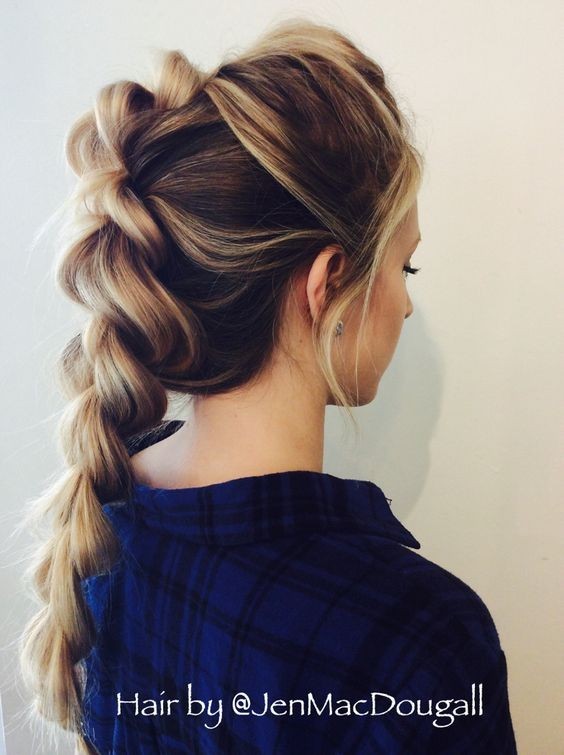 10 Cute Braided Hairstyle Ideas
Braided hairstyles are simply perfect for the summer, helping to sweep your hair off your face in a cool and practical way whilst looking incredibly stylish at the very same time. Braids are also incredibly versatile, and can be implemented into a number of looks with ease. We've gathered some of our favourite braided hairstyle ideas for you in this gallery full of the ultimate hair inspiration.
Twisted Fringe to Side Braid
This absolutely stunning lady has created an even more stunning look with her beautiful brown and blonde hair in this unique braided hairstyle. Her hair falls in a deep side parting, and she's tightly twisted the front of the hair back and away from her face, down to one side, where she's then braided the hair in a classic french braid and fastened it with hair ties for this perfect and practical look.
French Braid Faux Hawk
This incredibly fashion forward female has created a totally unique style that we simply cannot get enough of. Her vibrant blonde hair has been curled from top to bottom to create a lovely bounce, and she's swept the top layer of hair into a tight french braid from front to back to make this wonderful faux hawk effect. She's finished the braid with a bun at the top for this cool and edgy style.
Twisted Half Fishtail Braid
This wonderful braided hairstyle manages to look totally relaxed yet oh so perfect at the very same time! This lady has worked her long blonde locks into a half up half down style, grabbing sections of hair from either side of the head and twisting them to meet in the middle. She's then created a fishtail braid from the two sections of hair which falls down the back of her head in style.
Chunky French Braid
This is the perfect braided hairstyle if you have luscious long and thick hair like this incredibly lucky lady does! She's worked her hair into a high ponytail on top of her head, and then created a thick and chunky french braid from top to bottom, to create the most stunning finish we ever did see! Practical, perfect and stylish at the very same time.
Twisted Brown and Blonde Style
A braided hairstyle is the perfect way to show off a gorgeous colour transition within your hair; as this striking lady proves! Her hair is a gorgeous brown and blonde balayage combination, which she's accentuating with this stunning twisted braid which works from the top of her head right down to the bottom, creating a wonderful voluminous front section.
Twisted Side Braid
This gorgeous and complex braided hairstyle shows some serious hairdressing skills at work! This lady's beautiful ashy blonde hair has been worked into a thin and tight braid from the top to the bottom of the hair, joining the rest of the hair in a huge and chunky fishtail braid that falls dramatically down one shoulder and looks oh so striking.
Pulled Blonde Fishtail Braid
This lady's gorgeous platinum blonde locks have been worked into the most stunning fishtail braid in a dramatic and striking fashion; just perfect for an event or a special occasion! She's swept her hair into a high ponytail, pulling the top layer back to create a smooth look, and then worked all the hair into this chunky fishtail braid, pulling the sections to create this cool and edgy finish.
Twisted Fishtail Braid
This lady has absolutely gorgeous blonde and brown hair which is full of vibrant highlights. She's opted for a cool twisted fishtail braid to show off the range of colours at work and create this utterly unique and quite frankly stunning hairstyle that we adore. She's taken two sections, one on either side of the head and twisted them until they meet in the middle, finishing off the style with a cool fishtail braid.
Double Braided Fringe
Why work one braid into your hairstyle when you can work with two, as this gorgeous lady shows? Her beautiful blonde locks have been curled at the ends to add a lovely bounce and finish to the style, and the front of the hair has been worked in two chunky braids from left to right and pinned just behind the ear to create a stunning crown effect.
Boxer Braids
Boxer braids make a cool and relaxed hairstyle which has been favoured by the famous Kardashian clan as of late, and as such has found its way back into fashion! One look at this stunning lady's hair and it's not difficult to see why. She's separated her hair into two sections from the middle, creating a french braid on either side from the front to the back, fastened with a hair tie on either side for this gorgeous finish.
PopHaircuts.com hope we have inspired you to work some fun and funky braided hairstyles into your hair repertoire from now on – be sure to let us know which looks are your favourite!