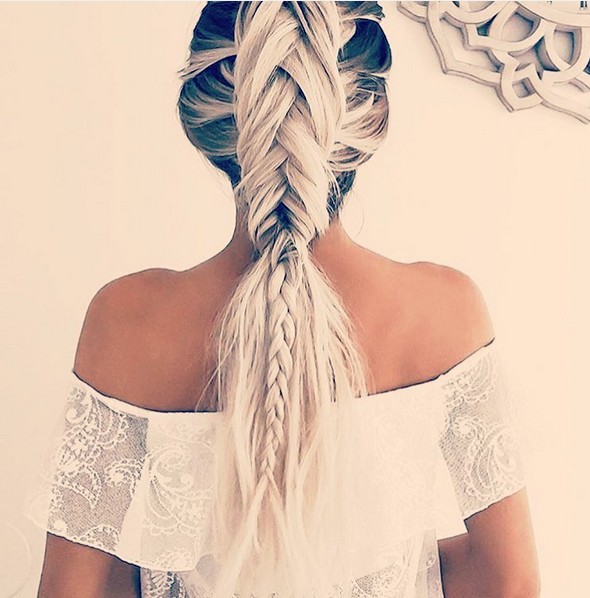 18 Cute Braided Ponytail Styles
The beauty of a braid combined with the simplicity of a ponytail creates a cute, casual style that can easily be dressed up or down. Who said you had to look like a hot mess when you hit the gym anyways? And who said you couldn't rock a ponytail to date night? Forget about it, and fall in love with these cute braided ponytail styles.
Side Braided Mid-Height Pony
By just adding a simple side braid to her ponytail, she takes it from a casual mid-height pony to a flirty 'do that can be worn when you're out with your gal pals. Pair it with subtle makeup like pink lipstick for extra femininity.
Feathered Side Braided Ponytail
If you're looking to add a bit of trend and funk to your side ponytail, fix it up with a cute side braid and cover it with colorful feathers! Feathers are really big right now, so splashing this trend to your 'do adds some style with a bohemian feel that will pair well with your bohemian-inspired apparel.
Fishtail Side Braided High Ponytail
Sassy and sweet, this high ponytail is amplified with a fishtail side braid and tons of teasing up top to add some volume and flair.
Side Braided Ponytail with Light Waves
Tons of body and tons of elegance, this is a ponytail that can be worn to even the fanciest of occasions. She adds a beautiful braid near the crown, tossing it back to the side and wrapping it around to a mid-height pony. By adding some subtle waves below, she adds some sophisticated volume that matches well with a fancy dress.
Halo Braid with Cascading Braided Ponytail
We love halo braids, replacing regular headbands with a gorgeous hair texture; but she doesn't finish there. To really make her ponytail stand out, she wraps her braid around her lengthy locks for a very intriguing style that's both unique and stunning.
Chunky Braided High Ponytail
What we love about this particular braided ponytail is the fact that you can do it in a matter of minutes! Instead of simply throwing your locks back into a high ponytail, add a chunky braid up top before wrapping it up with your hair tie. The end result is a sassy style that's loaded with flirty volume!
Criss-Cross Back Braided Low Ponytail
This lovely look is loaded with divine texture that really sets it apart from the crowd. She tosses her locks into a delightful criss-cross braid, leading down to a low ponytail with a wrapped braid inside. Leaving just a few strands straight and loose adds some unique dimension.
Wrap Around Braids and Curls
Looking for that flawless style to take to the dinner party? Then you'll want to try on this elegant 'do. Her dashing hairstyle features a beautiful low wrap around braid, leading down to some loosely curled ends that are simply gorgeous.
Mini Side Braids
This is the epitome of feminine ponytails, from the miniature-sized side braids to the charming loose curls. She leaves a few curled strands around the face to soften her look, leaving the rest of her thick locks curled behind in a mid-height pony. A great style for gals with thicker manes.
Side Braid with Curls
By now we can all agree how amazing a simple side braid can amplify your casual ponytail, but she takes it one step further. Adding some flawless curls to your ponytail can instantly add elegance and refinement that can be worn to high-class events with ease- especially if you wear some glamorous earrings.
Contrasting Braided Ponytail
One braid is left chunky, while the other is left smaller and tighter. The contrast is flawless and creates a sensational style that's incredibly eye-catching. Your gal pals will certainly be asking you how you made THIS lovely look!
Side Braid with Teased Top
Adding some sassy attitude to your locks is a cinch with just a bit of teasing. She indulges in the feminine side braid, but to make her look stand out from the crowd she teases the hair on top for some really rockin' height.
Long Fishtail Braid
An excellent choice for girls with longer manes, she creates a striking dark brown fishtail braid instead of leaving her locks loose. It's a simply stunning style- and the best part is, it's a great break from the norm' that won't take you hours to create.
Side Braid from Root to Tip
Some ladies opt for the side braid that stops at the hair tie, but if you want to add a bit of depth to your ponytail, continue your side braid all the way down to the ends. This fascinating, feminine style really switches things up from the casual ponytail in a way that's both dainty and delightful.
Double Side Braid
Don't settle for less when it comes to side braids! If you love side braided ponytails, then kick it up a notch with TWO divine braids leading back to a low ponytail. To create that glamorous, princess feel, add some charming loose waves to your locks and leave a few pieces around the face to soften the look.
Up and Down Braids
To add some unique depth to your look and really make your ponytail an eye-catcher, add a braid at the crown leading back to your pony as well as an under-braid leading up to the tie. It's funky and stylish and would make a great look for school!
Inside Out Side Braided Ponytail
Side braids are cute and ultimately charming, but repeating a side braided ponytail over and over again is a recipe for monotony you certainly don't want with your hair. Switch it up with this uniquely shared inside out braid. Delightfully refreshing but still maintains elegance!
Double Braids
For this look you will need thicker hair to bring out that bold, chunky braid up top. Break up the braid styles with a unique wrap around the center. It looks way more complicated than it is- just pull back two thick pieces of hair from the front and wrap it around, then continue your braid in tighter loops. Such an intricate, fascinating look!
Pophaircuts.com which one of these braided ponytail hair styles do you adore?