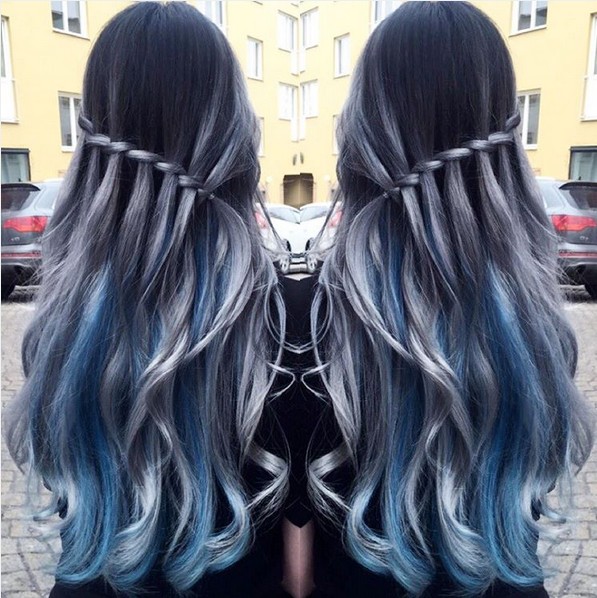 20 Easy, Lovely Waterfall Braid Styles for Short, Medium and Long Hair
Braids are undoubtedly one of every girl's favorite ways to style their hair. In certain situations they can be presented as glamorous and refined for fancy parties, or presented as dainty and cute for summer days by the pool. These lovely braid hairstyles feature one of our favorite braids: the waterfall.
Waterfall Braid Side Bun
A sleek side bun is an excellent option for fancy occasions, but when combined with a gorgeous waterfall braid you create a refined hairstyle with a bit of dimension and edge. Love this waterfall braid in particular featuring a striking combination of black and blonde hues.
Voluminous Waterfall Braid
To create volume in your hair without any teasing or hairspray, consider a loose, voluminous waterfall braid like the one shown here. It adds tons of flirty dimension and we're loving her dirty blonde locks. A great choice for spring and summer.
Waterfall Braid with Waves
This hairstyle has a certain hippie/bohemian approach that's trendy yet dainty. The smaller-sized waterfall braid surrounds her head beautifully while delicate waves add plenty of feminine volume. Would pair well with all of your favorite bohemian-inspired outfits, or consider a hair piece such as a feather or owl clip.
Interlocking Waterfall Braid
This is one of those AWESOME, unique hairstyles that turns heads wherever it goes. It's an intriguing style that looks a LOT harder than it really is. We love this interlocking look because it adds so much style and flare to her mane and the addition of loose waves below pull the look together magnificently for a dainty, yet dramatic finish.
Messy Ombre Waterfall Braid
Casual Sundays need a great hairstyle to accompany them, and this is it. This relaxed look features trendy brown-on-blonde ombre, and the messy waterfall braid creates a cool and calm look that's great for those days you just want to sit back and relax.
Trio Waterfall Braids
The contrasting sizes of this trio waterfall braid hairstyle is what sets this style apart from the rest. It's interesting, beautiful, and rather striking. The dainty braids of all different sizes add some serious contrast that's very pleasing to the eye. Would look wonderful with lighter makeup shades and a cute, lacy sundress.
Cascading Waterfall Braid
The point of a waterfall braid is to look like a lovely waterfall, but this hairstyle really takes the cake. Taking a glance at this flowing and beauteous style, you can certainly see a waterfall come to life in her bright and perky platinum locks. Such a fascinating style that looks way harder than it truly is.
Tousled Ombre Waterfall Braid
Ombre is a hot hair style right now, but for the ladies out there who want a subtler ombre choice, this is a wonderful option. A mousy brown upper half is divided with a gorgeous yet simple wrap-around waterfall braid, with the lighter brown hues dangling below. Such a beautiful style!
Waterfall Braid with Curls
Flirty and fun, this short hairstyle is a great choice for summertime fun or even prom! She adds a sweet, delicate waterfall braid to her mane, dazzling up her locks with some luscious curls. Wear it with your favorite swimsuit to the pool party or glam it up with some pearls and a fancy dress.
Crimped with Waterfall Braid
Crimped hair used to be a 90's only thing, but it's surging with popularity for 2016! Consider busting out the old crimper and crimiping your hair from root to tip. Add a waterfall braid for an extra dash of style and delicate attitude!
Super Sleek Waterfall Braid
Simple straight hair can be a bit on the boring side. But when you're seeking a calm hairstyle with just a touch of dimension, then consider adding a super sleek waterfall braid like the one shown here. It has just enough style to give the hair some lovely volume and flare. Pair it with just about any outfit, great for school!
Cascading Waterfall with Vibrant Colors
Ladies I'm gonna let you in on a big hair color trend: it's all about the purples, grays, and blues. This particular hairstyle features a seriously trendy and edgy color combination featuring some of the top colors including gray and blue! The black on top adds some serious contrast and we're loving her divine cascading waterfall braid, complete with some relaxed ringlets for a striking hairstyle.
Voluminous Waterfall Braid with Slender Braid
Two very contrasting waterfall braids make up this bright and lovely hairstyle! A great option for the warmer season, her strikingly bright platinum blonde locks have plenty of adorable and feminine body thanks to a voluminous waterfall braid with a complementing slender braid underneath.
Braided Chignon
Braids galore! This is undoubtedly one of the most fascinating and feminine hairstyles we've seen on this list. If you want to take your classy outfit to the next level, accompany it with this fabulous 'do. There's braids of all shapes and sizes going every which way, leading down to a gorgeous braided chignon that's nothing short of flawless.
Complementing Hot Pink Ribbon
Add a little spice and color to your waterfall braid by adding a ribbon! Hot pink is always an excellent choice for all hair colors, especially blondes and darker shades of hair color like dark brown or black.
Accenting Flower Waterfall Braid
Braids are dainty and feminine on their own, but add an extra dose of cuteness by wrapping your tresses up into a beautiful flower. Such a lovely style for any occasion!
Twisted Waterfall Braid
A different take on the waterfall braid, this miniature sized number features twisted action that's unique and unbelievably trendy. Let your tresses flow gracefully with some tousled up waves for a beachy look that's great for summer.
Double Waterfall Braid Half Updo
Half updos are cute and stylish, and we love this divine hairstyle. Double chunky waterfall braids lead back to a simple updo; but this hair is anything but 'simple'. It gives her mane some flirty dimension while taking hair away from the face to let her features shine bright.
Simple Waterfall Braid with Curls
This hairdo has glamour written ALL over it. We love the simple waterfall braid wrapping around the upper half of her crown, with the rest of her tresses flowing beautifully with a set of stunning voluminous curls. A fabulous hair idea for fancy occasions like a wedding or homecoming.
Waterfall Braid and Regular Three Strands Braid
It's the meeting of the braids! This cute look has a waterfall braid leading down to a regular three strands braid, creating a casual yet cute look that's great for school or for the office. We're also loving the addition of auburn tips, giving her hair some wild dimension.
Ppohaircuts.com which one of these gorgeous hairstyles will you choose?