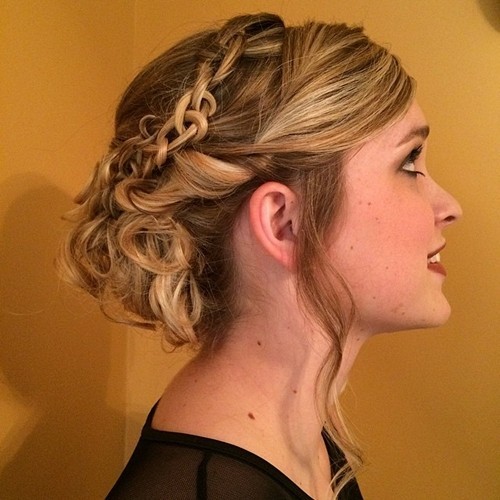 21 Gorgeous Homecoming Hairstyles for All Hair Lengths
Homecoming is undoubtedly one of the most important nights in a girl's life. You want to remember this day with beautiful pictures, a stunning dress, and of COURSE gorgeous hair to match! This lovely list of homecoming hairstyles can suit girls with short and choppy locks or long, flowing tresses. Which beautiful look will accompany you to this important event?
Side Braid with Delicate Curls
Stunningly bright blonde locks are accompanied with some beautiful relaxed curls with a delicate, romantic feel. To avoid any loose strands she grabs her lengthy front bangs and tosses them back into a beautiful braid that leads down the top side of her head to complete her lovely medium length homecoming hairstyle.
Waterfall Braid with Loose Curls
An excellent choice for the ladies with lengthy tresses, this homecoming hairstyle is simply gorgeous. Trendy yet delicate waterfall braids lead back to romantically curled locks to create a very regal and exotic look that complements a homecoming dress perfectly.
Side Braid with Voluminous Curls
There is undoubtedly a gorgeous combination of textures and designs in this flawless homecoming hairstyle! Starting at her contrasting hair colors, her dark roots and light ends are brought to life in a gorgeous fashion: by use of tousled, voluminous curls on the ends and a looser, relaxed curl up top. She pulls hair away from the face using a braid descending down the side, connecting loose strands and bringing the look together magnificently.
Braided Updo
For the women who prefer a classy updo hairstyle, this is an excellent choice. There's nothing quite as feminine as braids, and this stunning collection of braids brought to a low updo is a fabulous way to showcase your class at homecoming. Leave a few strands loose around the face and curl them lightly for a splash of daintiness.
Wrap Around Braid and Loose Curls
Another great option for the gals with lengthy locks, this homecoming hairstyle features a set of double wrap around braids with loose curls for a glamorous, sophisticated style that's oozing with femininity.
Twisted Side Updo
There's something so regal and sophisticated about an updo that's tossed to the side, making this a wonderful option for homecoming! Twists and turns bring this style to life, collaborating beautifully in a slightly loose side bun and a bit of volume up top to create a really outstanding and classy style.
Contrasting Updo – Short Updo Hairstyles
There is a LOT going on in this updo; but that doesn't mean it's not fabulous! It may take a little more work to create this style, but just imagine this look with your homecoming dress! The sides are twisted back into a flawless updo, while the hair on top is tousled into a look that could almost be described as the fanciest, most romantic mohawk we've ever seen. Love it!
Bow and Fishtail Braid
You'll be dressed in one of the most beautiful pieces of clothing you'll ever own on homecoming, so why not add to the femininity with a cute little bow right in your hair? This adorable bow leads to a stunning fishtail braid, a great option for gals with longer hair. It's a rather simple 'do, but it looks amazing.
Pinned Back Full Curls with Short Hair
Curls are just simply luscious, and one of the easiest ways to add a sense of femininity and charm to your style. These full curls are flawless and we love the simple, yet elegant, pinned back bangs to complete the look.
Multi-Size Braid and Loose Curls
There's something so amorous about this hairstyle; it almost has a medieval charm we absolutely adore. She adds a touch of volume up top, followed by a set of two wrap around braids– one micro sized and one extra large sized- leading down to some elegant, extremely loose curls. Love it!
Side Braid Loose Voluminous Curls
Starting at the front, she grabs her bangs and pulls them back into a glamorous side braid that opens up her face, leading back to some beautifully loose and tantalizing voluminous curls. Definitely one for the woman who loves all things glitz and glamour!
Double Wrap Around Curls with Voluminous Ringlets
We're loving the double wrap around curls, creating a gorgeous, almost princess-like feel that's dazzled up with some voluminous ringlets. The perfect homecoming 'do!
Princess Chignon – Loose Braid with Bun Updos
A chignon is always an excellent choice when it comes to pretty, princess-like updos for a classy event, and we're especially in love with this one. Her bright white mane is tousled back with a fishnet braid, creating a flawlessly loose chignon that's downright breathtaking. Love this gorgeous style!
Twisted Side Updo with Short Hair
Another take on a classic updo, this side style is sure to sweep your date off their feet! Lovely twists are brought to the side into a messy, cute side bun that has plenty of volume and fun. Don't forget to add a bit of body up top to complete this luxurious look.
Chain Braid Chignon: Cute Homecoming Hairstyle
We love chignons! And this hairstyle is totally cool and beautiful. Her lengthy bangs are brought back into a loose, extra large braid, with a smaller-sized chain braid up top leading down to a full and flawless chignon. Leaving just a single curled strand up front adds some serious daintiness to this lovely hairstyle.
Wrap Around Twist with Curls
This cute look has a hippie feel, but it's still gorgeous enough for homecoming! She adds a unique twist that wraps around the lower half of her head, causing a block between her straight strands up top and her wonderfully curled lower locks. Such a cute hairstyle!
Tousled Curls and Wrap Around Twists
Her wrap around twists are totally unique and awesome, and with the contrasting hair color she's sporting it really brings the color to life! The twists separate the top half from a super curly lower half, curls that are glamorous with just a pinch of messy fun. Tousle it up for a really cute look!
Tight Curls and Descending Side Braid
We love a good descending side braid. Why? Because they always look dainty and we can't get enough of them when they're paired with some tight curls! This shorter-length homecoming hairstyle is simply flawless and will pair very well with a gorgeous homecoming dress.
Fancy Faux Hawk Hairstyle Tutorial
A fancy faux hawk? Say it isn't so! Oh, we say it's so- and you're going to love it! Consider this downright alluring hairstyle, that has the perfect combination of unique and fresh funk and exquisite detailing.
Curly Half Updo
Half updos are a great choice when it comes to fancy and beautiful hairstyles, and this one has all the right details. She poofs up her mane up top for some glamorous volume, followed by a stunning half updo and some lengthy voluminous curls that are downright sexy. Love it!
Pinned Up Curls – Chic Homecoming Hairstyle Designs for Medium, Short Hair
This is probably one of the most fanciest hairstyles on this list; it's STUNNING. Her fierce and enticing red locks are pinned back with some extra tight curls that are elegant and fancy. Just imagine this pinned look with a homecoming dress and dazzling set of earrings- WOW!
Pophaircuts.com which one of these beautiful hairstyles will you choose for homecoming?