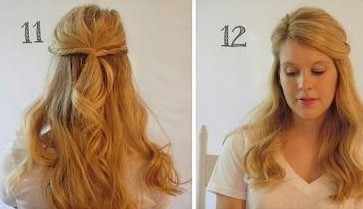 Twisted Half Up Half Down Hairstyle Ideas: Step By Step
This is a fabulous twisted half up hairstyle which looks romantic and fun. The luscious and bouncy waves give the whole hairstyle a voluminous glamorous look and feel. It works better on medium and long hairs. The admiring look is lustrous from head to toe. If you also try out the fashionable hairstyle, just do as follows.
Create some loose curls.
Tease crown hair up.
Gather your crown hair into a ponytail, leaving some locks in the front.
Twist it and wrap around the ponytail and fix in place.