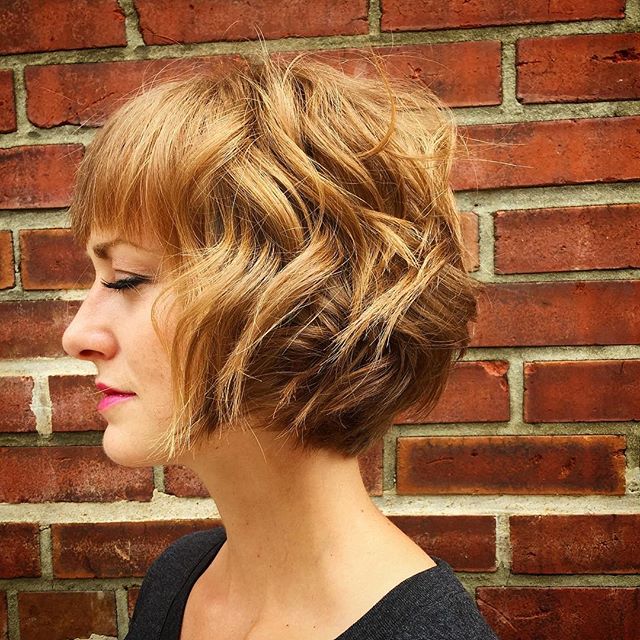 22 Trendy Bob Hairstyles with Bangs
Bob hairstyles are undeniably cute, with just enough length to allow easy styling, but short enough to have a bouncy and youthful appearance. But what's one simple way to make your bob hairstyle EVEN cuter and trendier? With bangs, of course! These lovely and trendy bob hairstyles with bangs will make you glad you have your bob cut– or make you crave a shorter 'do!
Large Loose Waves with Full Bangs
If that short bob haircut wasn't enough flirty bounce for your style, consider spicing it up with some gorgeous large loose waves. They're ultra casual and coquettish, and accent the full bangs up front perfectly.
Super Lengthy A-line with Eye-skimming Bangs
Undoubtedly posh and super stylish, this hairstyle has all the edgy attitude you could ever dream of. The super lengthy
a-line leaves tons of length around the face, framing her face gorgeously while eye-skimming bangs keep the hair dimensional and fun. Love the addition of lighter ends for a very textured and trend-setting 'do.
Large, Voluminous Curls with Curled Bangs
When you're rocking some gorgeous large, voluminous curls in your mane, DON'T forget your bangs! Her lengthy bangs are curled away from her face, opening up those eyes so they really shine. Loving her makeup, the perfect colors to complement her lovely colored hair.
A Touch of Volume
Want to add some flirty height to your mane? Then simply use a comb to tease up your locks. The end result? A bit of enticing height that's perfect for any occasion.
Curled Inward
Now THIS is a super cool and totally lovely look! Her bob is extra long, even her bangs are dangling gracefully below her chin. She dolls up her appearance with a simple curl inward to frame the face, and of course we're in love with
that subtle purple hair coloring– so trendy.
Baby Bangs!
Cute hairstyles don't have to be anything exotic or crazy or even time consuming! This adorable style doesn't require anything more than a straightener. Straighten up those strands and chop your bangs into some lovely, retro-inspired baby bangs. Kick up the vintage look with some retro clothing and makeup too!
Natural Ombre with Short Bangs
It's the perfect combination of baby bangs and eye-skimming bangs; they're simply short bangs! Cut about an inch above the eyebrow, these bangs really open up her face while a natural ombre color adds a touch of trendy attitude.
Platinum Large Loose Waves with Wispy Fringes
Summertime fun is written ALL over this dazzling look! Her bright, look-at-me platinum locks are great for glistening
against the sunlight while full, extra large loose waves add a sexy appeal. Polished off with some wispy fringes, lengthy (false) lashes and pastel pink lips, THIS is the IT look for the warmer seasons.
Sleek Straight with Baby Bangs
Perfect for the artist or musician at heart, this modern and artsy hairstyle has a contemporary appearance. She uses a
straightener for super sleek straight locks, given a dash of attitude with a set of baby bangs.
Sleek and Polished
There's lots of angles in this hairstyle, creating an artsy look that's certainly sleek and polished. She leaves her hair super straight using a straightener, letting her wild asymmetrical angles do the talking. Loving the combination
of blunt bangs with lengthy asymmetrical front strands for a contrasting, refined finish.
Subtle Wave with Choppy Bangs
Those subtle waves are so cute and casual, a great everyday style! We're also loving those extra choppy bangs, giving her face a youthful makeover.
Tousled Relaxed Waves with Side Swept Bangs
This enticing hairstyle looks like you've just stepped out of the ocean! Tousled relaxed waves are casual yet alluring,
and with the addition of bright red lips, it's a knockout style that is sure to turn heads.
Tousled Waves with Eye-skimming Full Bangs
We are a big fan of tousled waves here, as they have the perfect balance of coy and casual. Her sandy blonde strands
are tousled up with some lovely waves, while thick, full bangs give her a youthful and cute appearance.
Intense Angles and Bright Colors
This graduated bob features an incredibly intense and vivid angle, creating a style with plenty of edgy attitude. The blunt bangs up front contrast the sharp angle perfectly, while bright blue and green locks bring this look to life. Such an enchanting, super modern style!
Light Waves with U Bangs
Love these light waves, adding just a hint of texture to the style. And the U bangs? So cool! The longer edges angling
to a shorter middle is unique and beautiful, letting her eyes peek out while her face is framed perfectly.
Simple Side Sweep
Adding a touch of trendy flare to your hair a cinch- simply toss your lengthy bangs to the side for that classic side swept style.
Bayalage Side Sweep
Lengthy side swept bangs are absolutely gorgeous and always on the trendy must-have list, but what we're really enjoying about this casual style is the lovely  bayalage hair coloring. The dark and light hues of blonde complement each other perfectly for a subtle, sunkissed finish.
Wavy Ends and Choppy Full Bangs
We're loving how this look frames her face so beautifully, with her extra short bob haircut given a cute and flirty makeover with some subtle waves on the ends. Her choppy, full bangs accent her facial features very well for an undeniably adorable appearance!
Tousled Locks
Leave it to this lovely lady to give us a 70s inspired look! Her short bob features tons of gorgeous, casual layers that are revved up with some light tousling. Even her bangs are tousled up and swept to the side, letting her bright eyes peek out from underneath.
Casual Beach Waves
Blonde + waves = the perfect summertime look; it doesn't get any simpler than that!
Choppy Bangs
Work it, girl! This sophisticated style has plenty of attitude thanks to the super straight finish cut just below the
chin and some cool choppy bangs of different lengths for some edgy dimensions.
Tons of RED Layers
Looking for a style with tons of bounce, tons of texture, and TONS of CUTENESS? This adorable 'do is airy and free-
spirited thanks to the collection of layers in all lengths and sizes, while the bright red hair coloring adds some
serious rough-and-tough attitude.
So many adorable bob hairstyles with bangs to choose from! Pophaircuts.com favorite is the tousled relaxed waves with side swept bangs. What's yours?