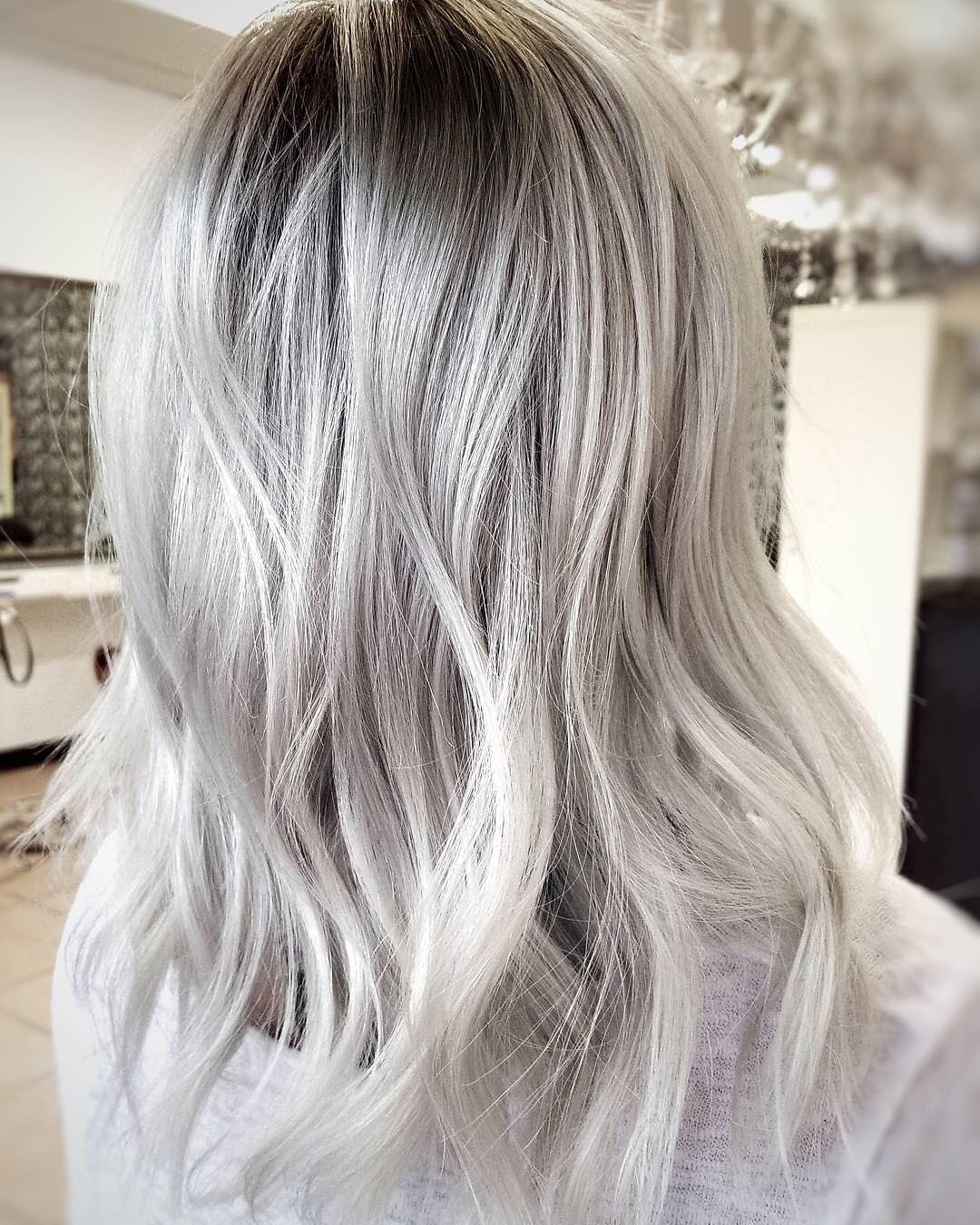 10 Gorgeous Ombre and Balayage Hairstyles for Long Hair
Ombre hair–and its hand-painted cousin balayage–is a low-maintenance, universally flattering style that has kept its place at the top of the trend charts for several years. Hair trends come and go quickly, but ombre and balayage hair are still in style and don't show signs of falling from grace anytime soon.
Long hair and ombre or balayage complement each other beautifully. Ombre adds interest to simple long hairstyles, and longer hair also give you plenty of length to work with to create a more eye-catching, creative gradation of color from roots to ends. If you have long hair, these ten ombre and  balayage styles offer inspiration for trendy, unique colors you can try depending on your natural hair color, hair type and length.
1. Black to Silver Blonde Ombre
An inch or two of black shadowed roots fade into bright silver blonde with amazing effortlessness in this ultra-trendy black to silver blonde ombre style. These dark roots add flattering dimension, but don't take up too much length in order to allow the beautiful silver blonde ends of this style to steal the show.
Silver blonde hair can be really high-maintenance, but this style is anything but. If you have naturally black or very dark brown hair, you can let your roots grow out naturally for a couple months between salon visits. Just ask your stylist to refresh your silver blonde color and blend it into your roots for a natural, manageable finish.
2. Cool-Toned Blonde and Dark Brown Balayage
Bleach can instantly brighten up your look, but it also takes its toll on your hair. Extreme dryness, breakage, and split ends are all nasty side effects of artificial blonde hair.
This beautiful balayage style minimizes bleach damage by blending bleach blonde highlights into your natural hair. These cool-toned highlights blend easily into natural dark brown hair for a seamless finish that keeps your hair healthy overall and requires infrequent salon touch-ups.
3. Natural Brown and Bleach Blonde Ombre
Root-y bleached hair is by nature a look that most women try to avoid at all costs. This ombre style, however, puts a new, ultra-flattering spin on natural roots and bleached ends.
Three or four inches of natural roots blend seamlessly into its bleach blonde ends with very little gradation in between. Dirty blonde lowlights make this dramatic color fade look more subtle and intentional.
4. Warm-Toned Brown and Blonde Ombre
Warm tones from roots to ends make this ombre style that fades from dark brown to light bleach blonde look amazingly natural.
Brown warm-toned roots fade effortlessly into white blonde ends with a few inches of light brown and dirty blonde in between. This very gradual color shift gives this style a subtle finish that looks almost completely natural.
5. Dark Auburn and Bleach Blonde Balayage
Red hair and bleach blonde hair are very difficult to pull together in the same hairstyle with flattering results.
This balayage style, however, blends dark auburn roots into warm-toned bleach blonde ends with amazing precision. The result is a seamlessly blended hairstyle that manages to make an auburn-to-bleached color gradation look totally natural.
6. Natural Brown and Honey Blonde Balayage
This blended balayage style begins with natural brown roots and finishes with bleached white blonde ends.
Its color fades very gradually from dark to light, with in-between dirty blonde dominating most of the length of the hair shaft. This subtle transition gives this style a seamless finish that incorporates a wide range of light to dark shades without looking artificial.
7. Cool-Toned Brown and Silver Blonde Balayage
Brown and silver blonde can be very difficult to blend together in one hairstyle, but this beautiful balayage accomplishes this challenge with trendy, natural-looking results.
The natural brown roots of this style are cool-toned, which allows them to fade gradually into silver-tinted white blonde without clashing.
8. Dark Brown to Dirty Blonde Ombre
This ombre style fades fairly dramatically from dark brown at the roots to dirty blonde at the ends.
These two shades are blended evenly about halfway down the hair shaft to make the transition from dark to light look natural and create a low-maintenance style that doesn't look glaringly two-toned.
9. Cool-Toned Dirty Blonde to Bleach Blonde Ombre
This dirty blonde to bleach blonde ombre style is ideal for women with naturally dirty blonde hair. This transition helps you brighten up their look while staying away from harsh highlights.
The color shift in this style isn't too dramatic. It fades evenly and gradually from dirty blonde roots to cool-toned bleached ends. The result is a bright, flattering finish that doesn't look artificial.
10. Medium Brown and Blonde Balayage
This balance style blends natural medium brown, dirty blonde, and light bleach blonde together with amazing subtlety.
The color gradation in this style is barely visible. Several shades ranging from medium brown to light blonde are blended together along the hair shaft to create a seamless fade from roots to ends.