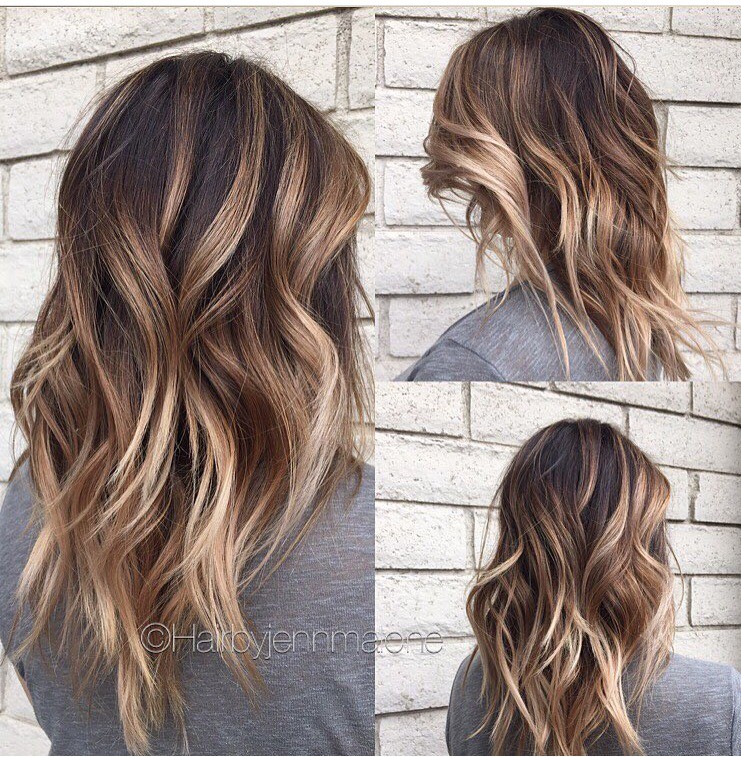 10 Trendy Brown Balayage Hairstyles for Medium-Length Hair
Balayage is an intricate technique for highlighting and coloring hair that has gained increasing popularity in recent years. This unique coloring technique involves hand-painting your hair to create a personalized, graduated style that looks much more natural than traditional colored hair.
Most women who get balayage have fairly long hair. It is tricker to hand-paint shorter hair to create a natural balayage look, so most balayage styles are designed for women with longer locks. If you have medium-length hair and want to try out balayage for yourself, check out the ultra-trendy balayage styles in this post to get some inspiration.
1. Warm Balayage Medium Hairstyles with Dark Blonde Ends
If you want your hair to look very natural, try this subtle balayage style.
It does not feature any severe, drastic color shifts. Instead, this style fades gradually from a warm-toned dark brown at the roots to a warm blonde at the ends for a trendy finish that captures the essence of classic balayage without looking too severe.
2. Blonde Balayage Shoulder Length Hairstyles with Dark Roots
If you want to be a blonde without coming across as fake or scheduling appointments at your local salon every three weeks, this balayage look might be the perfect style for you.
The brown roots of this style blend smoothly into its natural-looking blonde ends. This smooth, blended transition keeps your salon maintenance to a minimum and helps you avoid a noticeably blunt, rooty look.
3. Warm Balayage with Rose Gold Highlights
This beautiful, honey brown balayage hairstyle features expertly blended transitions for a smooth, graduated finish.
Its medium brown-to-dark blonde fade is flattering for most hair colors and styles, and its rose gold highlights add a unique, trendy finish that sets this medium wavy style apart from other balayage looks.
4. Medium Brown Balayage Hairstyles with Bright Blonde Highlights
Even though it includes several severe color shifts between medium brown and light blonde, this balayage style still looks effortlessly smooth.
Its medium brown roots require very infrequent salon maintenance, and its blended bright blonde highlights give it a stylish, striking finish.
5. Dark Balayage Medium Hairstyles with Red Highlights
Red hair can be hard to pull off, but the gorgeous red tones and smooth transitions of this blended balayage style make red flattering for everyone.
Its dark brown roots transition naturally into warm red and pink-toned highlights that brighten up your hair and create a fun, cheerful color that doesn't look too out-there or ultra-fake.
6. Light Blended Balayage Hairstyles for Fine Hair
The majority of balayage styles include dark brown, but the darkest color in this look is a medium honey shade. This style is ideal for women who have naturally light hair and don't want to go drastically darker.
Its light brown roots are forgiving, so you don't have to worry about scheduling salon appointments for touch-ups too frequently. These light brown roots fade into warm-toned honey auburn highlights and light blonde ends. This style's smooth, blended transitions and graduated color scheme create an impressively natural-looking finish for women with naturally light hair.
7. Classic Graduated Balayage with Auburn Highlights
Like most classic balayage styles, this look features multiple graduated colors for a natural-looking finish.
This style fades gradually and smoothly from very dark brown at the roots to bright, light blonde at the ends. It even incorporates gorgeous, flattering auburn highlights in the middle that set this look apart from other traditional balayage hairstyles.
8. Dark Brown Balayage with Cool Blonde Ends
This unique balayage medium hairstyle combines dark brown roots with gray-blonde ends to create a manageable, trendy color. Plus, its naturally rooty look doesn't require too much salon maintenance.
Its dark roots transition very quickly into a gray-blonde tone. However, this graduated look blends very smoothly despite its abrupt, severe color shift.
9. Graduated Red-Tone Balayage with Dark Roots
It can be very tricky to make extremely dark brown or black roots look natural, but this bold balayage hair style accomplishes this challenging feat with flying colors.
If your hair is naturally very dark brown or black and you don't want to stray too far away from your natural hair color, consider this balayage style. Its dark roots fade into an unexpected–but very flattering–red tone at your mid-shaft. This red quickly transitions into a warm-toned yellow blonde that blends amazingly well with this style's super dark roots.
10. Natural Honey Auburn Balayage Hairstyles
The warm, honey auburn tones in this balayage create a unique style that brings out the brightness and glow of warmer skin tones. This style is an excellent choice for women with warm skin tones who want a warm-toned balayage but still want a natural look that doesn't appear too starkly red.
Its roots are dark brown to look more natural, but the shade of dark brown used for the roots is still warm-toned. The dark roots transition naturally into lighter, honey auburn highlights that fade into a beautiful, bright yellow blonde near your ends.