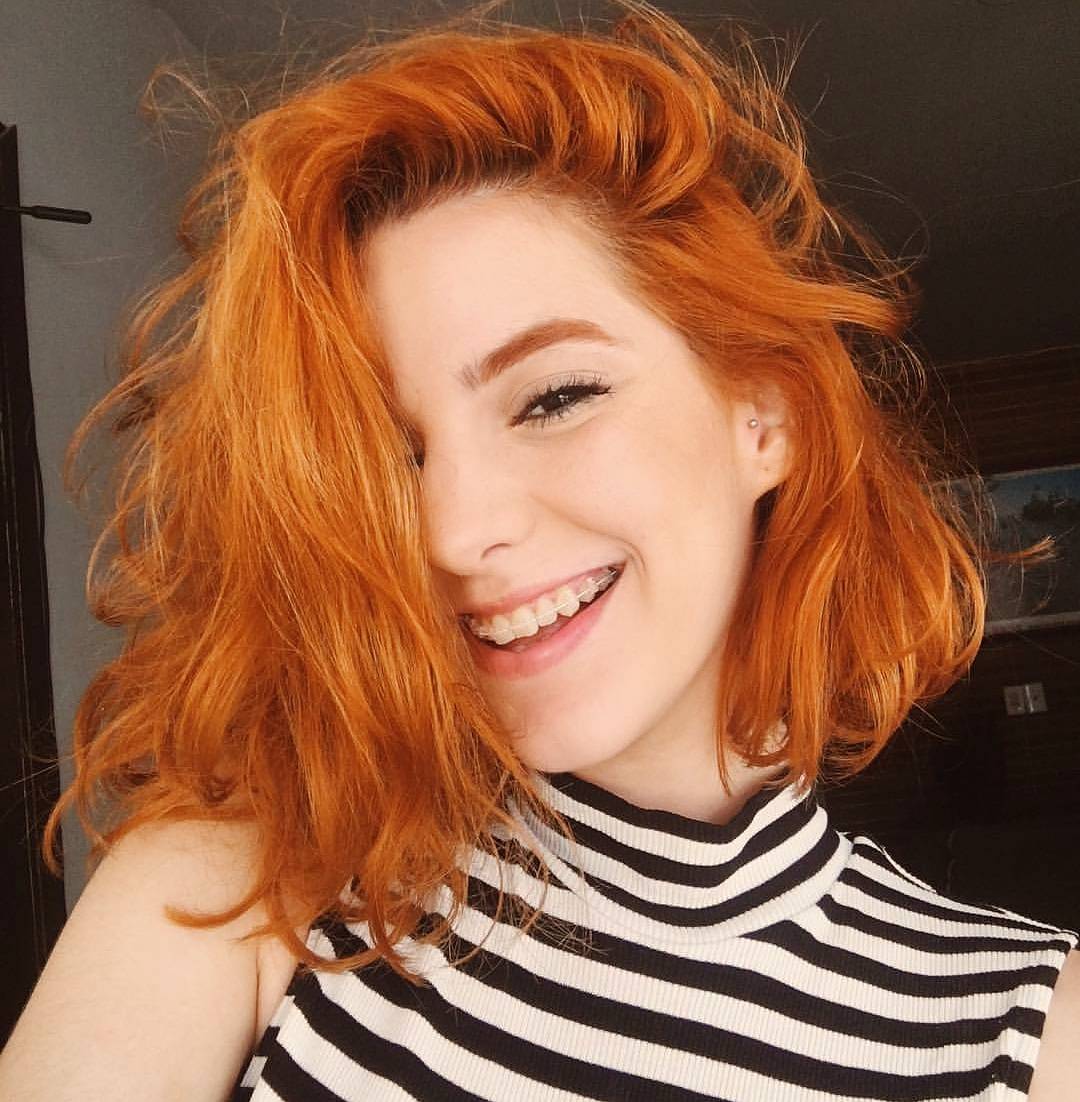 10 Super Cute and Easy Medium Hairstyles, Women Shoulder Length Haircut
Who doesn't want a super-cute and easy hairstyle? And choosing a medium-length look means you can definitely, 'have your cake and eat it, too'! That means your hair will still be long enough for swishy, casual styles with a lively vibe – or smooth, chic and sexy for special dates.  Moreover, you can easily pop these medium hairstyle up – in a trendy pony-tail or a chic evening chignon, too!
Bright & lively copper – super-cute and easy medium hairstyles
This is how to move long, teenage/twenties hairstyles up a notch to something more individual.  'Cos if you want to get noticed for your bright personality and winning ways, this lively youthful bob is the way to go!  Long layers, cut to a flattering length between the chin and collar-bone, make fine/medium hair light enough to fluff-out in tousled texture.  And that gives volume and the look of thicker hair, without complicated 'styling'.  Finally, for anyone with pale skin and warm undertones, this stylish citrus orange with lemony balayage is a fabulous new look!
Add width to a narrow chin – super-cute and easy medium hairstyles
This model looks fabulous with her dark hair cut in a modern-version of the popular, 70's flicked-back hairstyle.  I love the wispy texture of the straight-across bangs and the way they are graduated down at the outer edge.  This softens the line down to the side-layers, frames the eyes and covers unwanted 'laughter lines' on more mature complexions!  A 'flicked-out and backward moving' style is perfect to add balancing width to a pointed chin and direct the gaze back.  This draws attention away from a pointed chin or nose. And wispy texture in the sides also softens an angular jawline! Finally, subtle balayage highlighting breaks-up the solid block of dark, one-color hair for a cuter finish!
Sophisticated 1950's vintage color-contrast – super-cute and easy medium hairstyles
Add some sophisticated vintage glamour to your hair with this coffee and cream color contrast!  It's a great way to balance a natural beauty look with a highly stylish color design.  Long layers on medium or thick hair are thinned-out at the ends with softly tapered tips.  The original, 50's hairstyle also featured one-side styled under, and the other flipped-out for cute asymmetry.  With a modern, tousled finish this casual look also flatters the face with glamorous, blonde balayage framing the face!
Messy long to medium makeover – super-cute and easy medium hairstyles
Although this model can wear long or medium hairstyles successfully, the shorter haircut is definitely more up-to-date!  It also frames the face with shorter, softer sections and avoids the 'same-old' shapeless, long hair image.  The parting is carefully defined and long bangs from the off-centre parting minimize a large forehead.  The basic shape is an angled bob, with razor-cut, tapered tips adding loads of attractive texture and movement!  This easy-care haircut shows off the neck and focusses more attention on the model's eyes and lips!
Gorgeous 'sunset' auburn on long bob
I love this totally natural-looking, shade of auburn and if it's your natural shade, wear it with confidence and pride!  Dark-blonde and mousey-blonde natural hair oftens look far better when you warm it up with a copper shade, rather than draining even more color with blonde highlights.  This gorgeous, burnt-orange is a very classic color, too, which suits any complexion with warm undertones.  Tip: Don't mix up copper shades with red hair dyes, as red tones only suit skin with cool undertones, which is something that's easy to forget when buying off the shelf hair dye.
Sexy evening look on black long bob haircut
Here's a fabulously soft, charcoal-black hair color that intensifies the model's dark eyes and cute pink lipstick.  Black varies enormously between blue-blacks for cool undertone complexions and brown-blacks for warm undertones.  Not to mention all the other tones in between!  And they've just added another option, 'neutral undertones', which means some lucky gals can wear any color.  This is the flip-side of the tousled, copper lob at the beginning of today's gallery.  Long layers with a little shaping at the tips looks amazing casually draped around the forehead in this chic, asymmetrical look. Dainty highlights break up a solid color and add color depth.
Bed-head casual on long bob with loose waves
Isn't this a great look! It's like, 'It's Saturday morning – so leave me alone till I get some coffee'! LOL!  When you think how women were expected to look groomed and hairsprayed at all times in the past, this relaxed, medium hairstyle really represents freedom to be yourself! More stylish than long, shapeless locks – the long bob can be varied between loose, casual texture, deep glam waves or smooth and straight style.  This lovely, natural medium-blonde shade is given a 'lift' by golden-blonde balayage that adds lots of texture.  And now I feel like telling this model, 'Thanks for showing us your great, new haircut!  You can go back to bed now!'
Fantastic disconnected layers & citrus orange balayage
This fabulous, medium-length bob features super-trendy, disconnected layers!  The model's natural color has been intensified with a lovely, light-brown shade.  And then highlighted with dainty, orange-citrus balayage.  It's a very fresh look that's suitable for medium or thick hair, and the center-part means it's most flattering to an oval face shape.  And it's also worth noting that the soft, wispy line from chin to collar-bone will hide a 'double-chin' profile very effectively!
Color me VIP – blonde shaggy angled bob for mid-length hair
This expensive-looking, shaggy angled bob, worn with sun-glasses and black leather, simply screams for attention!  It's the perfect combination of beautifully-blended, blonde shades you'd expect to see on a t.v. cop.  So this shaggy, super-trendy, mid-length haircut is great for cultivating the style of a VIP actor or singer on her day off.  And full marks to the stylist!  It's a great medium-length haircut for medium or thick hair, but abundant fine hair types could also achieve this style, as bleaching makes hair-shafts thicken.  To stay looking this good, use loads of deep-conditioning and color-protect products.
Deep copper auburn on angled bob on thick hair
The best way to get thick hair to behave is to get a sculpted medium length cut.  Find a stylist who knows how to cut thick hair in 'sliced layers', which are vertically shaped, and get a hot, easy-care look like this! This takes care of bulk at the ends, and balances flattering volume around the crown with wispy, textured ends. And orange-blonde balayage adds color dimension to accentuate trendy layers on this gorgeous, deep-copper medium-length hairstyle!