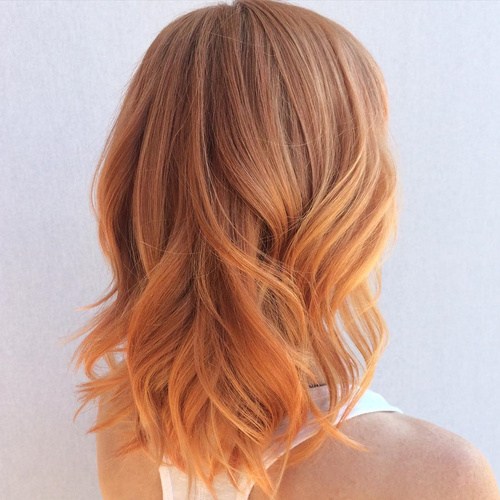 20 Great Hair Ideas for Winter
As summer comes to an end, we hang up our frilly dresses and pull out our sweaters and boots; but one more common theme of the ending warmer months is to completely switch up our hairstyle.
Bringing on the winter months means opting for a shade that will either 1. become brighter like the snow-capped mountains around us, or 2. become warmer like the fireplaces we kneel beside every night. We've come up with a list of some of the best hair ideas for winter, ones that are sure to swoon your heart and get you ready for any winter event, big or small.
Indigo Curls
There is simply something magical about this hairstyle, as if a fairy was ascending from an icy tavern in the middle of a midnight winter snowstorm. The look is flawless, the cascading curls letting her darker pieces and indigo strands meddle together in a stunning fashion.
Rose Gold
Rose gold doesn't have to be reserved for the warmer seasons; it's a hair color that can last all year round. This delightful shade pairs together the beauty of blonde with a touch of orange and light red for a delightful, feminine finish that's enhanced with subtle curls.
Antique Rose Gold Ringlets
Antique rose gold is the ideal shade for women who want a pink that's not overpowering. Delicate and sweet, this antique rose gold long haircut is given even more dainty appeal with ringlets that hold their shape. Wear this style to the winter weddings and have all eyes on you.
Chestnut Brown Sparse Highlights
Black hair is great for the colder seasons, but if you want to add some versatility and dimension to your locks, choose a brunette hue that's warm and inviting. Chestnut brown is a delightful option, having hues of auburn infused for a rich finish that's full of depth. Lightly texturize your tresses for more fullness.
Blonde Ombre Curls
Ombre is a hair technique that won't be going out of style anytime soon, and neither will BLONDE! It doesn't matter whether it's 100 or 10 degrees outside; blonde ombre hair color like this always look fashionable and on-trend for the season.
Vivid Color Blend
Make a striking, vibrant statement in between the snow-capped mountains by taking the plunge and indulging in some seriously exotic hair colors. Her blend of rich blues, vibrant purples, intriguing pinks and yellows ensures she has the entire town talking about her endlessly colorful palate. Ladies, if you love to show off your wild personality, this is the ideal way to do it.
Cranberry Waves
Ladies- you can't go wrong with cranberry hair in the fall; it's just not possible. This ravishing shade matches the beauty of the fall surrounding us, and just so happens to make us think of the delicious cranberry treats we will eat at Thanksgiving. Adding in some voluminous waves ensures the lusciousness of this hair is seen by all.
Silver Tousled Tinglets
Embrace the beauty of winter and become one with the snow as you invite your stylist to douse your hair in silver! This striking hairstyle is the epitome of winter time fashion, its icy hues giving us chills down our spine every time we look at it. For a more breathtaking appearance, toss in some voluminous ringlets and lightly tousle them with your fingertips for an elegant but not too tight-knit look.
Wine Ombre Curls
A fresh glass of wine is exactly on our minds everytime we're sitting by the fireplace during winter time, so of course wine is also a great hair color choice. With a delectable hint of purples and reds infused into one glamorous hue, it's the ideal ombre hair color choice to go up against a jet black upper half. So divine.
Golden Caramel Melt
Two of a girl's favorite things- gold and caramel- all wrapped up into one sophisticated and alluring color. This color melt idea is an excellent option for all seasons, but pairs well with your jackets and leggings with ease.
Honey Blonde Highlights
Contrast is good any time of year, so if you want to lighten up a bit even during the cold months, try on some honey blonde highlights. They are a delightful contrast against darker roots, creating an exotic blend that's effortless and sexy- especially with voluminous waves such as these.
Dimensional Blonde Voluminous Curls
Sexy and utterly appealing, this dimensional blonde is fluent with a blend of highlights and lowlights for a dazzling effect that glimmers in any light. Try on some bold, voluminous curls using a large-barreled curling iron for a dramatic entrance that is undeniably elegant.
Dark Brown Balayage
If you're looking for the perfect dark brown balayage hair coloring, this is undoubtedly IT. This 'IT' look combines some ultra dark roots with a twinge of lighter brown intermingled throughout her mane, getting heavier on the tips. Make sure your hair is always trimmed to avoid extra attention on split ends.
Blonde Balayage Waves
You summertime style can easily be turned into a winter wonderland when you tame down the blonde a bit and go for something a bit more subdued and natural. This deeper shade of blonde is the perfect pairing for mousy brown roots, and those waves are downright sensational.
Old Hollywood Balayage
Achieving that sexy old hollywood feel is a cinch when you're hair is as glamorous as this. Her deep, rich shades of brown play off each other in a wonderful balance that's warm and enticing. And to polish off her trendy style, she tosses her locks into some luscious, lightly textured curls to frame the face.
Retro Orange Curls
Flashback to the 1950s with a gorgeous gal in fur with a cocktail in her hand, and this is exactly what comes to mind. Her fierce orange locks are to be gazed upon, that delightful hue getting pumped up with gorgeous flashback body thanks to a retro-inspired hairstyle trend of voluminous curls on the ends. Love this holiday look!
Icy Blonde Waves
Icy blonde is the ideal blonde shade for the winter season, showing off that beloved winter weather to a tee. Her hair reminds us of the snow falling day and night, and brings on the same chill as the ice cold winter winds blowing against our cheeks. Love this white-hot style for winter!
Auburn Highlights
Fall and winter crave hair colors that are warm and charming, and this look is the ideal fit for this description. Her dark brunette roots are brought warmth and alluring attitude thanks to some lovely auburn highlights which work extremely well during the fall season.
Grey Waves
Winter time is NO better time to indulge in that ever-popular grey hair trend! Don't be afraid to take the plunge and dip into the grey pool- as you see here, it's a striking shade that works even better with some highlighted silver pieces. Waves ensure this look is bubbly and refreshing!
Creamy Blonde Curls
This snow princess knows exactly how to rock winter hair! Creamy blonde is undeniably a trendy 'do all year long, but there's something about this shade during winter that steals our hearts. A bright, striking hue, it reminds us of the snowy streets and beautiful snowflakes falling from the sky. Curl it for some extra dimension and flow.