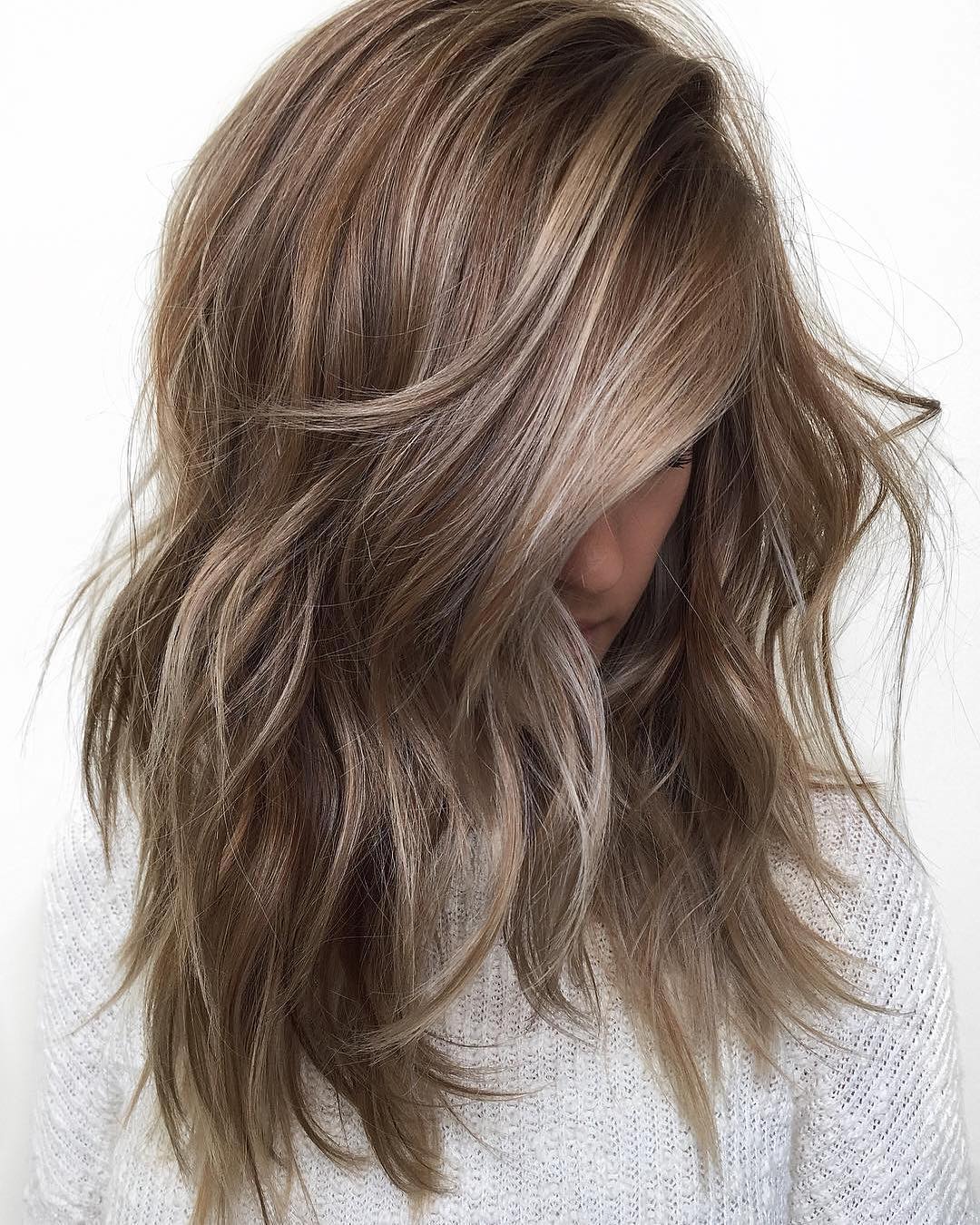 10 Balayage Ombre Hair Styles for Shoulder Length Hair
There's nothing quite like a carefully applied balayage-ombre to bring out the best in the latest hairstyles for shoulder length hair!  The advantages of a trendy balayage-ombré are many, including giving straight, long hair an instant fashion makeover.  It's such a clever way to update a simple, easy-care style with each new season.  And expert balayage is famous for adding 3-D color depth, which is great, 'cos we all love the look of thicker hair.  So come in and browse these lovely shoulder-length hairstyles in gorgeous colors, and see this year's newest wave technique!
Attractive 'bed-head' balayage ombré hairstyles for shoulder length hair
Here's a young and lively look created by cutting fine or medium-textured hair into long, shaggy layers.  Tapered textured tips give a nicely-judged windswept finish, that can also be worn in smooth or waved styles.  The balayage-ombré uses a variety of shades that are warmer and cooler than the model's natural light brown hair-color.   And this allows the model, who has skin with a warm undertone, to wear cool ash-tones – without them looking mismatched to her complexion!
Grunge-lite balayage ombré hairstyles for shoulder length hair
This style is flat around the top and has a little extra width at the sides and at chin level.  So this is a good shape to wear if you need to disguise a wide forehead and a narrow chin, on a heart-shaped face.  The center-parting and hair worn to 'cut-off' the edges of a square forehead, make a triangle-shape that creates appealing vertical symmetry.  The roots are dark taupe, which is a gray-brown shade without any warmth.  And the balayage of medium-beige-blonde, fading to a neutral-blonde ombré are just what you need to tone down a 'ruddy' skin-tone!
Long bob balayage ombré hairstyles for shoulder length hair
Here's someone who's all styled and manicured ready to attend a special event!  And there are several 'good-style' tips to be gleaned from this model's beauty look.  For instance, the blue-gray manicure complements the artistic blue and red tattoo across her shoulders.  And her straight bob hairstyle with taupe roots and neutral-blonde balayage-ombré, avoids the mistake of having too much pattern and color fighting for attention.  The long bob haircut skims the top of her shoulders and doesn't cover her body-art displayed under a plain, white top.
Classic sleek straight lob for fine hair – balayage ombré hairstyles for shoulder length hair
Here's a shoulder-length hairstyle that's easy-care and elegant, and that's why it's such a popular cut for medium and fine hair.  To keep the density of fine hair intact, the hair is not layered, except for concave shaping at the tips and shorter layers around the face.  The long 'roots' section is natural, expresso-brown, so blonde vertical highlighting is a great way to add movement and light-reflecting texture.  These highlights are much lighter than the base, but the effect is subtle and classy.  And that's because they are also a cool tone, like the base.
Natty neutral-beige balayage ombré hairstyles for shoulder length hair
If you've not come across 'natty' before, it's just a quick way to say, 'smart and fashionable'!  And even from the back view, you can see this model is all of that by her chic, modern hairstyle.  Why is one hair-color chic and another one not?  Well, any color that looks contemporary and sophisticated without being 'attention-grabbing', will give you an instant style upgrade.  The latest trend for beige colors uses natural-blonde shades, plus hints of pink toner, in such softly, flattering colors you'd think they would never go out of fashion!
Fun twists & textured tips on one-length bob for fine hair
This hairstyle instantly gives the model a trendy, modern image and says, 'Here's someone who's not afraid to try something new'!  And that's a very attractive image to have, especially if you struggle to get volume into shoulder length fine hair.  First of all, the hair is blunt-cut without layers, with expertly textured tips to create the impression of thicker hair.  And then the hair is highlighted with trendy beige and neutral blonde shades adding 3-D color depth over darker roots.  Finally, defined bend-waves display the light/dark contrast adding lovely texture!
Super-cool white-blonde with gray roots
White-blonde and gray roots are the sophisticated version of platinum with black roots.  And this gray, beige-blonde and white-blonde color design, with blue toner, is a stunning modern look for fine, shoulder-length haircuts.  These colors are suitable for skin which has a cool undertone and that doesn't depend on whether your skin in pale, medium or dark.  Skin's undertones are fixed for life and don't change if you get a sun-tan.  Shorter layers around the face soften the line and textured tips add edge to this ultra-modern look!
Elegant waves on special occasion long waved bob
Some hairstyles are as artistic as any oil-painting!  And you have to admire the art involved in creating this wavy, angled bob in beautifully blended light and shade.  Brown roots are the backdrop to gently graduated, medium neutral-beige.  Then there's a super horizontal section of ash-blonde, creating  fabulous 3-D color depth on lively, loose tousled waves.  The overall image of this long, angled bob is understated elegance meets hip, modern style!
Color-licious copper-beige highlights on mid-brown hair with overlapping texture
I can't help it, whenever I see these warm-chocolate hairstyles with copper-beige-blonde balayage, I get a craving for orange-flavored chocolate!  But it's more than that, this sophisticated shoulder-length haircut with ultra-loose braid texture looks very fresh and attractive.  This lovely hairstyle suits medium to thick hair, as the overlapping sections divide the hair to show more thickness underneath.  Without layers, the same-length look retains hair's natural density, for lovely, feminine waves and curves around the bottom edge!
Caramel and honey-beige bend-waves on long angled bob haircut
Today's final balayage-ombré hairstyle is a well-controlled color contrast, moving from coffee-dark roots to pale, beige-blonde.  The key to success in all of today's multi-shade hair designs is expert blending of colors that come from the same tone set.  In this trendy, long angled bob the color graduation follows the natural undertones contained in the model's natural hair color.  There's a nice hint of copper highlighting the waves, but the lovely mid-beige-blonde shade of the lower lengths keeps the look soft and feminine!