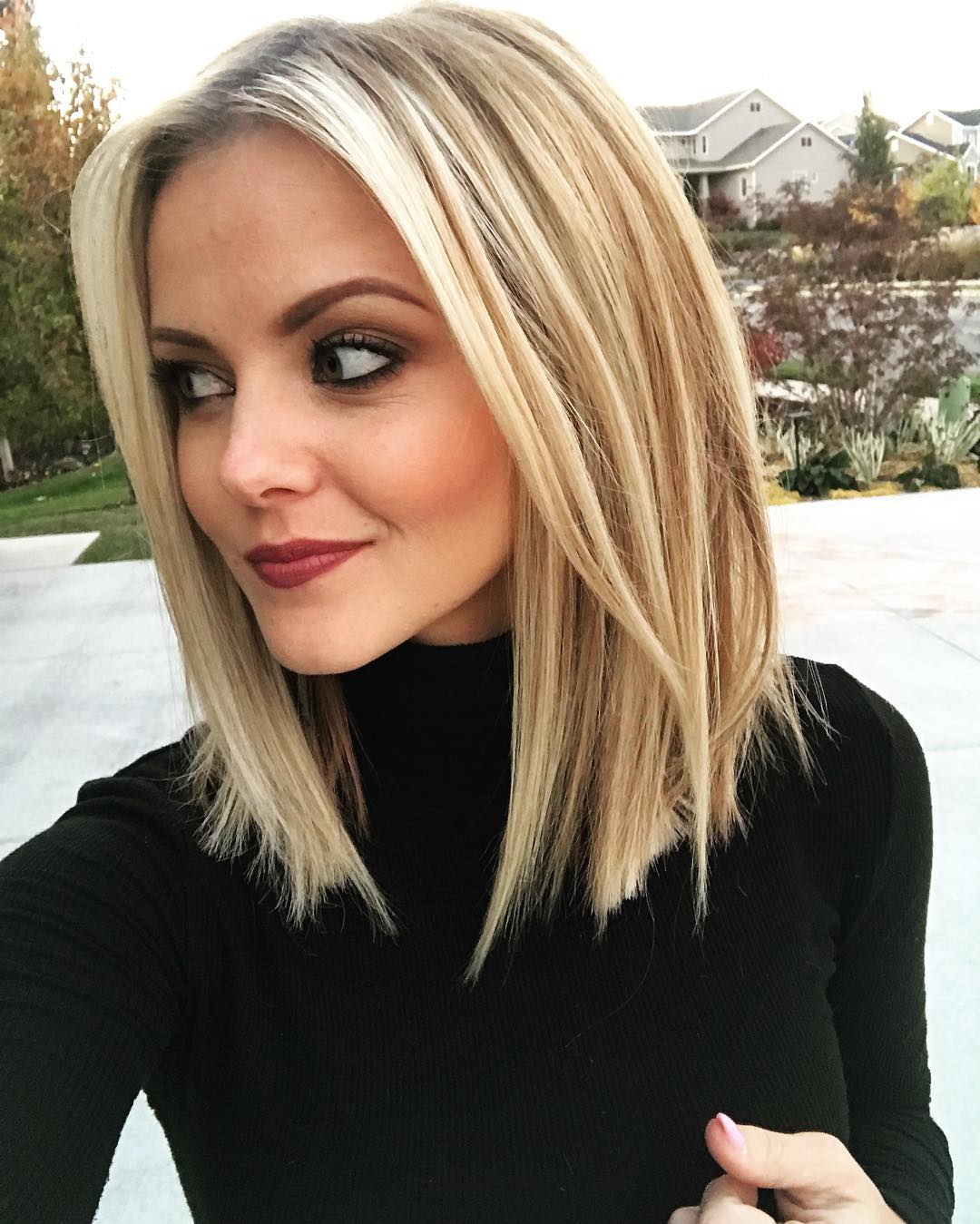 10 Stylish & Sweet Lob Haircut Ideas
If you're Blonde with a capital B – or just thinking about a bright, new look – these stylish and simple lob haircuts will show you what's new!  Some of the cuts are sweet and chic, but there's a generous dash of full-on, blonde-bombshell in the mix, too!   With their flattering shapes, easy-style convenience and endless versatility, lobs have held their popularity for several years now.  And these fresh colors, new balayage techniques, and trendy twists will keep us 'hooked' for a long time to come!
Classic blonde lob with new twists – stylish & sweet lob haircut ideas
Love your lob, but bored with the color?  Don't worry, it happens to us all!  Why not try this beautiful blend of caramel, toffee and honey mid-blonde shades in a vertical pattern. Medium-blonde colors tend to give a softer look that flatters more mature complexions.  And with just a touch of white-blonde at the front, you'll draw attention to the top of your face and your eyes.  Textured tips are varied to make a choppy and tapered bottom line that's a totally new twist!
Ash-blonde roots – stylish & sweet lob haircut ideas
Simply stylish is definitely a good description of this lovely, modern lob in the latest, cool colors!  Cool, but not totally ash-blonde, because this model has warm undertones to her skin, which must be taken into account for a flattering color choice.  The roots are a blend of gray and beige, with a tiny touch of pink toner.  And the gorgeous neutral-blonde main color contains a generous amount of beige to soften it.  On hair cut in long, sliced layers the result is this ultra-modern, casual and very trendy new look!
Minimalist lob with spot-light balayage – stylish & sweet lob haircut ideas
This blend of a straight, minimalist long angled bob with a superb, new blonde balayage idea is perfect for fine hair.  Blonde highlights make lank, fine hairs thicker and drier, which solves two basic problems.  And this chic look is easy-style and just needs plenty of conditioning to maintain the lovely shiny finish.  With roots left in their original, dark-blonde color root touch-ups become less of a worry, too.  The interesting color graduation moves down from the roots, and horizontally from ash shades at the back to white highlights framing the face!
Snazzy mixed balayage colors – stylish & sweet lob haircut ideas
Here's a gorgeously highlighted long bob haircut to inspire us!  This is a great lob hairstyle for fine or medium-texture hair, because lightweight hair with a silky texture has more 'physical' movement.  This makes it perfect to show off an expertly applied kaleidoscope of soft beige and blonde shades!  Simplicity in the cut means you can be extravagant with color and this casually tousled lob has at least 5 different shades and tones.  The contrast between the lightest white-blonde and the dark-brown under-layers around the nape ensures 3-D color depth.  The main color theme is soft shades with two golden tones framing the face, and beige-pink around the back which suit skin with a warm undertone!
High-fashion white blonde lob haircut ideas
This 3/4 profile view displays the edgy, shaggy outline of an unusual white, beige and ash high-fashion lob.  The sides follow the usual contours of a graduated angled bob down to a point below the collar-bone.  But they then move up to form an asymmetrical V-shape with sharply textured tips ending several inches higher.  As this picture demonstrates, this is a ragged-edge, white-blonde look designed to highlight a low-cut fashion style!  (But don't expect to be invited back to meet his parents for Sunday lunch! LOL!)
Trendy tousled long bob in beige & white blonde for fine hair
The thing about fine hair is that although each hair has a smaller diameter than coarse hair, you may still have lots of hair to 'play with'!  So woven waves, twists and tousled finish will easily give you lots of extra volume, like this adorable blonde lob.  And the second best way to perk-up fine hair is to lighten it and get the benefits of thicker individual strands from the bleaching process.  But to get this beautifully soft blend of beige, gold and ivory-blonde – plus a touch of brown at the nape – you need an expert colorist!
Shaggy honey & caramel balayage with 3-D white highlights
This cute everyday lob has lots of sex-appeal!  The deep side-part creates a shaggy, peek-a-boo section draped casually across the face, which looks very flirty! It also makes a long face appear shorter, or minimises the broad forehead of heart-faces.  The medium-blonde shades of the main color are great for anyone with brown eyes and skin with warm undertones, like this model.  And three or four shades, including white-gold balayage, make hair look thicker and more interesting!  The cut is a simple, same-length bob, but don't miss those funky textured tips carefully shaped to create a trendy, serrated bottom edge – like shark's teeth!
Beige-blonde sophistication – long angled bob
I love this clever fusion of sophisticated blonde shades, with a shaggy-looking long bob for medium or fine hair.  It's not an actual shag-cut, because shaggy layering requires thick hair, but it's a similar look.  Color has been used to create the impression of thicker hair, with varied blonde tones and darker roots.  In all, I guess there are at least five shades in this gorgeous blonde lob, including deep-brown at the roots and nape.  The angle is accentuated by a single wave between roots and shaggy, tapered tips.
Elegant ivory & lavender-white wavy long bob
Whether your hair is naturally white, or you love to lighten it, this fabulously wavy bob is a really eye-catching option!  The lovely, broad waves create 3-D texture for hair that looks as beautifully styled as a marble statue.  But with lots of lively movement going on there, too!  The tips are balayaged in white-blonde, with a lavender toner, which contrasts with the warmer, beige tone of the main ivory-blonde color.  And this draws attention to the lively, spiky textured tips which also contrast with the soft wavy texture above!
Hip centre-part brown & blonde lob with messy finish
This fabulously cool lob look is perfect for oval faces who can take the symmetry of a center-part.  The finish is messy, from long, tousled layers and heavily tapered tips creating a broken, wispy bottom line.  And the color technique mixes dark-beige blonde roots and random patches, with dark-brown lowlights in the under layers.  The high-fashion color graduation moves from the darker back in a horizontal pattern to 'over-bleached' blonde tresses framing the face.  It's a style that mimics the 'trailer-park' look – but with an ironic twist for a super-casual, new look!