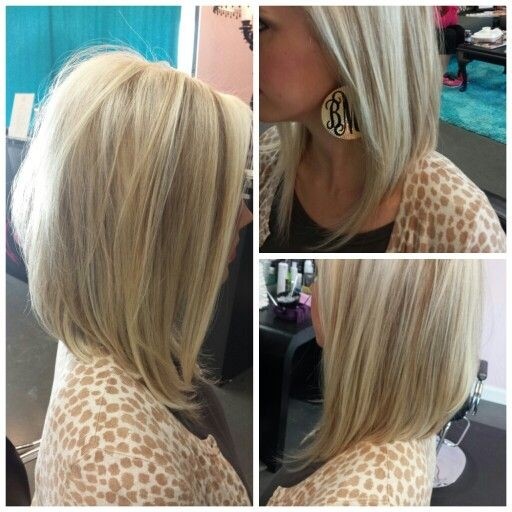 27 Beautiful Long Bob Hairstyles: Shoulder Length Hair Cuts
The long bob. The 'lob', if you will. It's such a gorgeous hairstyle that allows you to hold on to plenty of length, making it the perfect choice for women who don't want to cut off to much of their locks. Considering a lob? We have you covered with this collection of beautiful long bob hairstyles!
Lengthy Layers with Volume Up Top: Cute Straight Hairstyle
This is undoubtedly one of our favorite layered bob hairstyles, featuring tons of lengthy layers throughout the mane from front to back. The layers are then given a subtle flip forward for a dose of flirty bounce while a bit of volume up top creates a full-bodied style. A rather simple, feminine look that can accompany you to the office or the beach; anywhere!
Blunt Slick Straight Lob
Gorgeous hair doesn't have to be textured to turn heads! This simple yet refined look starts off with a blunt lob cut just below the shoulders. She runs a straightener through her medium-length tresses for a slick straight lob that's nothing short of polished.
Lengthy Graduated Lob
Graduated bobs- whether long or cut super short– are ALWAYS trendy! We're loving this graduated long bob hairstyle, with a mod middle part and some subtle stacking in the back.
Bedhead Curls: Casual, Everyday Haircut
Did you just get out of bed? Maybe. But it certainly looks like you had one AMAZING night before! These bedhead curls are seriously hot. Don't forget to pair these locks up with some edgy and seductive ensembles.
Casual Lob: Chic Straight Medium Hairstyle
Sometimes being cool and casual is key. When you have no time to style but still want to look your best, run a straightener through your mane real quick and toss it to the side.
Red Hot Lob: Bob Haircut with Bangs
Fierce. Seductive. Sophisticated. Just a few of the words we would use to describe this red hot lob! Aside from the enticing color, this is one of the best long bob hairstyles for round face. Keeping the bangs extra long adds some serious length to her face, getting rid of the excess roundness and finishing with a very lovely appearance.
Casual Ombre with Choppy Layers: Shoulder Length Hairstyle for Thick Hair
As far as long layered bob hairstyles are concerned, here's a casual and cute one you may want to try! A unique and casual ombre coloring gives this mane a bold and vibrant look, with a lovely dark brown and red brown contrast. Her locks are chopped with tons of layers of different lengths and sizes to finish with a full-bodied style.
Subtle Angle: Medium Straight Haircut
Modern and fabulous, this is one of those long angled bob hairstyles that looks great on everyone. The subtle angle keeps things looking refined and elegant, and it can easily be amplified by use of makeup and jewelry; or keep it casual with soft, natural makeup!
Bayalage Waves
This look has 'summertime' written ALL over it. From the gorgeous bayalage blonde hair coloring to the dashing beach waves, we think this is undoubtedly the go-to style for beach trips or days where you're strutting around the pool.
Lengthy Layered Graduated Lob
Love layers? Love a graduated bob? Then this one's for you! Here we see one of the best long bob hairstyles for fine hair, with tons of extra long layers that add some contrast and bulk while the subtle graduated stacking creates a full-bodied finish.
Platinum Blonde Clip-Back
Want to open your face and let your eyes do the talking? Simply toss your lengthy bangs completely to the side and clip them back behind your hair so they don't fall in front of your face. Consider platinum hair coloring for a very sexy and bright finish.
Dark and Light
This a-line lob is incredibly fashion-forward and cute, and we're loving the distinct and vibrant collection of dark and light hair coloring. Around the front of the face is bright with platinum hues to create a light complexion that dazzles and shines.
Blonde Layered Lob
Thin hair or locks that need a little life can easily be given a full-bodied makeover with tons of lovely layers of different heights. Blonde highlights and lowlights are perfect for summer time fun in the sun!
Shaggy Long Bob
Super casual, this lovely long bob is amplified with tons of cute layers of different heights for a shaggy and relaxed look.
Casual Toss Back
If you're about to head out on a shopping adventure or an interview for a new job, this is a wonderful hairstyle choice. Just simply toss your bangs back to the side!
Bouncy Lob
This is such a cute hairstyle, one of our favorite long bob hairstyles with bangs. She adds tons of volume underneath her graduated lob to create a full-bodied, bouncy style that's youthful and fun. Perfect for any occasion!
Lengthy Brown Lob: A-line Long Bob Haircut
Chic, yet super laid back? Definitely a winning combination! These mousy brown locks are simply gorgeous. Just run a straightener through your mane, toss is the side, and call it a day. Easy!
Contrasting Curls
Contrasting colors bring this hairstyle to life, with stunning shades of browns and blondes. This mane is given a gorgeous makeover with beautiful, romantic curls, perfect for the fanciest of occasions.
Graduated Lob with Dark Underneath
Sandy blonde lob is adorable and stylish while a dark brown shade tucks underneath for a bit of trendy contrast.
Layered Colors with Subtle Waves
We adore this hairstyles, one of our favorite and oh-so-perfect long bob hairstyles for fine hair. She gives her hair an instant burst of texture and unique attitude with layers of warm colors including dark chocolate brown on top, followed by a gorgeous blend of chestnut brown and honey blonde. She them amplifies her locks with some sexy attitude thanks to subtle waves throughout, creating bulk that is essential for fine and thin hair.
Voluminous Waves with Ombre
Ombre is a style MUST, and with the addition of some gorgeous voluminous waves, this is one of the most perfect long bob hairstyles 2016. Her waves are bold and luscious and her sandy blonde locks with platinum tips creates the ideal, flirty color for summer.
Blonde Curls with Wrap Around Braid
Braids are so feminine. So dainty. And they look good on just about anyone! Here we see one of the most flawless long bob hairstyles , featuring a stunning wrap around braid that separates coy curls from a straight upper half. There's tons of flirty body and dimension in this 'do, and although it may LOOK difficult, it's really rather simple if you have a few extra minutes to curl and braid your mane.
Trendy Ombre with Loose Curls
Gray hair? Absolutely! No longer are the days where women should be embarrassed of their gray hair; it's actually a huge style trend ! This lovely ombre features trendy gray tips with brown roots up top, given plenty of lovely body with a set of loos curls throughout. A really great choice when it comes to long bob hairstyles for round face as it elongates the face while creating a soft, delicate appearance.
Tossed Back Bayalage
Straight tresses are great, but they can be a little bland and boring after awhile. Did you know you can totally switch up your style by simply tossing your lengthy bangs back? It's quick and easy- we're talking maybe one minute TOPS- and it creates some casual body that's cute and trendy. Oh, and of course we adore the bayalage blonde, especially for summer!
Framing Highlights and Subtle Wave
Framing highlights around the face really brighten the complexion, creating a youthful and light appearance that can be played up with makeover. Her subtle waves are sultry and would look perfect with red lips.
Highlighted Romantic Curls
Ah, this is one of the most beautiful layered bob hairstyles. Her dark chocolate brown locks are given a light and lustrous makeover thanks to beautiful mousy brown and illuminating blonde highlights. She creates a very enticing and elegant look with a set of romantic curls, perfect for date night.
Asymmetrical Blonde Lob
If you're looking for one of those long inverted bob hairstyles you can wear anytime, anywhere, consider this hairstyle. It's simply a lengthy asymmetrical cut with a sexy side sweep. No bangs makes it a great choice for long bob hairstyles for round face too.
Sexy Super Side Sweep
Tossing your hair to the side with an extreme side part is just plain sexy. The swept-over tresses dangle delicately over the eye, creating a very enticing finish.
There's no way you couldn't have found a BOB hairstyle you LOVE in this list! Pophaircuts.com which one is your favorite? Take the plunge to shorter locks today!