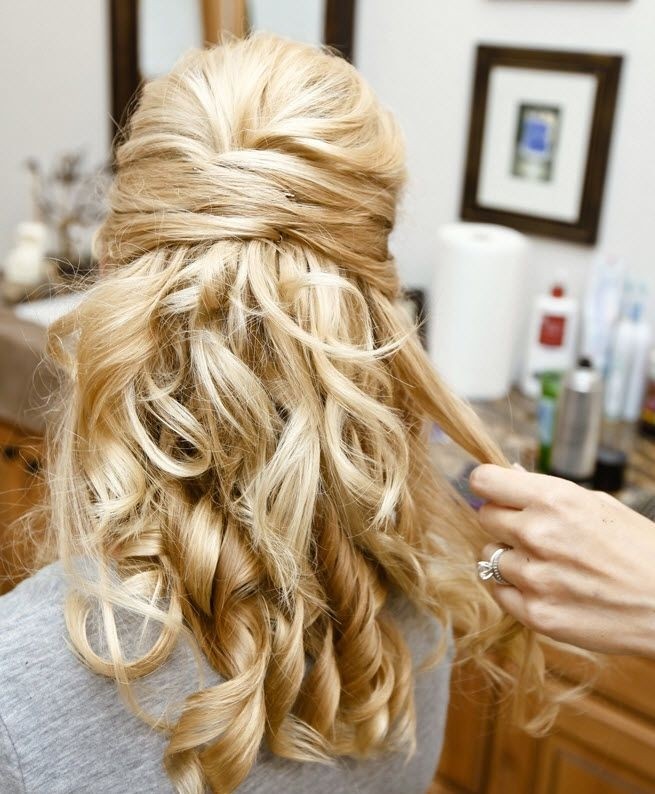 30 Hottest Bridesmaid Hairstyles For Long Hair
Do you want to learn some splendid and graceful long hairstyles for bridesmaid ? There are a lot of kinds of Bridesmaid hairstyles for long hair. You can always try up curls, down curls, and braid hairstyles.
Updo Hairstyles for Bridesmaid
Which are quite elegant and popular. The chignon is a favorite style among fashionable women. Chignon hairstyles are trendy and simple hairstyles for medium and long hair. It is certain to earn you some envy head turns since the chignon can offer people a graceful and sexy look. Slick back chignon is a classic and quite feminine style which is chic for weddings since women can insert fresh flowers into the hair right above the chignon. It is quite effortless to create chignon.You can also wear some hair embellishments.
French Braids
Another popular option is French braids which look charming for all formal events. If you want to show off your long manes, French braid will be your ideal option.
Ponytail Hairstyles
Another simple yet pretty hairstyle is ponytail. Just create your hair into a high pony. Fix the hair with a tight hair band. Take some hair from the pony and twist it round the hair band. Ensure you hide the hair band excellently. Fix the twisted hair with a little pin under the pony. Besides, you can create a low pony if plan to wear off-shoulder dress for a wedding. You can use hair care items to keep your hair in style longer.
Chic Updo Hairstyles for Bridesmaids: Loose Braid /Via
Braid Updos: Wedding Bridesmaids Hairstyle /Via
Half Up Half Down Hairstyles for Curly Hair: Great bridesmaid Hairstyle Idea /Via
Wedding Bridesmaid Braid Updos /Via
Pretty Bridesmaid Hairstyles for Long Hair /Via
Bridesmaid Hair and Makeup: Messy Updos /Via
Loose Updo Hairstyles with Braid: Bridesmaids Hair /Via
Easy Bun Updos for Bridesmaids /Via
Loose Side Hairstyles for Curly Hair /Via
Messy Updo Hairstyles for Wedding: Bridesmaids Hair Styles /Via
Chic Bridesmaids Hairstyle /Via
Bridesmaids Hairstyle Ideas 2014- 2015: Side Fishtail Braid /Via
Braided Side Updo /Pinterest
Bridesmaid updo Hairstyles /Via
Messy Updo Hairstyles for Curly Hair /Pinterest
Moderm French Twists Updo for Bridesmaids /Via
Natural Bridesmaids Hairstyles /Via
Bridesmaid Hairstyles for Long Hair: Waterfall Braids /Via