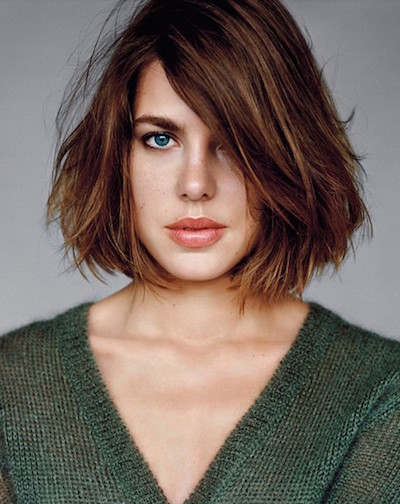 20 Gorgeous Hairstyles for Women With Thick Hair
Thick hair can be a pain, especially in the hot months of summer. No one wants to have a pony tail all summer long. Naturally, girls turn to thinning out their hair, which is fine if that's what you prefer. However, there are a lot of great styles for women with thick hair that don't require thinning. So before you take the plunge, check out these looks for some last minute inspiration!
1. Messy Pixie
Do what thousands of others are doing and chop it off! With your thick hair you'll have amazing texture and volume.
2. Side Parted Waves
Gentle waves and a gorgeous side part is a stunning look to try!
3. Layered Bob
Lighten your hair with layering instead of thinning. It will look amazing!
4. Messy Straight Bob
Messy and straight? Perfect combination for your thick locks.
5. Wavy Bob
Or, get some simple waves going!
6. Thick Pixie
You really can't go wrong with a pixie, and this cut proves it.
7. Choppy Layers
Don't limit yourself to smooth layers. Get messy with some choppy ones too!
8. Thick Curls
Take advantage of your natural volume and create some thick curls!
9. Smooth and Asymmetrical: Medium Bob Haircut with Blonde Straight Hair
Smooth your hair out for the illusion of thinner hair, and while your add it why not add a flair of creativity and play with the lengths!
10. Stunning Waves
Stunning and elegant waves are bound to look excellent on.
11. Varying Lengths: Layered Pixie Haircut
Play around with the lengths of your pixie too!
12. Beautifully Framed: Easy Everyday Hairstyles
Not only is framed hair chic, it's also incredibly flattering.
13. Rounded Layers: Short Bob Hair Style
Another kind of layers that are equally stunning!
14. Choppy Blunt Pixie: Cute Short Hairstyle
Choppy, yet blunt, this pixie is light, refreshing and undeniably stylish.
15. Subtle Undercut: Asymmetrical Short Hairstyle
We're all about the undercut these days, and with your thick hair, you'll have natural volume without needing to gel anything!
16. Choppy Waves
Who says waves can't be choppy? These ones are chic while retaining a bit of edginess.
17. Very Thick Pixie
Sweepingly thick, this pixie is just the thing for all of you!
18. Short and Wavy
You also can't go wrong with beach wavy like this.
19. Sleek and Smooth: Straight Bob Haircut
Bangs are another great way to lighten you hair without thinning!
20. Thick Sense of Style: Blonde Short Haircut
What ever you choose, make sure it suits who you are.