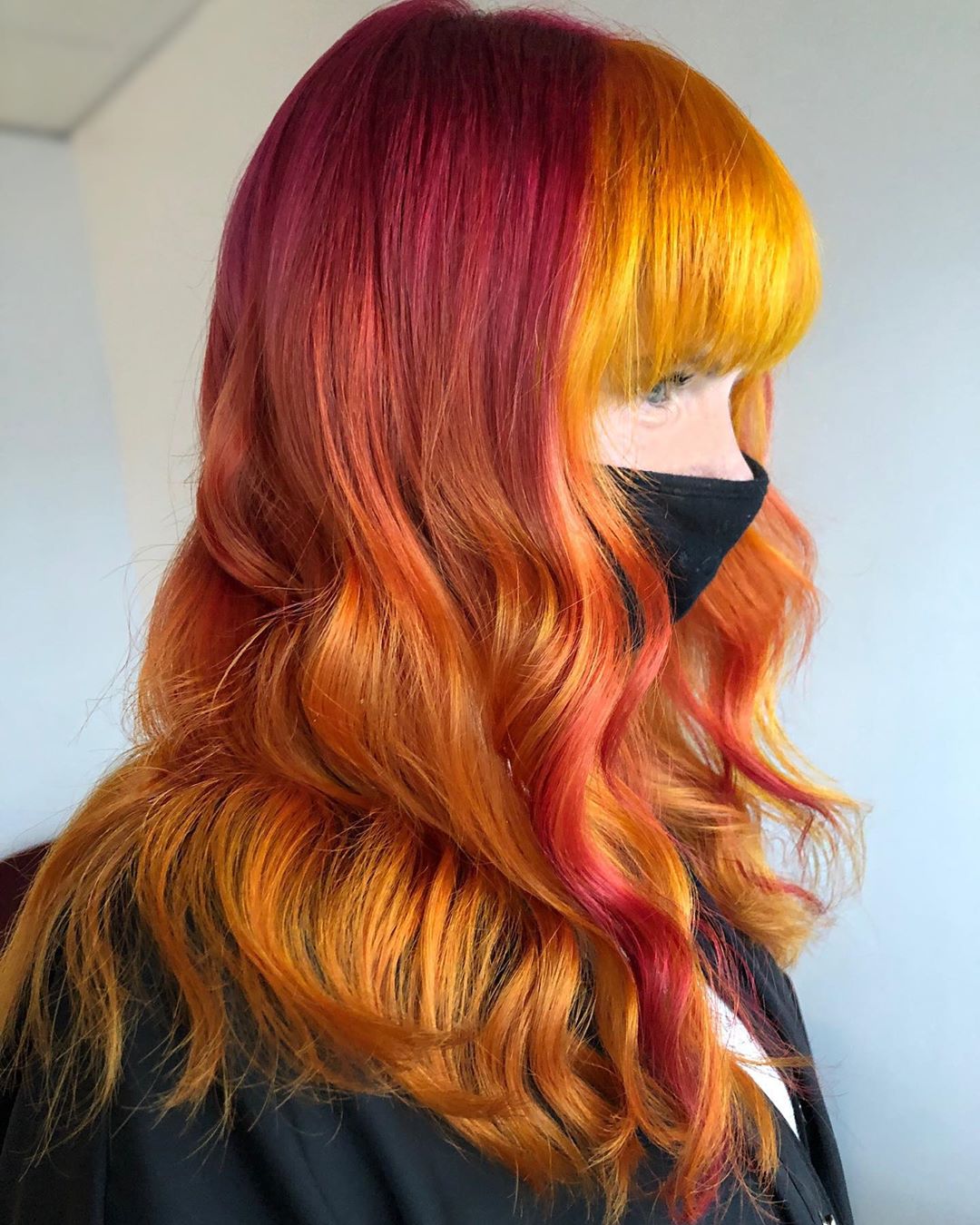 10 Hairstyles for Long Hair in Weird & Wonderful New Hair Colors
These hairstyles for long hair are the leading edge of hair-fashion, for trendsetters and fans of outrageous 'alternative scene' hair-color designs! So if you're keen to catch-up with hair-fashions and the beginnings of totally new trends, this gorgeous gallery is perfect for you. Long hair offers a larger 'canvas' for talented colorists, and they have come up with some amazing new color techniques this year. So read on to see color-blocked long hairstyles, wide horizontal bands of rainbow color and color patched hair-designs you'll love!
1. Wonderful winter-white with brown balayage – hairstyles for long hair
Add an original, new touch to your ash-blonde long hairstyles with some warm brown balayage at the back. This will add a trendy contrast making your hair-color design contain both cool and warm colors. This lovely wavy long hairstyle is an edgy version of a romantic, ice-princess look.
2. Groovy gray roots & rainbow balayage – hairstyles for long hair
I love it when a totally new trend emerges in hairstyling for long hair! And this is the first-time I've seen lovely, long, gray roots like this. They make a fabulous base for a weird and wonderful rainbow hair-color design on wavy hair. The expert colorist has done an excellent job blending pink, orange and yellow with green and turquoise tips. And defined waves and spiky, tapered tips show this is an edgy, 'alternative scene' cut-and-color!
3. Icy platinum-blonde with gray roots – hairstyles for long hair
Gray roots and underlayers on winter-white, platinum-blonde create a softer contrast than black and white. And that's a good way to get a gentler, updated look on long, straight hairstyles. The colorist has varied the width of the balayage from fine to broad highlights. And they've used a selection of white and ash-blonde shades to create exceptional texture and 3-D color depth. Finally, there's also a touch of fashionable yellow in the sides that hang around the face.
4. Vivid yellow, pink & orange on brunette base – hairstyles for long hair
This fabulous hair-color design makes a show-stopping hairstyle for long hair! And it's obvious that this colorist is very talented and artistic. The base color is coffee-dark brunette which is shown in the roots and contemporary face-framing strands. And the beautiful 'sweeps' of yellow and coral-pink hair color combine to make trendy orange sections, too. This color scheme is totally fresh and fabulous, making it the perfect makeover look for your next big night out!
5. Bold blonde color & style makeover on long wavy hair
This attractive, color makeover shows how to go from mid-brown to a natural shade of blonde. First of all, ask your colorist to add blonde balayage, like the first image. And wear it a while to see if you're comfortable with lighter hair. Later on, you can switch to a full blonde look like this 'after' image. The stylist has totally updated this long hairstyle, with straight, textured tips. And by changing the center part to an off-centre look you can add flattering height on top!
6. Stunning color-blocked raspberry-pink & yellow on extra-long brunette hair
Extra-long hair always turns heads, but this modern hair-color design is unforgettable! The bright pink roots gradually transition into canary yellow, making a stunning contrast with neutral-brown hair. And the benefit of having a simple, straight cut is that you can add a special hair-color, and have an attention-grabbing look that's extremely easy to style! This amazing style is like a piece of modern art!
7. Romantic ash-blonde & pink highlights on taupe base
Not all workplaces are comfortable with modern hairstyles in vivid, rainbow colors. However, you can sneak in some contemporary style by adding soft pink tones to an ash-blonde hair-color design. The cool blonde and taupe shades are given added chic from the pink tones. And wispy, textured tips soften the line of smooth, straight hair.
8. Funky orange, yellow & magenta on long hair with full bangs
This amazing long hairstyle debuts the trend for color sections and patches blended in with balayage. The straight-across, full bangs have orange roots that change to a yellow ombré lower down. And the top is a beautiful shade of magenta, which is gently transitioned to bright copper-orange main color. But that's not all, because the pretty waves around the front are balayaged in coral-red!
9. Exquisite pearlized blonde over bands of rainbow color
Are you ready for a fantastic new hair-color technique? Then take a good look at what we have here! The colorist has carefully colored the underneath layers in vivid yellow, blue and deep-pink. And then created a 'veil' of beautiful, ash-blonde, long hair to drape over the top. This is a completely fresh hair-color technique that's a true trend-setter. What do you think of this hairstyle for long hair that contrasts classic, smooth, wavy pearlized blonde with stunning bands of rainbow color?
10. Vibrant long yellow hair with horizontal black bands
Canary yellow is a huge trend for this year and this trendy model's black hair has been madeover with a vivid and edgy result. The cool, yellow color will restrict your choice of fashion clothes, unless you favor a color-clashing, alternative scene look. But this is a stunning, bee-inspired color technique using modern, horizontal bands of color for a completely new effect! And long bangs covering the eyes create a casual, overgrown finish!
So whatever fashion tribe you belong to, you can find the perfect, new season makeover from a subtle touch of pink, to golden-blonde or a color-blocked, modern art look!