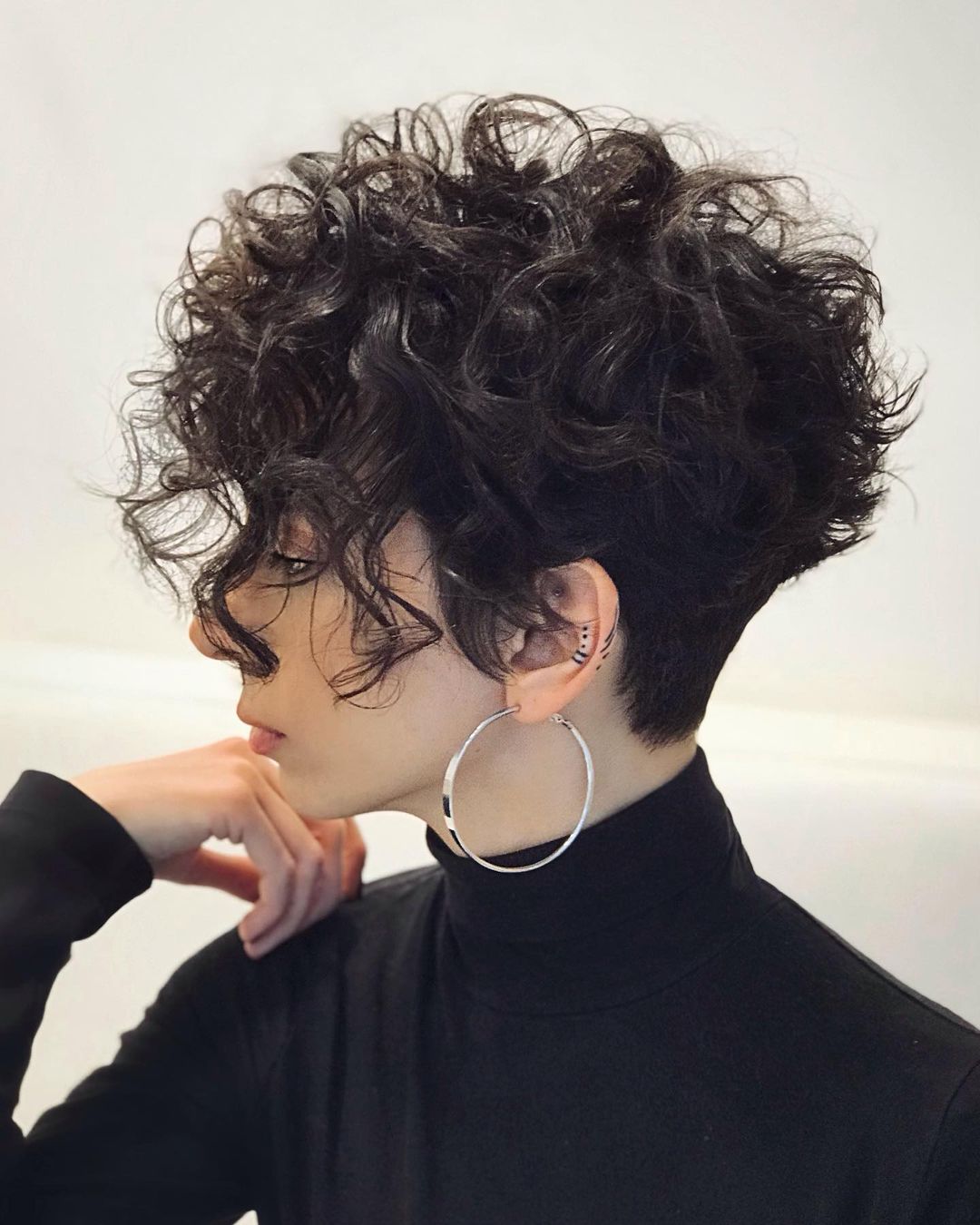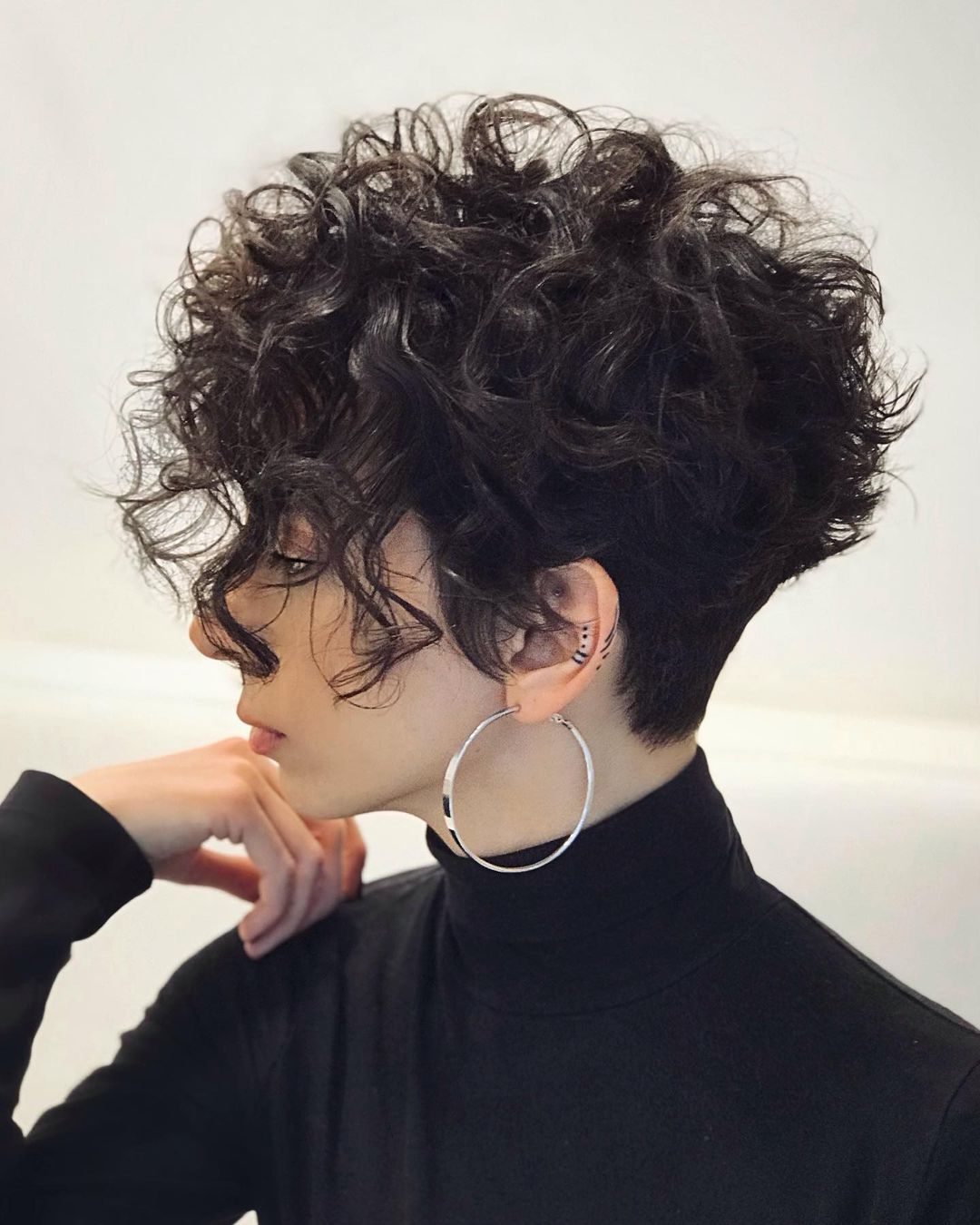 10 Pretty Short Wavy Hairstyles with New Texture & Volume Twists
Pretty short, wavy hairstyles have changed a lot the last few months. So if you've been busy lately and lost sight of the latest hair fashions, now is definitely the time to update your look! The latest twists to this popular and easy care style are lots of deep texture and exaggerated volume. And it's important to know where to have the volume, so you can flatter your face-shape whatever it happens to be.  So if you're looking forward to summer, or winter, parties and dancing the night away with friends, now's the time to get your makeover look done!
1. Pretty short wavy hairstyles in natural medium-brown
For everyday, classic chic you can't do better than this natural brunette, short hairstyle. The main volume is concentrated in the centre of the head, which adds symmetrical height to an asymmetrical bob haircut. The parting is only slightly off-center, and suits an oval or slightly rounded face. And to avoid adding too much width, the side waves are loose and follow the shape of the cheekbones. With one side casually tucked back, this is a fabulous, easy-style hairdo for work and leisure time!
2.   Textured wavy volume & low-lights – pretty short wavy hairstyles
Thick hair looks great in this big-hair bob with a trendy, curved nape-line sloping down to the chin! The front is styled up and away from the face, with relaxed waves draped down asymmetrically. The stylist has used sliced layers, which are cut vertically and remove the bulk from thick hair. And you can see the effect in strongly tapered tips, which add a fabulous, wispy look. The fashionable, hair-color design is a subtle mix of neutral brown and black, with the tiniest bit of white-blonde balayage!
3.  Messy ash-blonde with dark roots – pretty short wavy hairstyles
This high-fashion look is a perfect example of what to aim for when styling your short layered haircuts at home. And it's a lot easier than the complicated curls women used to wear, thank goodness! The short layers just need a light curve, before you arrange the front layers facing back, and the side layers facing forwards. And the back section is vertical, pointing down to a trendy V-shape at the light-brown nape. Over gray roots, this white-blonde texture looks beautifully bright and modern!
4.  Totally textured asymmetric bob – pretty short wavy hairstyles
Here's a super example of how to wear your hair with fashionable, black-rimmed, glasses. So, as the frames are dark, make sure your hair color is lighter, to reflect plenty of natural light onto your face. And as all frames are symmetrical, it's a good idea to wear an asymmetrical hairstyle, especially if you have a round face. Pretty waves with wispy tips will balance out the bold lines of the frame. And plenty of volume over the center of the face adds length to counter the width of large frames!
5.  Wild mid-brown textured bob with ice-pink balayage
I can remember some of the jobs I've had were so hectic that I always looked like this by 4 p.m.! But it's high fashion now to have messy, big hair with defined strands and a casually untidy finish. This trendy look has extra volume around the crown, which adds an up-do silhouette. But the elegant vibe this usually adds is undermined by the half-tucked-behind-the-ear sides!
6. Gorgeous coppery asymmetric bob with quiff
Asymmetric styles have been one  of the longest lasting trends in recent years. And they are still going strong! The advantage of choosing an asymmetric style, long or short, is that it can be adjusted to flatter any face shape. And that's the most important part of choosing the best hairstyle for you. This glorious, copper bob has soft waves framing the face and a trendy quiff that adds length. It's highly fashionable in orange tones and suits lots of different faces and ages!
7. Shaggy lob in peach & mid-blonde with pink balayage
If you're looking for something funky, but not too bright, this is an excellent cut and hair-color design to try! It's a fabulous way to bring last year's long hair styles up to date and perfect for a makeover. The stylist has cut the hair just past the collar-bone and added tapered tips for a wispy, uneven look.  And the softly blended shades of pink-, apricot-, gold- and white-blonde are subtly contrasted with darker roots. And to get the full effect, the stylist has created a wild, messy finish that shows off the colors perfectly!
8. Chic curly black sculpted bob with extra-long bangs
This is a classic, chic look that never goes out of style. And it's perfect for getting the best out of thick, curly hair. It's also right-on-trend with the heavily textured finish of this season's short hairstyles! The back has spiky texture and the voluminous top has tousled, curly texture. And they both make a creative contrast with the graduated section above the nape. Long sides-points soften the sides and those lovely, casual waves draped over one eye add a very sexy, peek-a-boo vibe!
9. Smart messy bob with long layers for fine hair
These golden-blonde tones are a hugely attractive color, and look gorgeous over a dark-blonde base. We know that this hairstyle has several balayage colors, but compared with rainbow color hair designs, it looks very natural! LOL! The centre-parting flatters oval face shapes and the stylist has created alluring waves in shorter layers around the face. The ends are blunt-cut and then micro-textured to break-up the strong line. And the finish is beautifully windswept to make fine hair look thicker and totally trendy!
10. Cute pastel-green bob with deep waves
Here's an elegant, young retro-look that can be achieved on straight, fine to medium hair. It needs a base color that's quite light, as the colorist has to bleach the hair to a white-blonde level. But don't the forest-green roots look fabulous? Styling your hair off the forehead is a great idea if you have a low forehead. And soft, green waves accentuate the color of hazel eyes beautifully. With deep wavy volume, plus an outstanding hair-color design, this hairstyle will always make you the main attraction!
So if you're ready to make a fabulous impression at your next get-together with friends, phone your salon now and get a makeover appointment!