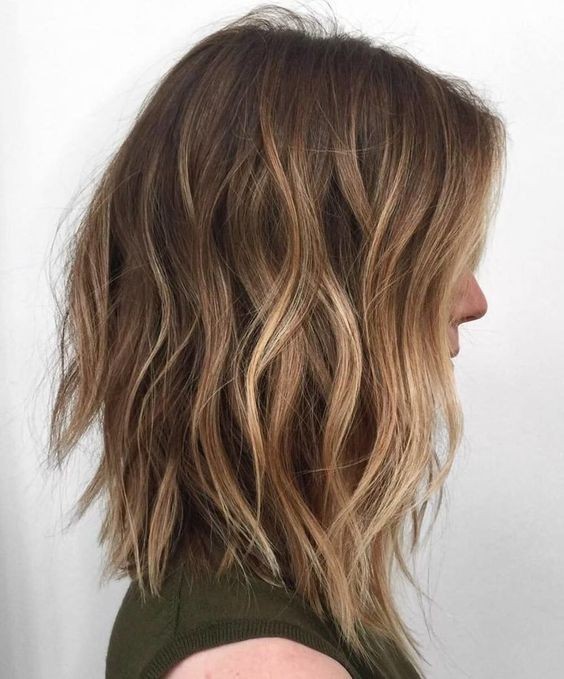 10 Hottest Layered Medium Hairstyles
The best way to bring life into your beautiful medium hairstyle is by adding gorgeous layers throughout the cut? Adding a variety of layers into your hair cut will create a unique silhouette and shape to the hair. Consequently, this will offer a completely versatile, bouncy cut which will transform your look. We've gathered some of our favourite layered mid-length hairstyles into one incredible gallery for you to peruse. We hope to provide you with the ultimate hair inspiration for your next cut.
Loose Curls with Blonde Highlights – Balayage Medium Hairstyles
Medium length hair tends to fall around the shoulder length, just like this beautiful lady's does. This is the perfect length for wearing your hair both up and down. This lady's hair is naturally a gorgeous dark brown, which she's brought to life with golden blonde highlights throughout. The layers throughout the cut have added a beautiful bounce to the curled end result.
Black to Red Balayage with Curled Ends – Medium Haircut for Thick Hair
Opting for bouncy curls to style your mid-length hair will show off the stunning layers you've worked throughout the style, as is proved by this phenomenal cut. This lady has gorgeous glossy and thick locks, which blend from a black at the root to a beautiful vibrant red. With layers around the front of the face, this cut is curled with big barrel curls at the ends.
White Blonde Tousled Hairstyle – Easy, Women Haircuts for Medium Hair
The layers in this remarkable blonde hairstyle create a gorgeous top section which is slightly shorter and full of body, allowing this tousled hairstyle to really steal the show. The underneath layer of hair is a striking shade of caramel, whereas the top layer is full of white blonde streaks. This lady has loosely tousled her hair to create this fantastic finish.
Soft Brown Curls – Balayage Shoulder Length Hair Styles
Because of the gorgeous loose curls worked throughout this stunning medium length hairstyle, there's a wonderful and bouncy finish at work which we simply cannot get enough of. This wonderful style blends from a dark brown to a vibrant light brown, and we think that the wonderful layers add a fantastic look to this amazing medium hairstyle.
Brown to Blonde Ombre with Side Parting – Blunt, Layered Hairstyle
Side partings will create a gorgeous end result for your medium length hairstyle. As this lovely lady has proved, working a side parting offers a lovely sweeping fringe, which we think looks stunning. Her mid-length hair is full of layers throughout, and this creates a wonderful end result. We love the brown to blonde balayage look!
Swept Back Blonde Curls – Balayage Medium Hairstyles for Women Thick Hair
Shoulder length hair is best brought to life thanks to a variety of layers. This lady has worked lots of layers throughout her entire locks for this amazing finish. She's added choppy curls and tousled the hair loosely for this fabulous flicked effect. This beautiful blonde style is full of bright highlights and we love the swept back style!
Brown to Blonde Ringlets – Layered, Curly Medium Hairstyles
Balayage is without a doubt our favourite hair transition, blending two colours together seamlessly. This lady's medium length hair blends from a dark brown to a beautiful golden blonde. Her hair is full of layers throughout, which looks fantastic with these tight ringlets. She's worked the curls from roof to tip and created the most remarkable end result.
Golden Blonde Curly Bob – Balayage Shoulder Length Hairstyle for Thick Hair
Golden blonde is such a beautiful hair colour and especially when it's featured on a medium length cut! This lady's stunning bob is full of golden highlights which bring to life the layers throughout. With lots of fantastic layers throughout the cut, the curls create a fantastic bouncy finish. We just cannot get enough of this look.
Subtle Balayage with Curled Ends – Wavy Lob Hair Cuts
Tousled hair is oh so fashionable – and looking at this lovely lady's hairstyle it's not hard to see why. Her gorgeous shoulder length cut is full of lovely layers. This creates an incredible textured finish, especially thanks to the loose curls throughout! Her hair is brown to blonde balayage which is a wonderful transition that we adore.
Messy Brown and Blonde Style – Layered, Thick Hairstyle
Texture is everything in the world of fashion and this look certainly has it. Tousled for an amazing finish, this brown and blonde hair is simply to die for. Gorgeous colours combine to create a fantastic day to night style, which offers the perfect low maintenance look. We think this hairstyle would be equally gorgeous when straight too!
Which of these beautiful hairstyles most takes your fancy? The Pophaircuts.com team would love to hear from you. Leave us a comment below and let us know what you think!