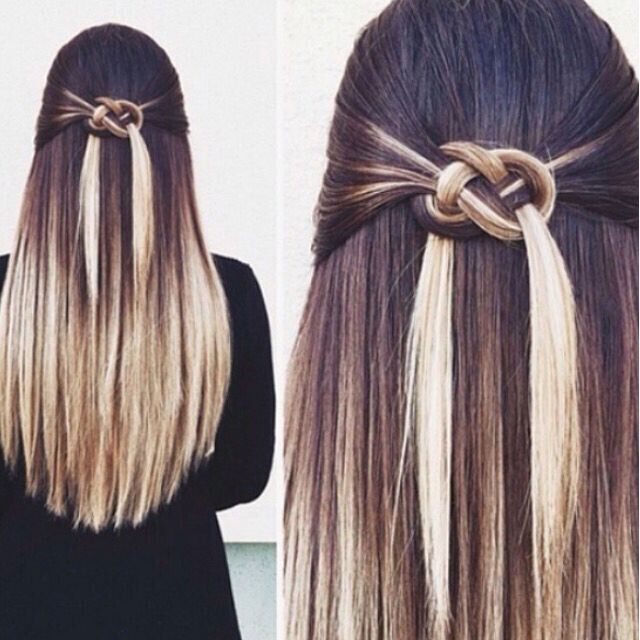 20 Hair with Blonde Highlights Hairstyles: You Must See!
Black hair was once the Cinderella of highlighting and colour accents, with most women feeling that black hair with blonde highlights hairstyles weren't fashionable.
But I'm here to tell you black-haired beauties that you shall go to the (hair highlights) ball!And catch all the compliments, too!
Brown Hair with Blonde Highlights /Via
New Colours – New Style Opportunities!
There's been an exciting explosion in the range of blonde tones during the last few years and now we have better techniques and lots of marvellous new blonde shades that harmonize with all shades of black hair!
So whether your hair has tones of blue, deep coffee brown or a touch of natural red – there's a fantastic blonde highlights hairstyle for you!
Wonderful Brunette Hairstyles With Blonde Highlights /Via
The metallics
After Dior showed their new collection on models wearing lots of gorgeous metallic gold eye makeup, it became clear that all the metallic colours would be big news for the foreseeable future!
Pale to rich, dark gold
The latest gold-blonde shades range from glinting pale-gold, through medium golden-blonde to darker antique-gold shades that look fabulous as shimmering golden glints in black hair.
Rose-gold and copper-blonde
Rose-gold is still a favourite new shade and just right for adding some warm glints to black hair and softening the severity of having black hair framing the face. Black hair with rose-gold, or copper-blonde highlights around the front and sides will reflect light onto your face and give it a huge lift!
Black Hair with Rose Gold Highlights Hairstyles: Ombre Long Hair /Via
I can definitely testify to that because I once tried a Chestnut hair dye, which dyed my hair black! Anyway, when I checked in the mirror I could see I looked a lot older, more severe and with every shadow on my face accentuated by the black frame.
Needless to say, I had to go straight to my hairdresser who fixed my mistake and as soon as she had lightened the colour, we both exclaimed how much younger and softer my face looked!
Urban bold platinum-blonde
Of course, if you fancy an edgier urban chic look, the best way is to add some platinum-blonde balayage colour accents. You can really change your image quite radically with a black hair with blonde highlights hairstyle with just a sprinkling of fine gold or coppery strands.
Bold Platinum-blonde /Via
However, for a really bold and dramatic look, a large section can be bleached platinum blonde.
Be original
Why not get blonde roots to subvert the,now mainstream, fashion for black roots? Or if you have long, straight black hair, add a horizontal band of blonde highlighting for another original look?
The high-fashion options for black hair with blonde highlights hairstyles are enormous, so take a look at these inspiration pics and then plan your own style makeover!
Black Hair with Blonde Highlights: Stylish Short Haircut /Via
Pretty Hair Color for Long Hair /Via
Ombre Hair Colors /Via
Pretty Brown Flame: Black to amber blonde ombre hair /Via
Black Hair with Pale Blonde Highlights: Easy Short Bob Haircut /Via
Black Hair with Blonde Highlights: Best Ombre Hair Color Ideas /Via
Short Straight Bob Cut /Via
Black Hair With Blonde Highlights /Via