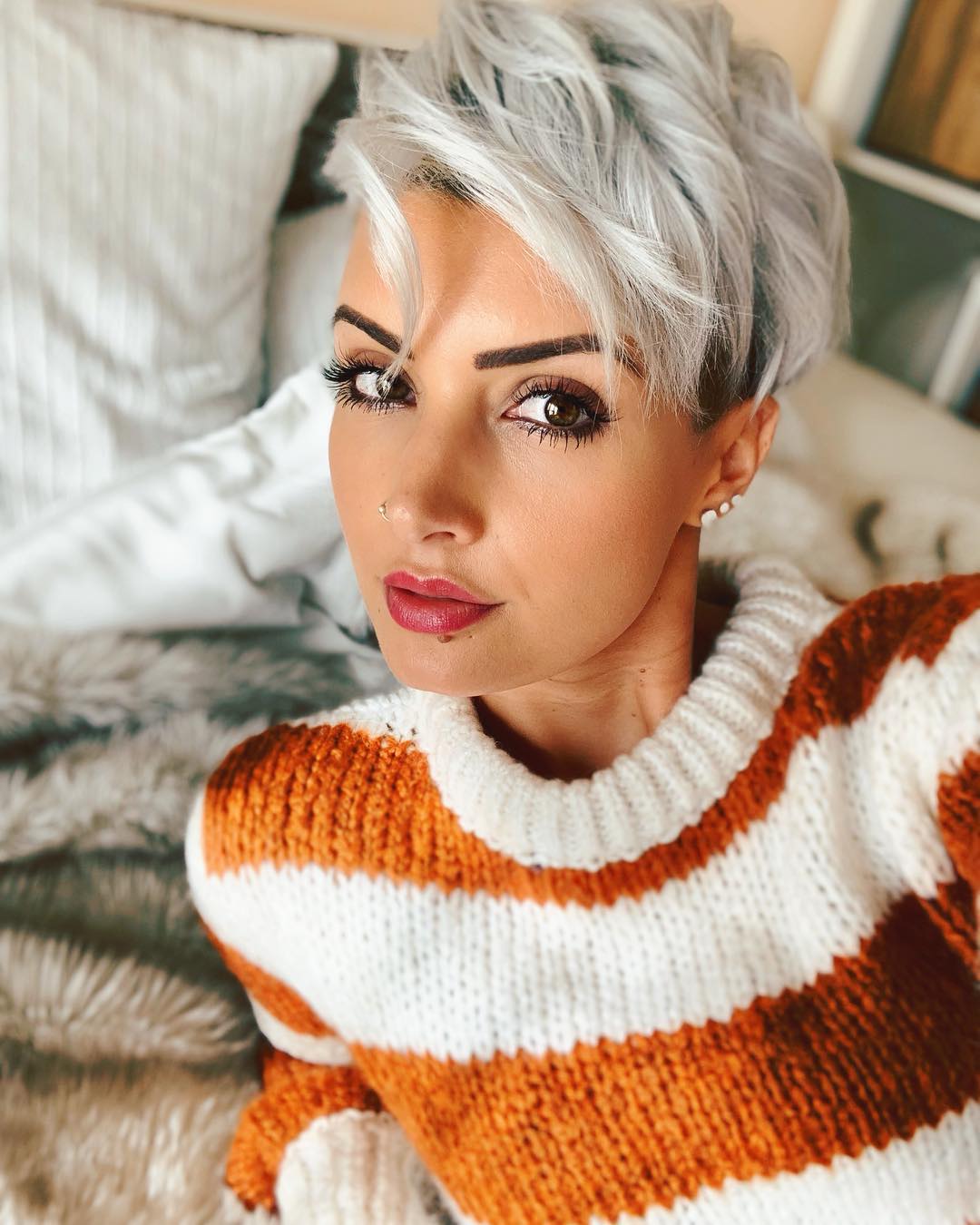 10 Cute Short Haircuts with Bangs
Every one of these terrific short haircuts with bangs is a head-turner! The cutting techniques are right up-to-the-minute fashion-wise and the colors are bright and daring. So if you're looking for a stunning short haircut with bangs, run your eyes over these fabulous edgy looks!
Ash-white blonde – terrific short haircuts with bangs
This is a contemporary twist on the basic, platinum-blonde with black roots, which has stayed popular for a several years now. Instead of platinum, the colorist has updated this asymmetrical pixie cut to fashionable, ash-white blonde. Ruffled waves add volume and texture. And defined strands falling over the forehead add a casual, youthful, vibe accentuating the eyes!
Pale ash-beige blonde long to short makeover – terrific short haircuts with bangs
It's easy to see why this face shape looks so much better with the short hairstyle. A high forehead and chubby cheeks have been cleverly minimized. You can do this by removing long hair volume next to the cheeks, which adds unflattering width. And instead of a shapeless long bob, the result is a highly stylish, side-swept short haircut!
Ruffled waves on chic asymmetric pixie – terrific short haircuts with bangs
This model has a slightly long face, so styling her hair in a long, diagonal bangs really helps balance her face shape. The hair is cut in long layers, which are styled in defined, ruffled waves for texture on top.  Adding a raised quiff above one corner of the forehead, is also a super way to add length to a round face. And this classy, modern cut is gently highlighted in subtle blonde balayage.
Gray-blonde short bob – terrific short haircuts with bangs
Here' an original look for a daring model whose not afraid to show off her edgy, modern fashion-sense. Thick hair can be cut into sliced layers to get this short, asymmetrical bob with tapered, uneven tips. The back layers create a fabulously-curved profile, with an unconnected layer decorating one side above the shaved nape. And the shaved side has a trendy, square-cut finish!
Sophisticated silver pixie with long bangs
This is a lovely easy-care, youthful way to wear short hair! It suits lots of different fashion styles, too, from sporty to chic social occasions. It can be achieved on all hair textures and suits most face-shapes, too. This model's heart-face and pointed chin have been beautifully balanced. And her shining, silver hair-color is stunning!
Long straight pixie haircut in subtle copper-brown
Sweeping your hair across the head from a deep, side parting is one of the easiest ways to add a fashionably, stylish vibe. And not only that, this straight short hairstyle needs very little styling or expensive fixing products to keep it looking good all day. With a rich, warm-brown hair-color and the ears just peeping out between side strands, it's a soft and flattering look!
Edgy shaggy short hairstyle on dark hair with honey-blonde balayage
This two-tone short haircut is packed with interesting personality! The look is smart, but casual, with wispy tapered tips softening the dark edges around the sides and nape. And the expert colorist has highlighted the fabulous textures with two soft, honey-beige balayage colors. So if you like to be trendy, but different, choose this individual women's short hairstyle.
Straight choppy short bob in soft beige-blonde with brown roots
The hair color you wear on choppy, uneven short bobs can make or break the vibe. For instance, this edgy bob hairstyle, has a shaggy uneven line moving sharply down from the back.  And this could look too harsh. But the untidy aspect is softened by oatmeal and pale beige hair color. Brown roots match her eyes and a hint of gold toner warms this modern, chin-length bob.
Yellow-gold tousled rippled bob
Thick hair looks great in rippled wave bobs as it tends to stay in place better than fine silky hair. And you can get amazing defined waves with hair cut in special sliced layers. This technique tapers hair sections towards the heavily textured tips. Two shades of blonde – one medium-blonde and the other a lighter shade, highlight the 3-D texture and amazing movement.
Warm coral-pink blonde bob with side-swept long bangs
If fantasy pink is a bit too much for your style, how about this sophisticated, coral-blonde shade? It's a lovely, soft look for anyone who's not keen on cool, ash-blonde colors. This romantic, blonde bob hairstyle works on straight hair with natural volume to create the stunning, chrysanthemum strands! This would make a gorgeous, bridal hairstyle for short hair!
As you can see, short blonde hairstyles can correct any type of face shape and suit fine, medium and thick hair types. So if you're ready for a flattering makeover, or need a stunning style for a special occasion, I hope this gallery has inspired you!