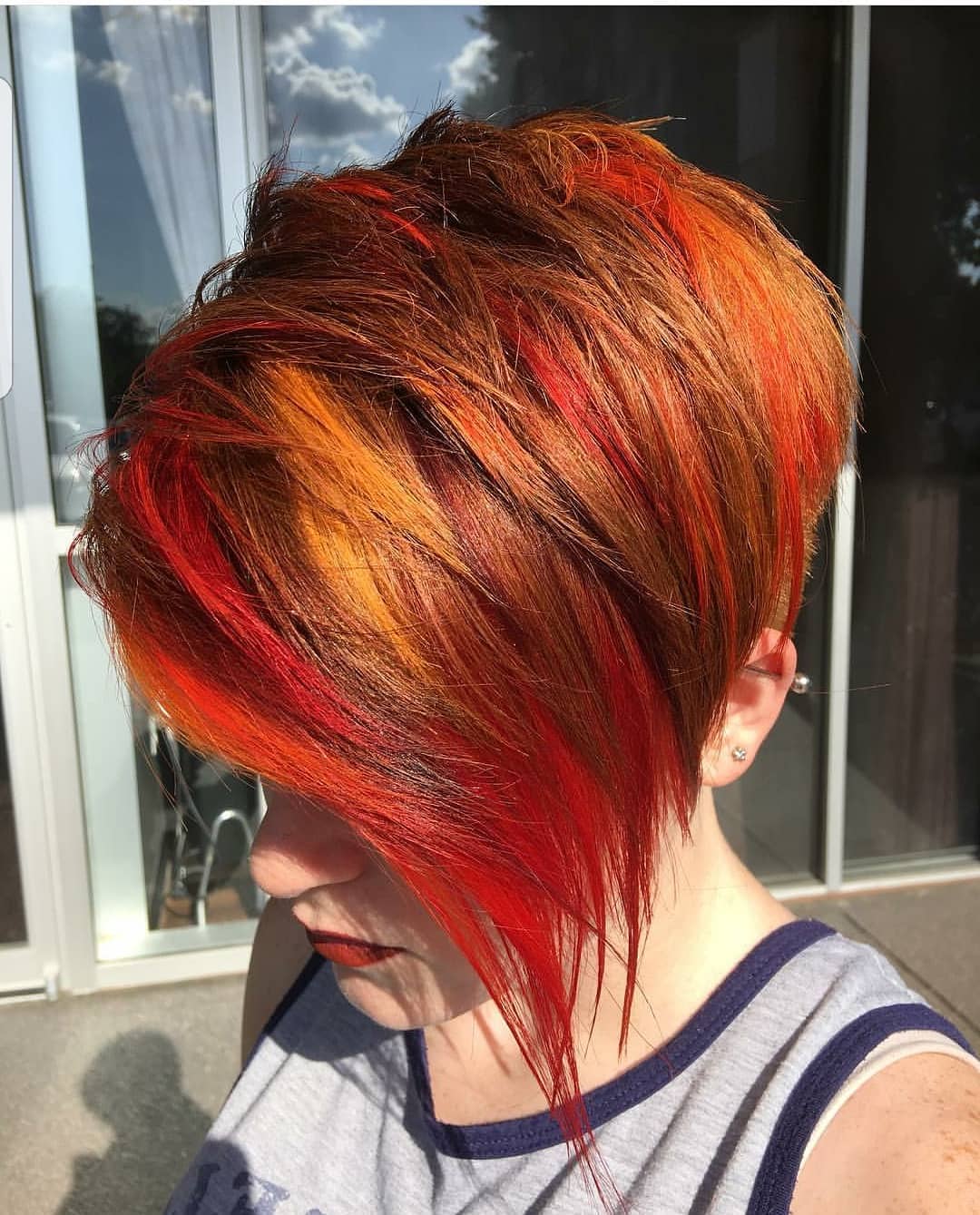 10 Asymmetrical Short Pixie Haircuts & Hairstyles – Bright & Beautiful
Asymmetrical short, pixie haircuts and hairstyles have really captured our imagination!  And this season the trend is stronger than ever, with a huge range of bolder cuts and brighter colors.  So if you're a fan of quirky short haircuts – you'll love this exciting gallery of the latest asymmetrical cuts in hot and 'cool' color options!
Bright & beautiful sunset colors – asymmetrical short, pixie haircuts and hairstyles
This asymmetric pixie has been totally transformed for the new season with these brilliant high-pigment hair colors!  Straight hair in a trendy swept-over style is the perfect back-drop to this mix of scarlet, orange and copper-brown.  This cut is best achieved on medium – to thick hair as the stacked-back need density to create a nice curved volume.  Long scarlet bangs frame the face and make a cute border to accentuate fashionable tapered tips.  And the disconnected layer adds even more edgy style!
Warm gingerbread – asymmetrical short, pixie haircuts and hairstyles
It's time that the term 'ginger' hair stopped being a way to tease kids at school and became a source of pride!  Orange shades are taking over the hair-fashion industry and natural medium-copper colors are very flattering to skin with warm undertones.  Orange is the new 'blonde' and this cute pixie cut has a pretty profile from the short nape and longer layers around the crown.  Loose, tousled texture completes this high-fashion favorite!
Dainty ash-blonde pixie-cut – asymmetrical short, pixie haircuts and hairstyles
This dainty silvery-ash-blonde pixie cut with a long fringe is yet another fabulous version of the contemporary short-cuts for this season.  It's suitable for fine hair, with a short buzzed nape and short layers around the crown.  The sides are short in a gentle undercut look that contrasts nicely with the long, asymmetrical bangs.  This color is suitable for skin with cool undertones, and there's a hint of pink accentuating the tousled short layers at the crown!
Brunette long pixie with choppy detail at front – asymmetrical short, pixie haircuts and hairstyles
This rich natural brown color is a great choice for flattering a summer-tan or medium complexion with warm undertones.  The cut suits medium and fine hair types with a focal point half way down from crown to nape.  Fine hair isn't always sparse and many women have fine, but abundant hair like the model above.  Therefore, there's sufficient density in the swept-over section to cut trendy choppy layers.  And very subtle highlighting accentuates the look.  And finally, dainty tapered point on the shorter side creates a super creative contrast in the textures!
Urban chic ash-blonde pixie with buzzed sides – quirky hairstyles
If you're getting bored with your personal image, why not switch from bland to bombshell with this 'walk on the wildside' chic short cut!  It's suitable for all hair types, but fine hair will need strong-hold product to keep the gravity-defying shape.  The shape is a short-back-and sides haircut with longer layers on top, tapered to form quirky flame-shaped texture!  The bare forehead and extreme height on top are flattering to 'lengthen' a wide or round face, or a low forehead.  Silvery-blonde with a touch of ash-gray suits pale skin with cool undertones.
Chic straight pixie cut on soft 'mink' beige-blonde
This pale blonde shade is very flattering to the model's warm, golden skin-tone, because there's a soft pink-beige tone to it.  The buzzed 'undercut' short side makes an attractive texture and color contrast, in medium warm brown.  And with an off-centre parting and a gentle quiff framing the forehead, this fabulous pixie creates a classy 'mink' colored image!  Suits oval, round and wide faces.
Pretty pink-beige blonde pixie undercut
Here's a very interesting take on the retro-punk, shaved sides style, which can trace its roots right back to the 1970's.  Looking at this pretty, pink-beige-blonde pixie cut, you'd never believe it's origins come from those ugly, shaved head/spiky mohawk styles often tinted neon orange or green! LOL!  It may have taken a long time to 'mellow', but this twist on the undercut short hairstyle is as cute and feminine as the model's pearl earrings.  But it's still got an edgy vibe in the shaped temples and shave-off side points!
Classic short cut for thick light-brown hair
This is a lovely haircut for a natural look on thick hair.  The short nape is cut at the natural hairline making a gentle line under beautifully shaped layered volume above.  Keeping the layers long also means you can add different textures easily.  And this easy-care style can easily be varied with short wavy texture and a cute hair accessory for special occasions.  It's a classic cut with a modern twist in the hair parted to show the ear, with a long side-section framing the face.  It looks great showing off the model's dainty tats!
Soft carbon-black short haircut for thick hair
If you're planning to cover stray grays with a black dye, this soft, charcoal-black shade is great for skin with a warm undertone.  And adding dainty gray-blonde balayage mid-way down the hair, adds attractive color-depth.  The profile view displays the softly rounded volume around the crown, which tapers in to hug the nape with gently textured tips.  Thick hair cut in sliced layers, creates the fabulous vertical 'ripples' and tapered shape.
Intense copper on lovely long pixie haircut
If you like clothes in natural colors, this intense, copper pixie is the perfect way to add some zing to your look! Folks used to say it was hard matching clothes to auburn hair, and think only green went with ginger hair! Not any more – you can match it with virtually any color if you choose the right tone.  This lovely chin-length long pixie is straight, with classic lines on long layers.  And so it's easy-care, but packs an enormous style punch!