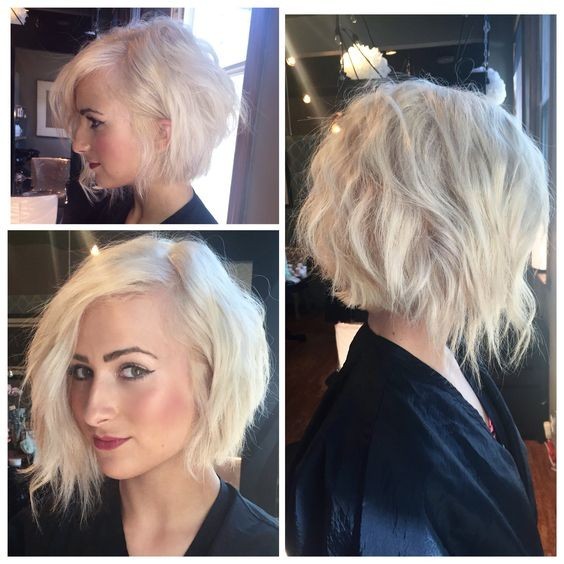 18 Short Hairstyles Perfect for Fine Hair
Fine hair can be kind of hard to style sometimes, and it may appear thin and dull when left lengthy and unkempt. The easiest and best solution? Chop your locks! These short hairstyles are ideal for fine haired gals and you're sure to fall head over heels for one of these unique styles.
Shaved Undercut Pixie – Balayage Short Hairstyle
Just because you have fine locks, doesn't mean you should miss out on an edgy 'do! If you consider yourself a girl that craves adventure and spice, this is the perfect look for you. A bold and trendy shaved undercut is contrasted with a lengthy counterpart that's tousled and hairspray for the ultimate punk-rock volume effect.
Pastel Graduated Bob with Straight Short Hair
Graduated bobs are a great choice for fine haired girls, but leaving your locks one-toned may dull out your trendy cut. To make your locks appear more textured and full, consider a bright and feminine pastel blend with lavenders, blondes, and a touch of deep purple to balance out the lightness.
Balayage Layers
This lightened up Balayage is simply stunning, with ample tones of light blonde playing off deeper hues magnificently. And what better way to bulk up fine hair than with loads of layers? This is a funky mix of layers, teased and tousled just a tad for a casual, full finish.
Balayage Blunt Lob Hair Styles
If you prefer a more rigid and pristine hairstyle, then leave your Balayage blonde slick straight. The blunt ends provide a dramatic effect to rather fine strands that may lack confidence.
Wavy Undercut
Spruce up your style and really let those locks hang delicately by completely shaving off the strands underneath. And instead of leaving the lengthy lob alone, give it some flirty wave to create some sassy volume.
Rose Gold Ombre
Whether you're hair is coarse or fine, it's almost always a good idea to try out ombre. Ombre is a unique way of coloring hair, and this black and rose gold combination is the perfect combination of elegance and femininity. With striking red lips and subtle loose ringlets, it's a fascinating number that's sure to turn heads.
Undercut with Lengthy Layers
Creating the illusion of thick, lustrous hair is a cinch when you have TONS of texture sifting in and out of your mane. This look is ideal for creating fullness, even if it's not really there: a cute undercut, tons of lengthy layers on top, and a delightful blend of hair colors- perfect!
Razored Pixie Crop
It's a true classic that never fails. The razored pixie crop is a cool, ultra-fashionable hairstyle that requires minimal effort to look charming. The razor cut adds instant fullness and bangs swept over the side is flirty and fun. Love it.
Unique Blonde Undercut
Fine hair can sometimes be a struggle to deal with, so finding a hairstyle that doesn't require much is a must- and this style is just that. A uniquely styled undercut is bold and fun, setting your pixie hairstyle apart from the rest. Love the lightly textured top and striking blonde hue as well.
Lavender Pixie
A pixie haircut should only be accompanied by a pixie, fairy-like color, right? This lovely lavender shade is as dainty as it gets, setting this classic long pixie haircut apart from the rest. Leave it straight to showcase the precision of the cut and highlights.
Spikes
Everything about this rockin' hairstyle screams biker chic! Vibrant hot pink ties into a glamorous platinum blonde base, a striking duo that's made even edgier with an asymmetrical bob haircut and quirky spikes in the back.
Short Sidecut
If you're just so sick of dealing with fine hair that won't do a thing, then shave it off- but leave a little on top for an edgy funk. Better yet, brush those strands upwards and douse them in hairspray for a really chic and artsy style completed with warm makeup tones.
Artsy Undercut and Tousled Waves
Even curly, fine hair can indulge in an edgy undercut! But don't settle for less when it comes to a shave- get wild and crazy and add some unique designs to your shave to make it stand out.
Platinum Tousles and Girly Fringes
When it comes to feminine attitude, Taylor Swift is the spokesmodel. And although she's dealing with finer hair, she still manages to come up with some fascinating styles like this one here. Her platinum short bob is textured a bit and those girly fringes are tossed gently to the side to frame her face. Lovely!
Asymmetrical U-Shape
Spicing up fine strands is as simple as cutting your hair in a unique style. Not only does she bulk up her look with a fascinating u-shape in the back, she adds extra contrast up front with an asymmetrical cut. Platinum blonde creates instant height and the trendy deep side part adds some sex appeal.
Lightly Tousled Undercut
Add some beautiful height to your look by simply tousling and hairspraying your lengthier locks.
Simple Asymmetry
Yes it's a simple asymmetrical haircut, but the contrasting lengths add a distinct bulk that's both trendy and voluminous.
Wavy A-line
A-lines are undeniably stylish, but if left stick straight and can look a little dull. Don't fizzle your a-line, bring it to life with some casual loose waves that can be worn to the office or the nightclub with ease.
There's a lot of short fine hairstyles going on here – pophaircuts.com