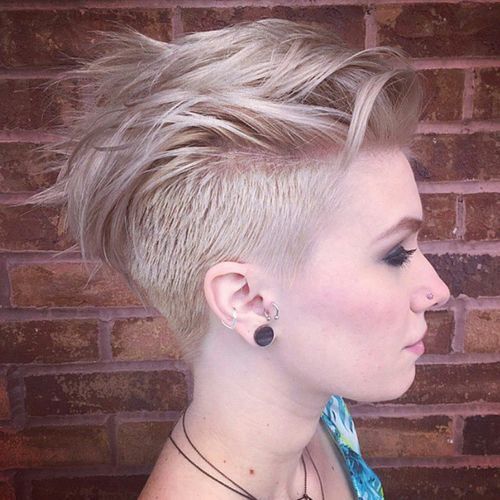 27 Stylish Fancy Undercut Hairstyle! Check Out Chic & Glam Undercut Looks Now!
The undercut hairstyle has grown up from being a harsh, punky rebel look into a very chic and glamorous style! Thanks to the hair-designers of Hollywood, who are the real brains behind the beautiful Hollywood celebs, the undercut hairstyle has been softened and tamed into a bold, but attractive mainstream option.
In demand
The demand for undercut hairstyles always peaks in the summer-time, when we feel more confident and daring in our style choices. This year's undercut hairstyle trends are more varied than ever before, so read on and see what's hot right now!
 Awesome Undercut Hairstyle for Short Hair
Extreme asymmetry undercut hairstyles
The 21st century trends are all about extreme asymmetry and a long, side-swept wavy hairdo with one side undercut is the edgiest glamour look you can get! It gives you one buzzed profile revealing an invitingly bare neck, combined with a gorgeous, face-flattering fall of waves on the other side.
And best of all, there's no hair covering your nape so you'll always feel cool, calm and collected, whilst raising the temperature of all the men around you!
Asymmetric Short Haircut with Curly Hair
Fresh undercut hairstyles with braids
We've noticed lots of photos of models wearing undercut hairstyles with braids recently! This is another of the exciting cross-over looks that brings together the retro-punk undercut hairstyle with Boho chic to make some fabulously fresh fishtail side-braids!
Undercut hairstyles with the long braided side pinned up on the head in any one of a variety of patterns, has opened up a huge range of edgy new upstyles that are wonderfully creative and original.
Short Hairstyle with Braid
Short undercut hairstyles
If you've already got a pixie cut and would love to go further with a daring undercut hairstyle, do it now, because you'll be completely 'on-trend'!
Short undercut hairstyles allow for lots of different styling options, from a spiky asymmetric Mohawk to a curly side-swept top or just a few soft waves, so you'll never be bored!
Add in some trendy highlights, emphasising the differently textured sections and movement and you have the perfect urban chic style for summer.
Shaved Bob Haircut
Medium-length undercut hairstyles
Medium-length undercut styles, with one side shaved in front of the ear, are some of the most popular looks. Try a smooth, layered chin-length undercut hairstyle with the rest of the hair swept forwards in a deep side-swept fringe with spiky, tapered tips.
This style is especially suitable for fine hair as sweeping all the hair forwards and to the side creates the look of denser hair!
So if you're looking for something edgy but face-flattering this summer, why not browse our gallery of the best undercut hairstyles right now!
Undercut Hairstyle for Medium Hair: Layered Haircuts
Cute Pixie Haircut: African American Women Hairstyles
Cute Undercut Hairstyle for Girls
Straight Bob Haircut
Shaved Long Pixie Haircut
Fancy an Undercut Hairstyle for Short Hair
Undercut Hairstyle with Long Hair
Shaved Hairstyles for Long Hair
Short Hairstyles for Round Face
Fancy Undercut Hairstyle with Bun Updos
Amazing Hair and Undercut
Stylish Office Hairstyles for Short Hair
Trendy Undercut Hairstyle for Medium Hair
Blonde Pixie Cut
Chic Layered Short Haircut
Short Haircut for Thick Hair
Fancy Undercut Hairstyle for Long Hair
Easy Updos
Long Haircut Designs
Shaved Hair Styles with Straight Bob
Trendy Short Haircut for Thick Hair
Short Hair Cuts with Curly Hair
Shaved Pixie Haircuts