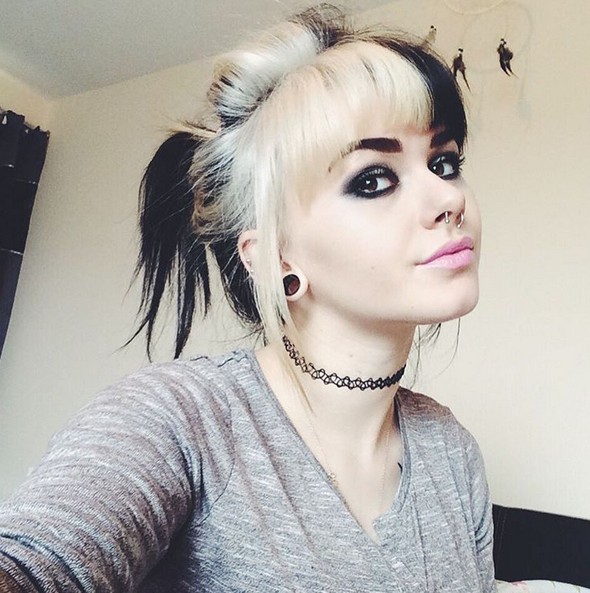 22 Trendy and Tasteful Two Tone Hairstyle You'll Love
Getting bored of your single toned hair? Yeah, having your locks all one color is fine for awhile, but if you're looking for a quick and trendy way to switch up your style, consider two toned locks! Two toned hair is super cool and very dimensional with a fabulous correlation of two exotic and intriguing shades blended dramatically into your mane. So cool, you'll certainly fall in love with these tasteful and trendy two tone hair color and style ideas!
Black n White
It's classic like our beloved Oreo cookies, it's exotic and bold like Cruella Deville; it's the edgy and enticing black and white combination that instantly grabs our attention and holds our interest for minutes. Her avant garde look is bold and fabulous, with two enticing contrasting tones that are sure to take the show wherever they go. Paired with dark eye makeup and kissable pink lips, it's an alluring appearance that any younger girl can enjoy.
Pink/Purple and Black Half Updo
This exciting shade of purple is vibrant and energetic, playing perfectly off of the rest of her jet black locks. She complete her style with a unique half updo, showcasing those colors fabulously and giving her locks a bit of glam with loose curls on the ends.
Platinum Pink- Straight Lob Hair Style
SO girly, SO CUTE! We're loving this adorable, feminine two tone hair shade! She leaves her locks platinum blonde in the back with hot pink around the face with just a few blonde highlights scattered through. The look is fierce, yet feminine, and the color combination is downright flawless.
Black on Top, White on Bottom
Another take on the trendy black n white duo, she chooses a more ombre route with darker roots and a white hot lower half. The shade is brilliantly bright and looks lovely in this shorter bob hairstyle. Keeping her mane sleek and straight, she creates an enticing and sophisticated style that's artsy and chic.
Ringlet Browns and Blondes
Combining different shades of browns and blondes is an excellent and SUPER easy way to add tons of dimension and color to your mane. She has darker patches, lighter ends, and loads of highlights and lowlights for a very sultry finish. The addition of ringlets is adorable and elegant, a great idea for fancy occasions accompanied by your favorite dress.
White and Lavender – Ombre Hairstyle with Long Hair
A fairytale inspired look, this white and lavender combo seems as though magical fairy dust has been splattered all over it. It's such a fascinating color combination and it's delightfully bright yet wintery, making it a great choice all year round. Would look dazzling with darker shades of makeup and some sparkly white jewels.
Blonde and Silver
Grey is one of the hottest hair trends of 2016, and combining it with this luxurious shade of blonde is an excellent choice! The sultry silver ends add some serious shine and appeal, and those fabulous loose waves on the ends seal the deal. Such a glamorous lengthy style that is fit for a queen.
Blue/Purple and Black – Shaved Haircut for Short Hair
For my edgy girls out there who love to shake things up a bit, this is the perfect choice! It's super funky yet trendy thanks to the uniquely shaved sides, with an exotic faux hawk up top glammed up with some luscious loose waves. Tons of body, this fun and quirky 'do gets spiced up with a charming blue/purple hue that's both appealing and eye-catching. Talk about wild style!
White and Purple Grey – Loose Long Wavy Hair
White and black may be cool, but what's even more chic than that?! WHITE AND PURPLE GREY! Purple and grey are two hot shades for this year, and combining the two for a deep shade of grey is an awesome combo! White on top and this luscious shade on the ends, this is undoubtedly one of the trendiest hair color options on this list. Love the cute waves below, too.
Dark Brown and Turquoise Blue
Looking for a rockin' hairstyle with tons of unique colors? Consider this delightful mix! Dark brown roots are given a trendy and funky makeover with some cool turquoise blue highlights, with hints of sea foam green and energetic blues throughout. What a vibrant shade!
Black and Light Green – Short Wavy Bob Haircut
Green hair!? Sure, why not! In fact, we recommend it. Look how chic and funky this cool hairstyle is! She leaves her dark black roots up top, leading down to a slight grey shade, ending in a very vibrant and energetic hue of light green for an enticing finish. Throw some waves in the mix, tousle it up a bit, and plaster your lips with a deep purple shade for a very edgy appearance. Don't forget that leather jacket either!
White, Dark Brown, and Purple – Cute Straight Long Hair
A little bit on the 'scene' side, this color combination is an excellent option for younger girls who love to toss their hair to the extreme side. To really make that bold parting stand out, consider adding a delightful trio of colors including white platinum locks on one side, deep purple on the other, and dark brown bangs for a contrasting, wild look that can only be paired with your favorite black eyeliner.
Black and Orange/Red
Talk about RED HOT. This look is nothing short of fierce and fiery, with black on top and an intriguing orange/red blend on the bottom. It's wild and SURE to turn heads, being the eye-catching number that it is. Love the addition of super loose curls as well, taking this red hot look to a dainty and elegant level that can't be ignored.
Grey and Sea Foam Green – Blunt Short Bob Cut
We've mentioned how extremely popular grey locks are, but another trendy color is none other than sea foam green. Combine these two hues for a super trendy and 'out-there' look that's sure to turn heads.
Dark Brown and Grey Highlights – Medium Haircuts with Thick Hair
Take your two tone hair color idea to a more subtle level by leaving the bulk of your mane a delightful dark brown tint while adding some simple grey and blonde highlights throughout. They instantly perk up your style and add some brightness to your complexion.
Brown and Lavender – Cute, Straight Long Lob Hair Cut
This subtle, yet very delightful combination features a mousy brown mane with lovely lavender highlights boldly placed from front to back. It's not overbearing, making it a sweet and feminine combo that's great for women of all ages.
Grey and Dark Auburn/Purple – Stylish Short Haircuts for Thick Hair
Looking for something delightfully funky and unbelievably chic? This is the look for you! Those shaved sides are edgy and trendy while the faux hawk up top is delightfully flawless and full of body. Her grey and dark auburn/purple shade is a lovely correlation of colors that's both quirky yet stylish. Looks awesome with some skinny jeans and a plain white tee!
Black and Hot Pink
How rockin' is this style!? Loving everything about this super edgy style. Her lengthy locks are left jet black and mysterious, but hiding beneath her mane is this fabulous and ultra-trendy shaved cut-out that's doused in hot pink coloring for a very enticing finish.
Black and Brown – Loose Wavy Haircut for Medium Hair
Just like black and white, this is another charming and CLASSIC color combination that's more subtle than the others. It's a beauteous color that looks great on darker skin tones, and the lighter shade of brown plays wonderfully off jet black roots. Add some brightness to your mane with some delicious light brown highlights!
Dark Brown and Hot Pink Highlights
An easy way to add wild style and dimension to your locks is to simply add some hot pink highlights throughout your mane! The end result? A vibrant style that's bursting with color without going overboard. Love it!
Blondes! – Ombre Balayage Hairstyle
Loving the two tone color trend but want to keep things subtle? Then we highly recommend considering an ombre blonde hairstyle like this! Darker, sandy blonde roots lead down to perky platinum ends that are stylish and bright.
Brown and White – High Ponytail Hairstyle
Adding some light coloring around your face is an awesome way to brighten your complexion and really let your features pop out. We're loving how she adds some platinum blonde streaks to the front side of her head, leaving the rest of her mane with browns and blacks for a very choppy and bold style that's REALLY cool!
Pophaircuts.com what's your favorite color combination?