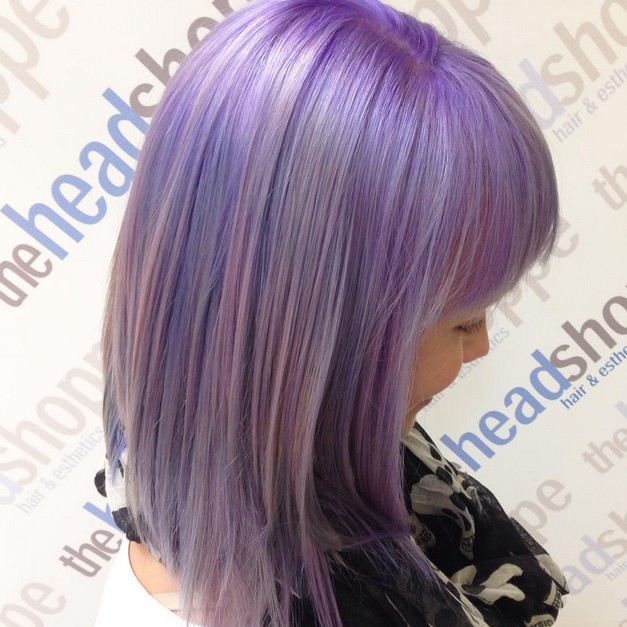 Gorgeous Pastel Purple Hairstyle Ideas: Balayage Hair Styles Designs
One of the BIGGEST, hottest, and coolest hair color trends for 2016 is undoubtedly PURPLE hair! Yes, it's a little bit out of the norm- but what else can we expect from the year where 'anything goes' and unique styles are a HIT! If you're feeling daring or simply want to switch up your style with some colorful locks, consider a vibrant and dainty pastel purple hue. It has that fairytale romance theme that's feminine and funky- a perfect combination. These gorgeous pastel purple hairstyle ideas will leave you CRAVING for some lovely purple locks!
Choppy Bob with Hints of Pink
Her lovely lavender locks are certainly charming to the eye, but why stop with just ONE trendy and feminine color when you can double up with another? Her hints of pastel pink hues are downright dazzling and add a bit of trendy dimension and contrast to her super cute short cut.
Purple Topknot: Cute Bun Updos
Um, yes. Absolutely. Topknots- or any bun and bun variation for that matter- are ridiculously stylish for 2016. Add some purple color to the look and you create a look that KILLS. (Oh, and it's super easy and casual too. Win-win situation!)
Ultra Dark Purple: Everyday Hairstyle for Summer
Don't care for the fairy look of light pastels? Then consider a darker shade! This ultra dark purple hue has a gothicy flare that's enticing and alluring all at once. Gorgeous!
Lengthy Waved Ombre
We all know how obsessed the hair world is with ombre- so why not tack on one trend with another? Her lengthy waved hair is elegant and sexy, and we're LOVING her contrasting ombre– black roots leading to a decadent pastel purple with hints of white throughout. Such a shocking color that's utterly pleasing. LOVE IT.
Extra Long Purple N White: Casual Long Hairstyle for Girls
You can't go wrong with hair that glistens like the snow on a winters day; hair that is so fascinating and enchanting you can't look away! Her extra long locks are given an illuminating makeover with a gorgeous collection of purples and whites. Lovely.
Dark Purple: Medium Straight Hairstyle
Her rockin' style has 'attitude' written all over it! Let your inner diva shine through with some extra dark pastel purple colors, with a bit of purple highlights and lowlights for added dimension and fashion.
Light Pastel Purple Bob: A-line Hairstyle
Tired of your short bob haircut lacking 'flare'? Then step into the style world and douse your hair in lovely light pastel purple. So gorgeous, especially when you add a pair of light pink lips to the mix.
Peek-A-Boo Brown: Long, Layered Wavy
With a few natural strands of hair peeking through a waterfall of enchanting purple tresses, the overload of purple coloring is tamed down just a pinch for a very nice appearance.
Purple Pixie Haircut with Side Bangs
A cute little pixie haircut and hairstyle that leaves you looking like a dainty fairy? Yes please! This adorable 'do features a classic pixie cut amplified with bright pastel purple coloring for a charming finish. Don't forget subtle eye makeup and pink lips to match!
Purple n Gray Waves
The combo of light purple and gray colors in this mane are simply stunning- and with the addition of loose, lovable waves, it becomes a youthful and super-trendy style that turns heads.
Light Purple Waterfall Braid
Braids always look appealing and feminine, but when you add light purple tresses to the mix you get a hairstyle that's truly jaw-dropping. Gorgeous and sophisticated, her extra short cut is given beautiful femininity with a mini waterfall braid.
Black n Pastel Purple: Medium Straight Hair
Simple haircuts don't have to equate to simple styling! Her modern middle part and cute lengthy cut is brought to life with a hot black and pastel purple ombre, a great style for younger girls.
Pastel Purple Baby Bangs
If you've delve into the world of baby bangs, you're probably an edgy and wild girl who loves to try new things and rock a wardrobe with attitude. Well, add a hefty dose of edge to your appearance with some illuminating pastel purple coloring.
Reverse Ombre Curls
Who said wild purple and gray tresses couldn't be elegant? When she adds romantic, glamorous curls to her lengthy mane, she creates a gorgeous finish that's downright sexy. Loving the reverse ombre coloring with white, purple, and even BLUE!
Colorful Locks with Full Fringes: Shoulder Length Hairstyles
Full fringes are super cute, right!? Love the eye-skimming look that frames the face so fabulously. And if you're looking for an easy way to add some trendy contrast to your locks, consider a colorful collection like this, filled with pinks, purples, and grays.
There's NO way the purple trend is reserved for just younger gals! As you can clearly see here, the purple trend is great for women of all ages. Loving the darker shade of purple mixed in the with gray!
Deeper Pastel Purple with Gray
Can you believe that GRAY is a hot color for 2016? It is! That being said, we're loving this duo of a deeper pastel purple with hints of gray throughout. We're also seeing a bit of pink throughout her sexy curled ends- fabulous.
Deep Purple Medium Length Cut
Her cut is rather simple and casual, cut just below the shoulders for some length and tossed to the side for some trend. But what brings this look to life is the deep pastel purple hue she's chosen. Perfect for girls who prefer a bit more depth and darker hues!
Light Purple Highlights
While messy curls are bouncy and fun, they get an even higher dose of cute attitude with hints of light purple highlights throughout. Loving this hairstyle with tons of texture and dimension!
Extra Light Pastel Purple
It's so light you can hardly see it, but you DEFINITELY know it's there! If you prefer extra bright and illuminating hair colors, you may consider this enchanting extra light pastel purple hue. So pixie-like and dainty.
Casually Waved Blonde n Purple: Wavy Bob
You see a lot of platinum blonde with purple coloring, but what about a darker shade of blonde? It looks fabulous and is a great idea for older women who want to rock the purple style but need a 'tamed down' version. Loving the casual waves for some body too.
So many fascinating hues of purple to choose from, and so many wonderful styles to bring out that dazzling color! Pophaircuts.com which is your favorite color combo?