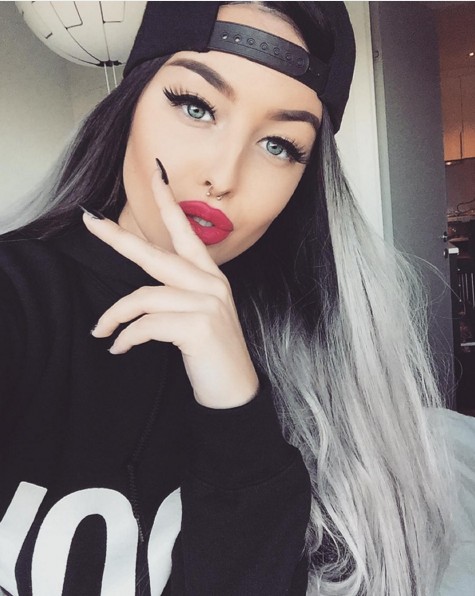 23 Hair Color Ideas: Ombre Hairstyles
Find your best brunette hair colour and discover the latest trends in highlight shades with these pro tips!The major hair colour ideas for brunettes this season are gorgeous caramel, honey brown, cocoa brown and golden brown.
Is brown right for your mousy hair?
Traditionally, women with a mousy, brown hair colour and a non-descript shade of dirty blonde have lightened their hair with blonde highlights. However, this isn't always the best choice for harmonising with your natural skin tone and can look harsh or artificial.
Hair Colour Ideas
Go rich and vibrant!
With so many new and rich brunette shades on offer, why not just go a little darker and become a vibrant brunette instead!
Slightly darker hair colour ideas for brunettes will give you a colour that reflects light and hides damage better than any blonde shade!
 Trendy Ombre Hairstyle for Girls
Top 6 hair colour ideas for brunettes
To get the full impact of a warm chocolate-brown shade, wear your hair all the same length and you'll get a wonderful, glossy look.
If your hairstyle is short or cut in a trendy, shaggy style, ask your colourist to put a mix of carefully harmonised highlights and lowlights to emphasise the texture and add depth.
If you're fed-up with being a non-descript brown shade, get a more trendy and flattering look by going warmer with a red- or copper-brown all-over colour. Try a semi-permanent colour first, to check the shade you choose matches your skin tone.
When dyeing light-brown hair at home, one of the most common mistakes we make is to choose a shade that turns out orange on light brown hair. If you want to get a golden brown shade of brunette try this suggestion from the experts at L'Oreal.
Buy 2 hair-colour kits – 1 in Golden Brown and 1 in a Neutral Brown. Mix the two hair dyes together to get a true golden brown colour on light-brown or mousy natural hair colour. And I would guess that this would also work very well for getting a natural-looking red shade on lighter brown hair.
Naturally dark brown hair does tend to go grey before lighter brunette shades, so be fashionable and clever be adding some striking copper or metallic gold highlights to hide the grey!
If you want to deepen your brown hair, I wouldn't advise anyone to go darker than a dark chocolate shade. And steer clear of black, which is harsh and unflattering on most fair-skinned women.Although there are some exceptions, like Katy Perry.
Finally, from my ownexperience of home hair-dyes called Chestnut Brown,(and that of other online reviewers) they don't produce a warm reddish-brown like a real chestnut.
On my hair, (naturally chestnut brown going grey), all the Chestnut Brown dyes I've tried make my hair go black!
Find your favourite new colour!
Now take a look at our fabulous gallery – it's packed with totally trendy hair colour ideas for brunettes and light-brown hair!
Stylish Subtle Color with Short Hairstyle
Casual, Layered Hairstyles for Long Hair
Blunt, Long Haircut for Straight Hair
Brown with Blonde
Medium, Long Hairstyle with Curly Hair
Layered Long Hairstyle
Black to Red
Stylish Ombre Hair with Braid
Ponytail Hairstyle with Braid
Messy, Layered Bob Haircut
Blunt Haircut Ideas for Medium Hair
Straight Bob Haircut for Thick Hair
Ombre Hairstyle Ideas
Pink Ombre
Cute Straight Hair Style for Girls
Hair Colour Ideas
Brown to Blonde
Straight Hair with Braid
Cute Hairstyle:High Bun Updos
Hair Colour Ideas
Silver Color