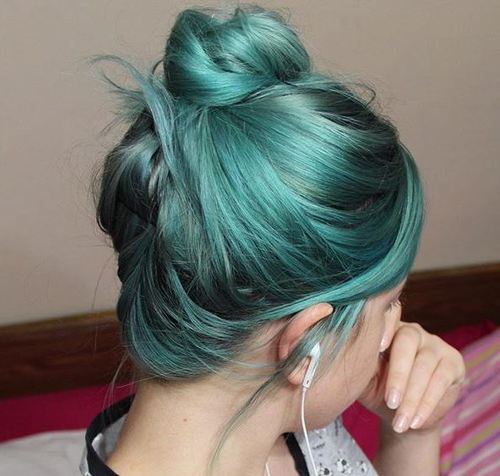 20 Pretty, Everyday Hairstyles for Bun Updos
Buns are super popular right now, but the same old topknot or low bun can be a bit boring after a while. Spice things up and make your bun the star of the show with one of these elegant bun hairstyles.
Curly Updo
The easiest way to take your bun from everyday fun to glitz and glamour is to toss in some loose, luxurious curls. This curly updo is given a romantic appeal thanks to some lovely curled tresses, swept away from the face and tied up in a charming updo near the top of the crown. Alluring- absolutely!
Reverse Dutch Braid Bun with Bandana
A reverse dutch braid leading up to a high bun is a quick way to switch things up, adding some quirky personality to your typically average bun hairstyle. but to really make your look POP, throw a bandana on top.
Polished Low Side Knot
There's something just so sophisticated about a bun tossed off to one side; and the class is stepped up a notch in this highly intriguing style. Her locks are slick straight and polished down, leading to a side bun that's designed into a knotted style that's very posh.
Textured Mermaid Topknot
When you have some delightful mermaid hues running through your strands, the last thing you want to do is conceal them. Wear your colors proudly and let them flow naturally with this textured topknot. Topknots are heavily popular for 2017, and leaving them a bit unkempt ensures a fluid look that's got tons of sexy bedhead attitude.
Messy Low Bun with Loose Strands
One easy way to take your look from casual to high class is to simply leave a few strands loose around the face. Give them a touch of curl to enhance the beauty and femininity surrounding your face, and make sure you keep your makeup to a minimum to maintain utmost elegance.
Twisted Low Bun with Height
Add a splash of life to your mundane mane and opt for this quirky twisted low bun that's loaded with texture and personality- in the most elegant of ways, of course. Tease the top of the crown heavily before rolling into this bun to ensure optimum height and sass are added to this look.
Accenting Chopstick Hair Piece
A casual knot like this may be cool for everyday wear, but if you're tired of the same old same old and want to add a bit of Asian influence to your hair, consider throwing in some stylish chopsticks.
Twisted Side Bun with Curls
Bridesmaid? Prom night? Simply want to look your absolute best for the office dinner party? Then this is your answer, right here. This look is incredibly appealing to the eye, with a twisted style that's brought down to a sensational low side bun, loaded up with some charming and incredibly feminine curls. So graceful, so petite- so PERFECT.
Topknot Half Updo
Why tie up all your locks when you can switch it up with a quirky half updo hairstyle? This topknot is gathered into a half updo that's seriously sassy, and by leaving the rest of her mane straight she showcases that precise a-line haircut perfectly. Poise and fashion wrapped up into one hairstyle- love it.
Double Mini Buns
Single buns are cool and all, but that style can get real old real fast. On your next 'bad hair day', switch up your style and engage in TWO mini buns rather than one. The double style is fresh and spunky and gives her look a cool textured effect.
Hairstick Hair Piece
You read it right: hairstick. It's an upcoming trend you won't see often, but boy does it really amplify her overall 'do! This casual bun is taken to the next level, simply by striking a hairstick through it. Give it a try, you won't regret it! Mix and match with your outfit; it'll be fun!
Knotted Side Braid to Low Bun
The main goal with this hairstyle is to add a bit of femininity texture while still keeping things casual for everyday wear. It's just a simple knotted braid leading down to a cute side bun. Yes, it's on the simple side, but simplicity is best sometimes.
Side Braided Low Bun
Your 'everyday low bun' just got a bit of extra cuteness, simply by adding a side braid. Seriously, it only takes a few minutes to create this look and the results are divine; why WOULDN'T you give this lovely look a try?
Fancy Tousled Low Bun
Teasing at the crown, twisting back into a low bun, and tousled up to perfection; yes, this truly is an enticing and intriguing hairstyle that should be paired with your finest attire.
Trio-Braided Low Bun
Yeah, one braid is cool and everything, but it doesn't even compare to THREE braids! This cool and unique hairstyle has a bulky, bold french braid down the center with two accenting braids on the side that wrap into a low bun. The piece is rather charming, but its quirkiness is what really gets us excited.
Elegant Low Bun with Accenting Flower Pieces
When heading to a formal event- especially during the spring and summer seasons- there's no easier way to add femininity to your low bun hairstyle than accenting with gorgeous floral head pieces. This red and white combo classes up her style for a rather dainty finish that's hard to ignore.
Tousled Low Bun with Accenting Flower Piece
The last design was incredibly strict with sleek and polished strands, but if you prefer a more casual appeal, then tousle up your bun a tad and opt for smaller-sized floral pieces. The look still oozes with dainty elegance, it's just slightly softer.
Wrapped Up Curly Low Bun
Precision is key for this incredibly romantic hairstyle, with straight strands being wrapped up in the most elegant of ways, leading down to a bun that's strategically placed with polished curls. Leaving a few strands loose around the face, she creates a gorgeous, stunning number that can be worn to the fanciest events.
Super Messy Low Bun
You're just REALLY low on time; well, you're late for work or school and you can't find a thing to do with your hair. When trouble calls, you have the answer: this super messy low bun! It doesn't take any crazy styling or any fancy equipment; just toss it back and let your hairs be messy and free with a low bun to pull it all together (you know, so you're not TOO undone!).
Sleek Wrapped Low Bun
If you didn't think that a bun could be utterly refined, think again. This polished, sleek design is a masterpiece in itself, with just a pinch of teasing at the crown to ensure there's enough sexy height without going overboard. The delightful wrap around and subtle low bun is an eye-pleaser without a doubt, a perfect hairdo for your perfect earrings. Pophaircuts.com what's your favorite bun updos styles?