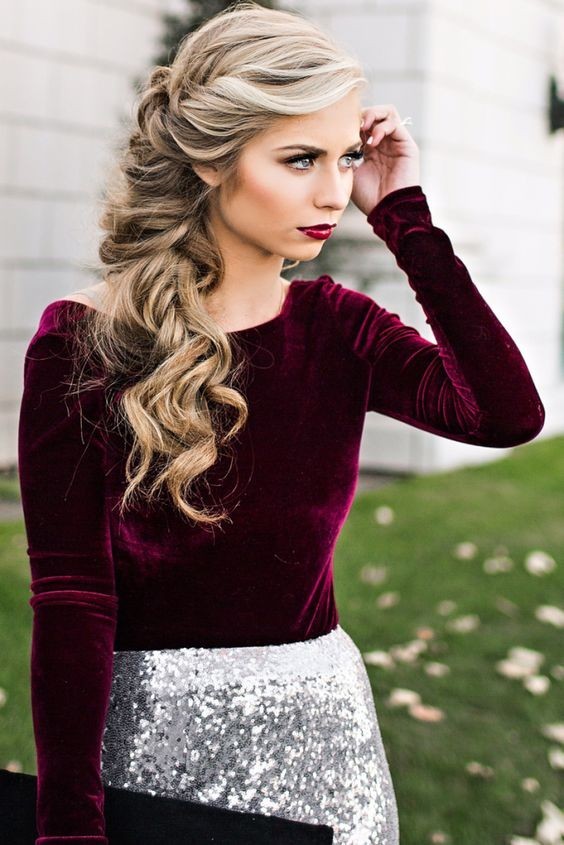 18 Elegant Hairstyles for Prom
Prom is one of the most important days of your entire life- and certainly one to remember. Remember this glamorous night with plenty of smiles, laughter, and of course an elegant 'do to enhance your bright smile. You'll be sure to wow the crowd with one of these dazzling hairstyles for prom!
French Side Braid with Voluminous Curls
Another excellent choice when it comes to sexy, alluring side-swept styles! This lovely lady starts off her look with a charming french braid, one of which pulls bangs back away from the face to let her eyes shine bright. Her voluminous waves require a large-barreled curling iron/wand to achieve that full, luxurious finish.
Chain Braid Chignon
Love the vintage look? Then consider this vintage-inspired homecoming hairstyle! We all know how popular chignons are when it comes to fancy occasions, but you can shake it up a bit by throwing in a quirky chain braid for added uniqueness and dimension. Don't forget to leave a curled strand loose around the face for that renaissance-innocence we all know and love.
Rolled Half Updo with Curls
Make your half updo stand out from the crowd with a look like this one! A simple roll of the hair around the nape of the neck gives this look some delightful fullness, setting apart the straight top pieces from the luxuriously curled lower half.
Retro Pinned Back Ringlets
Ladies in the 1950s certainly new how to rock the Red Carpet, didn't they? Well those retro hairstyle still ooze with elegance in 2016, and we're in love with this charming style. It's sophisticated, precise, and undeniably posh. For short haired girls, don't be afraid to coil those tresses up into some polished ringlets. Douse it in hairspray and pin your bangs back to showcase your facial features.
Waterfall Braid with Loose Curls
The sweet, innocent beauty of this hairstyle is overwhelming; in a good way, of course. A waterfall braid presents a bit of mysterious beauty while accenting loose curls create a design that's bouncing with elegance. Great choice for medium-length hair cuts.
Curly, Voluminous Low Bun
Buns are typically the go-to style when you're short on time and need something quick and easy, but they can easily be amplified and enhanced to accompany you to the fanciest of occasions. Take this voluminous low bun for example- plenty of romantic, precise curls and loads of texturizing brings this low bun to a glamorous ending with tons of elegant body. Leave a few strands loose around the face to soften the style further.
Double Waterfall Braids with Loosely Curled Ends
Long locks are the perfect pallet for forming stunning, loose curls that capture utmost sensuality. But to make these loose curls stand out even further, try out some double waterfalls braid which provide not only depth, but an extra dose of femininity as well.
Fishtail Low Bun with Curls
Turn your fishtail braid from an everyday school day style to a stunning masterpiece with this lovely hairstyle for prom. The fishtail wraps around from the top of the face to the back of the crown, leading to a texturized low bun that's loaded with volume and bounce. A few subtle ringlets add to the femininity of this incredibly tantalizing prom hairstyle.
Double Braided Romantic Half Updo
The sweet romantic style of this hair is the ideal candidate for the woman who loves all things elegance. It has a bit of a bohemian feel, like a look a fairy princess may wear on her wedding night. Her half updo starts off with some loose, voluminous curls that are nothing short of sophisticated, while teasing at the crown adds some sexy height. A mix of braids- one large and one miniature sized- ensures there's dimension to her style before pinning it back. There's SO much to love about this striking style- we have to try HARD to quit talking about it.
Fancy Faux Hawk: Bun Updos
Faux Hawks don't have to be reserved for punk rock concerts! Try this elegant twist on the edgy faux hawk to turn heads at prom night.
Voluminous Braided Faux Hawk
If your goal is to add fierce height to your sophisticated 'do, consider this incredibly volumized faux hawk. The style is loaded with fullness and an undeniable amount of feminine body thanks to the tousled braid and ringlets.
Bohemian Waves Half Updo
With long, flowing hair like this, your best bet is to indulge in a bohemian-inspired number that is as graceful as a flower. Start off by adding some voluminous ringlets to your mane, finger-combing through them for a bit of messy texture. Then roll some strands back into a side swept half Updo, with a few dazzling charms added in to enhance the glamorous feel of this prom hair.
Curly Half Updo
Simplicity sometimes is key when it comes to sophistication, as clearly shown in this polished number. Her curls are left untouched to pronunicate the rings, while a lovely braid around the middle of the crown provides a feminine take on the typical half Updo.
Effortless, Luxurious Half Updo
Light waves, a fishtail accent among the half Updo, and a little teasing at the crown; the end result? An effortless style that's oozing with luxury, class, AND sass.
Halo Braided Updo
Elegance and feminist is key on prom night, and this look is just the look to enhance that appeal. A halo braid instantly adds softness around the face, while a textured bun in the back adds some feminine body and bounce that pairs well with the accenting braids. Love it!
Side Swept Loose Braid
When most gals think of feminine hairstyles, they automatically turn to a dainty, graceful look that hangs off to one side. This feminine number pulls all the strands off to one side into a very full, loose braid, incomplete at the nape of the neck so stunning ringlets can dangle delicately below her shoulders. We are simply overwhelmed at just feminine this look is!
Floral, Wavy Half Updo
Waves and braids are undoubtedly two of the most daintiest hair techniques in the hair world, but it's quickly enhanced with an extra dose of girly attitude thanks to the addition of the floral headpiece at the crown. It's simplicity at its best and its absolutely stunning. Pophaircuts.com which one prom style is your favorite?