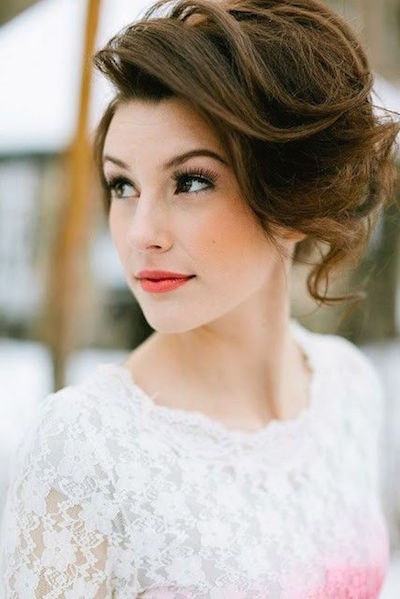 20 Gorgeous Prom Hairstyles for Girls With Short Hair
Prom. It's the penultimate experience of high school. It's goodbye to what you know and hello to the unknown. It's a transitional night in the lives of teenagers across the country. It's a night to remember, and everyone wants to look their best. You've picked your dress and decided on your makeup. All that's left, is you hair. If you're like me, it can be stressful to find the right hairdo to match everything else you have going on. Especially if you have short hair. It may feel like options are limited, but trust me, they are not.
1. Voluminous Part
Some volume, huge curls and an intense part is an easy hairstyle that gives the illusion of an updo without actually being one.
2. Perfect Curls
Nothing says fancy like perfect curls! Keep it simple with this look.
3. Stunning Headbands
Dress it up with a stunning headband that compliments your outfit.
4. Simple Clip
A simply gorgeous clip and some curls can also do the trick
5. Vintage Inspired
Opt for a more vintage look with rolling curls and fabulous accessories.
6. Gorgeous Pin
With short hair the secret lies in bobby pins. Pin your hair up for a stunning look that is simple and effective.
7. Half Up Half Down
Turn a classic hairstyle stunning with the addition of some formal curls and a fancy twist.
8. Braid Band
When in doubt, add braids! This braided band is stunning in its' pure simplicity.
9. Simplicity
Speaking of simplicity, this look defines the word. Your hair doesn't have to be a complicated up-do. Sometimes, less is more.
10. Braided Undercut
But, if you're going for an edgier look, this hairstyle may be the one for you!
11. Thin Headband
A thin headband and some gorgeous volume? Yes, please.
12. Finger Curls
Taylor Swift shows us exactly how to nail a classic Hollywood style: finger curls.
13. Natural Volume
All right, it may not be natural, but it can still look that way. Too much gel can kill most pixie hairstyles. Keep it looking natural and fresh for best results.
14. A Look From the Past
Take note of this 20s inspired look! The trends of past decades may be just what you need.
15. A Complex Beauty
A bit more complex, this look is equally stunning.
16. Sleek and Slick
It's not all about volume and curls. This sleek look is just as glamorous as the rest.
17. Elegantly Tucked
A truly unique look that is stunning in it's own way.
18. Simple Bun
However, there is nothing wrong with a cute bun. You can even play it up with some trendy twists.
19. Thick Braids
Thick french braids, twisted into a bun or sorts. It's simply beautiful.
20. Swept Away
What ever you choose, make sure it's something that makes you feel stunning.