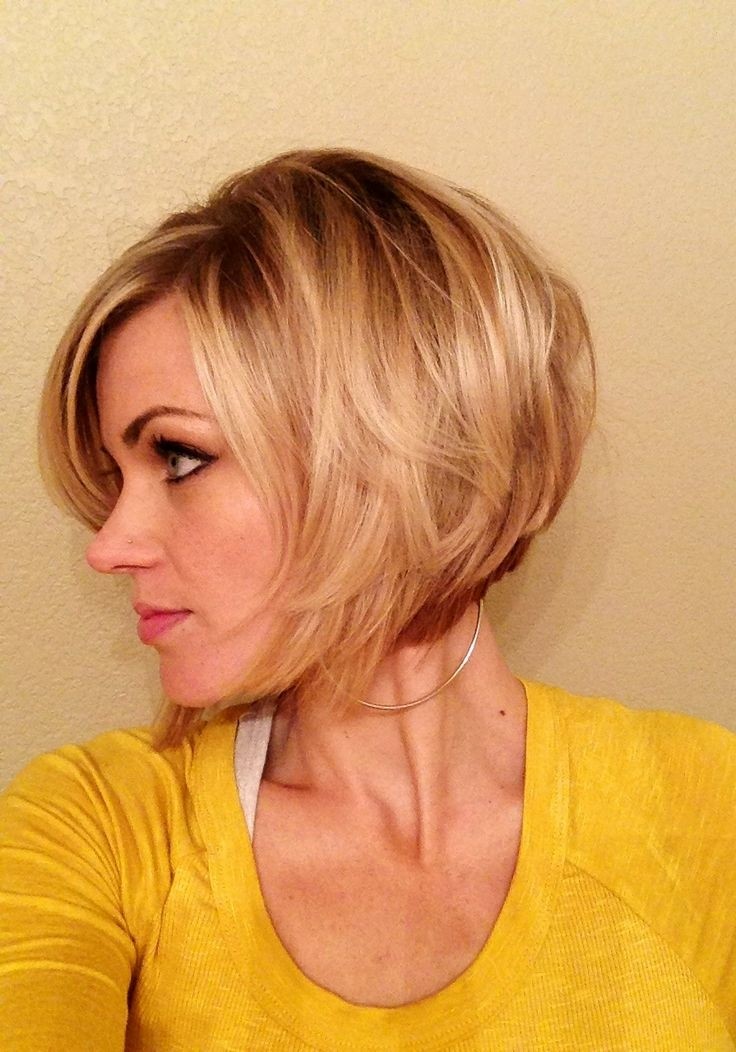 10 Chic Inverted Bob Hairstyles: Easy Short Haircuts
The hot summer has arrived and short hairstyle is in trend. People always consider short hair full of rebellion and changes, yet, when it comes to the inverted bob hairstyles, people will relate them with luscious and sexy factors. The inverted bob hairstyle looks edgy and timeless and works at a lot different lengths and you can adjust it to suit your face shape. There are a great number of kinds of inverted bob hairstyles. A suitable inverted bob hairstyle can make your look greatly charming and impressive. People from all age groups can turn to them when they desire for a new and cool hairstyle. The inverted bob hairstyles are created by many celebrities, for example, Rihanna and Victoria Beckham. So it is one of the most-versatile contemporary-styling choices.
The inverted bob hairstyle works greatly on curly and straight hair. We can gain the basic hairstyle by cutting the back of the hair short and keep hair in front long till the neck line to get an asymmetrical effect. The inverted bob hairstyle can create more height, volume and fullness at the top.
The inverted bob hairstyles have many variations so they can suit different face structures. Bangs can work with the cut, depending on your hairstyle and face shape. For people with a wide forehead, side swept long bangs or bangs that cover both eyes can match the inverted bob hairstyle perfectly.
Layered inverted bob hairstyle looks cool and fun. With several short layers at the back, you can get a stylish stacked bob. Spread layers evenly over the hair and some face framing layers with the inward turn.
Sleek inverted bob hairstyle is popular among many working professionals since it can enhance your formal dress properly and offers a quite sophisticated look instantly. Flat ironed hair with pointed edges often needs to use a razor to offer it the ideal finish.
Asymmetrical Inverted bob hairstyle looks excellent with the hair on one side extended way below your chin and that on other side cut in a choppy way. The elongated corners falling on your face are offered an excellent finish with a curved, angled line that goes upward.
Except from the above mentioned inverted bob hairstyles, there are inverted Pixie bob, curly inverted bob. For more dramatic edgier look and a new dimension, you can choose some highlights here and there according to your own taste. Believe me, inverted bob hairstyle is one of the greatest variations of the basic bob hairstyle that is in trend. Just choose the ideal one to bring yourself a stylish and cool change.
Inverted Bob for Straight Hair: Victoria Beckham Short Haircuts /Via
Cute Inverted Short Bob for Girls: Side View /Via
Long Inverted Bob with A Dramatic Angle, Minimal Stacking In the Back /Via
Straight Long Bob Haircut: Inverted Bob /Via
Angled Stacked Bob: Chic Short Hair Cut /Via
Inverted Bob: Best Short Hairstyles for Women and Girls /Via
Medium Length Inverted Bob with Long Layers /Via
Shaggy Inverted Bob: Blonde Loose Curls /Via
Inverted Bob: Side and Back View /Via
Ombre Bob Hair Styles: Inverted Short Haircut /Via