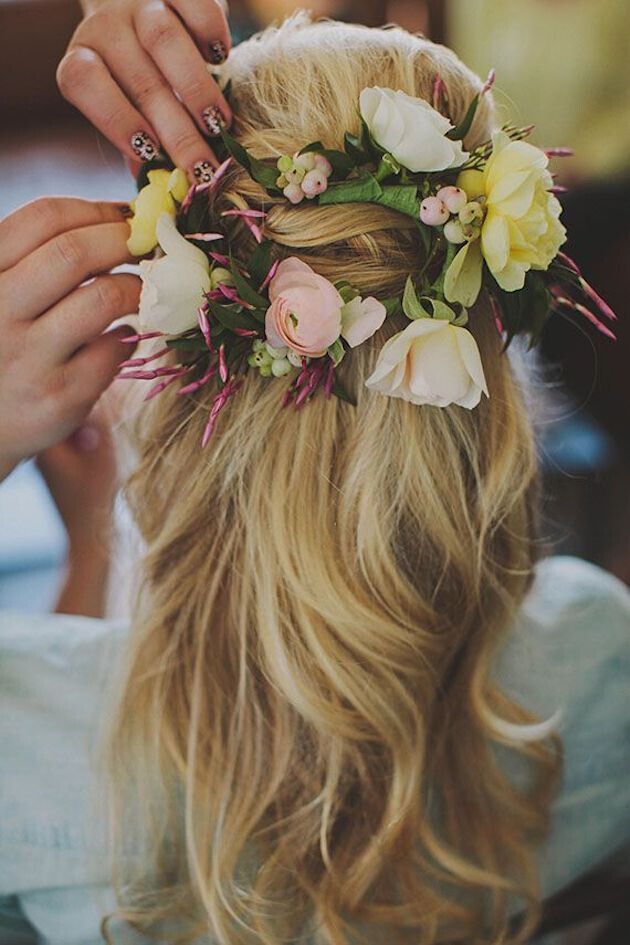 15 Latest Half-Up Half-Down Wedding Hairstyles for Trendy Brides
This season sees the continued popularity of elegant half-up, half-down hairstyles for trend-conscious brides. However, as with all popular hair fashions you can now choose between gorgeous retro up-and-down do's or wear your hair in a totally new 21st century take on the wedding hairstyle!
Contemporary casual
The trend towards half-up half-down wedding hairstyles is partly owed to the way they bridge the gap between a formal updo and an informal 'down' style, which may not be formal enough for such a special occasion.
Trendy Wedding Hairstyles with Curls /Via
Long hair arranged in an updo may become uncomfortable when worn for several hours, especially with the added weight of a tiara and veil on top. But a half-up hairstyle adds that special glamour to a bridal ensemble, in a comfortable and contemporary way.
Asymmetric styles
And you don't have to have any loose hair at all in the latest half-up half-down wedding hairstyles! Why not try a tousled bun lightly teased for volume behind the crown, with a super-cute side bun on one side and a sleek, smooth asymmetric fringe at the front?
Lovely Flower Wedding Hairstyle with Braids /Via
Medium bob styles
If your hair is cut in a medium same-length bob, why not show your individual style by sweeping the front hair back from the forehead to open up your face and having twisty or broken waves creating a trendy frame at the sides?
 Medium Bob Hair Styles for Wedding /Via
Romantic looks
One popular style has a little ponytail just behind the crown, which is full of pretty curls spread out and invisibly pinned to add height, texture and lots of style around the top of the head. With the longer lengths also curled in ringlets or modern waves, this creates a very soft and romantic look.
If your hair has a trendy extra-long fringe, you can switch the half-up part from the crown or back of the head and place it on the top. Just curl the fringe and arrange it in a flattering way around the forehead and for an eye-catching creative contrast, leave the rest of the hair smooth and straight.
Romantic Island-inspired Bohemian Wedding Hairstyles /Via
Smooth and straight styles
Although many wedding hairstyles include curls or waves, there's no reason why you can't look smooth and sleek with your choice of half-up half-down wedding hairstyles! One very contemporary look is to create a lovely 'bump' of volume around the crown and keep the sides smooth or softly curved to keep all the focus on the face.
Stick to one overall 'style'
Remember to match your hairstyle to the style of your dress, to avoid being either over- or under-styled. And make sure there's a convenient (comfortable) spot to attach some silk flowers, a white corsage or a tiara if you plan to wear a wedding veil.
Here's a handy gallery showing the latest half-up half-down wedding hairstyles, to help you choose the perfect look for your wedding style!
And once you've chosen, and practised wearing your favourite hairstyle, all you'll need to do is relax and enjoy being a happy and beautiful bride!
Soft curls, half up half down wedding hair / by, Heidi Marie Garrett -Creations Via
Latest Half-Up Half-Down Wedding Hairstyles for Trendy Brides /Via
Half-Up Half-Down Wedding Hairstyles with Hair Accessories /Via
DIY Wedding Hairstyle – Twisted crown braid half up half down hairstyle /Via
Romantic Wedding Hairstyle with Flower – Long Hairstyles /Via
Wedding Hairstyles – Discover Next Year's Top Trends for Brides /Via
Braided half up half down hairstyles for Wedding & prom /Via
Wedding Hairstyles with Crown /Via
Half up half down hairstyles for shoulder length hair /Via
Bohemian Hairstyle with Fishtail Braid: Wedding Hairstyle Ideas /Via
Glamorous Wedding Hairstyle for Long Hair /Via