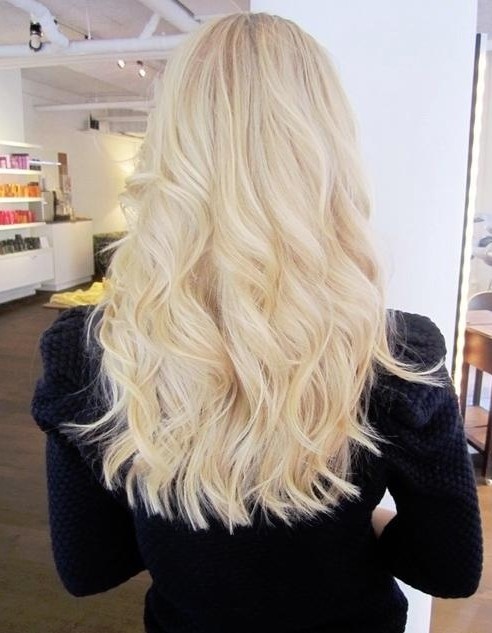 Blunt Hairstyles: Long Wavy Hair
The attractive long hairstyle is dressed over the shoulders showing off the ideally long layered defined loose curls added to the mid-lengths to ends.
Loose curls hairstyles are always superbly popular since they are fairly effortless to recreate and they are also quite romantic, charming and of low-maintenance. The full and bouncy hairstyle is thanks to the layers cut around the back and sides to encourage the bounce and boost of the natural curl.
Bouncy curls can add much volume to the whole look and it can slim the face greatly. So the ultra-long locks in loose tousled curls can offer people a graceful and charming look and feel and the long hairstyle is great for formal and informal occasions.
Styling Steps
Place the curling iron close to the roots of the hair and rotate the curling iron to a180 degree angle, for approximately 5 to 10 seconds. For loose waves, hold it less tight.
After releasing the section wrap it around the finger. Shape curls into spirals with the iron when you work from strand to strand. Keep every single strand wrapped around the iron for several minutes.
After removing each curl from the iron, make it completely cool before touching it.