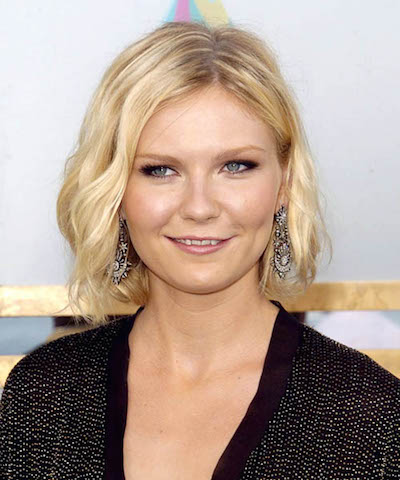 20 Short Hairstyle Ideas For Round Faces: Chic Haircuts You Have to Try
We all come in various shapes and sizes, which includes our faces. Some people have long faces, while others have round. Naturally, not all looks compliment all face shapes. So, as great as that hairstyle looked on your favourite celebrity, it may not be the look for you. Women with round faces, I'm talking to you. Finding your perfect cut can be hard. Everyone wants to look their best, and you shouldn't have to settle for something that makes you insecure. Try out one of these fantastic short cuts to ensure that you are looking and feeling your best, every day!
1. Slightly Twisted Long Bob Hair Style
A slightly twisted bob is extremely flattering on round faces.
2. Flipped Short Bob Haircut
This flipped bob offers some diversity along with interesting texture, without making you look like housewife from the '50s.
3. Wavy Bob: Casual Everyday Haircut for Women
Elizabeth Olsen show us that you can rock a wavy bob and make it look easy.
4. Casual Bob
Her big sis proves that casual bobs aren't out of the question either.
5. Sleek and Sexy: Easy Short Bob Haircut
And you can also go sleek and sexy with this stunning cut!
6. Center Part Waves
A look that would look bad on all long/oval faces fits right into your niche. You can pull of centre parts with ease.
7. Adorable Layers
Layers and short hair are definitely your thing.
8. Cute Frame: Long Pixie Hairstyles
Framed cuts look great on your because they highlight you facial features while flattering your jawline.
9. Naturally Swept Pixie
This gorgeous sweeping do is particularly gorgeous on those with round faces.
10. Blunt Bob Haircut with Bangs
Katie Holmes' classic bob was made for you!
11. Curly Pixie Haircut: Short Hair with Layers
Pixies are definitely a good call. The more volume the sexier they'll look.
12. Gorgeous Volume: Messy Very Short Hair Cut
Ginnifer Goodwin proves how stunning volume can be, as long as it's vertical volume and not horizontal.
13. Sleek Pixie
Sleek, smooth and simple, this looks is perfect for those who want to transition from casual to elegant.
14. Smooth, Cute A-line Long Bob Hairstyle
Sleek and barely brushing the shoulders, this is a killer look for anyone with a round face.
15. Choppy Pixie
Choppy and just a little bit messy, this look is great for anyone.
16. Messy Pixie Cut
This texturized pixie cut is the perfect chop for anyone looking for a change.
17. Layered Bob
Layers are in, so take advantage of them!
18. Layered Pixie
Even if you have a pixie! Layer it up!
19. Messy Pixie with Long Bangs : Short Haircut Designs for Round Face Shape
Don't be afraid of uneven layers either, as they'll look great on you.
20. Casual Waves
Some casually deliberate waves are just the thing to keep you looking fresh.