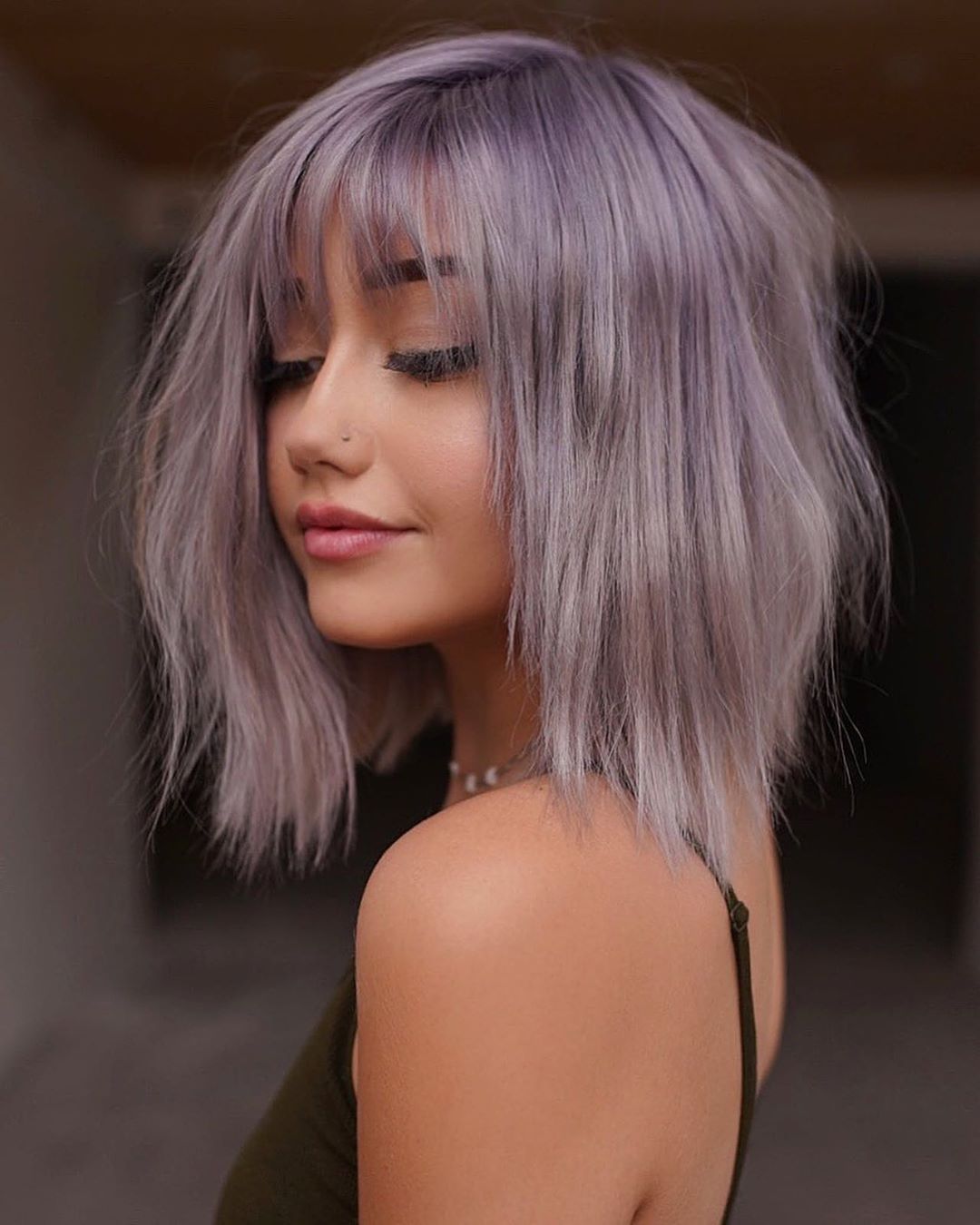 10 Women's Shoulder Length Hair Cut Designs & Colors
Along with shaggy, wavy and straight women's shoulder length hair cut designs, curly styles are starting to appear in the top ten trendiest hairstyles for this season! And not only that, the color range is wider than ever before with lavender, copper-orange and blonde balayage all on the list of most popular color requests.
1. Curly bright copper – women's shoulder length hair cut designs
Naturally curly hair doesn't have to be straightened to look trendy, you can go back to your natural curls now, as this style is on its way back into the fashion spotlight! This model's rich, copper color has no doubt been enhanced by a colorist, but her freckles and warm skin undertones suggest she has natural copper tones in her hair already. The bubbly volume around the top and sides flatter a narrow face and corkscrew curls in the fringe and framing the eyes draw attention to their lovely green color!
2. Rad makeover long to shorter white-blonde – women's shoulder length hair cut designs
Light brown hair with a blonde dip-dye has had its day and it's time to update if you're still rocking that look! The lob is queen of the medium long cuts right now and if you color it with a light ash-blonde, you'll look far more fashionable and modern. And the more modern your haircut, the younger people think you are! So that's always a plus! The contemporary wave pattern is one bendy wave half way down, with straight ends and choppy, textured tips. It's an eye-catching makeover look that also brings out the blue in the model's eyes!
3. Blonde balayage on light-brown base – women's shoulder length hair cut designs
Medium-beige roots keep this bright blonde balayaged hair color design, soft and feminine. And the hair draped around the model's artistic tattoos makes an attractive frame for her body decoration. The center-part covers the corners of the model's forehead and then widens to accentuate the eyes and lips with deep waves. Straight ends with choppy and textured tips keep the look edgy and white, face-framing strands finish off a chic, rock-chick look!
4. Brunette with dense blonde balayage – women's shoulder length hair cut designs
This is a subtle way to go from brunette to blonde, without having an obvious all-over bleached-blonde look. Large sections of hair are carefully separated and colored in a range of beige-, dark- and light, golden-blonde. The balayage starts widely spaced near the brunette roots and increases as it continues down to the tips, where it is all blonde. You need a specialist colorist to achieve this look, but it's a beautiful way to cover gray or spice up your dark hair!
5. Shaggy simple haircut on fine lavender hair
Fine hair can't be cut into a truly shaggy haircut, as it doesn't have sufficient density to allow for several sets of layers. However, this super-cute shoulder-length hairstyle has a definite, shaggy look from the choppy layering framing the face and the uneven, raggedy bottom edge. With an off-centre parting, and an eye-lash length separated fringe, this is an easy-care lavender haircut that just needs a little tousled texture to add volume. There's also an attractive variation between the deeper lavender roots, which gradually lightens to pale lavender-blonde at the tips!
6. Lavender & plum balayage ombré on wavy medium bob
Here's a fabulous hair-color design that's totally original and we've certainly never seen anything like it before. Brunette roots gently transition to a plum, orange-red ombré down to the textured tips. And the lavender chalk color highlighting the side sections from a center parting are a super choice for a Boho color combo!  Lavender is a great color for bringing out the rich brown color of the model's eyes and the subtle lip-color, and light eye-make-up, ensure the colors of the hair design don't clash with her face make-up!
7. Beige-blonde makeover on brown A-line bob
This popular long bob haircut looks great with blonde highlights on warm-brown hair, but it looks even better with a full blonde balayage-ombré! This is a classy way to change your brown hair to a natural, medium-beige blonde that's fully blonde at the ends. This is a fabulous, easy-care A-line lob, with an off-center parting that can be adjusted by your stylist to suit a wide range of face shapes. You can style it from straight to wavy or curly, in a variety of up and down styles. So no wonder it's so popular for medium and fine hair!
8. Stunning purple gray & orange bands on center-part bob
From ultra-violet roots through lavender ash-blonde and down to vivid copper-red tips, this is a stunning shoulder-length hairstyle! You need an experienced colorist to obtain this level of color blending, so make sure you choose carefully before embarking on an avant-garde look like this. It's a 3-band hair color design, featuring two matching shades of purple and then introducing an unexpected contrast shade of orange at the tips. It's inspired by the 1970's craze for purple and orange carpets and upholstery in hotels and pubs, which was considered super-modern at the time!
9. Golden-blonde balayage on brunette long bob
Here's a fantastic way to add loads of glamor to brunette hair, with soft golden and beige blonde balayage highlights. The hair is super-shiny and healthy-looking after the hair color and that always makes the color appear more natural. And although we know that no-one's hair is naturally blessed with such lovely golden streaks, they do look perfectly at home in this long bob haircut! The model has warm/neutral undertones to her skin and very blue eyes, so the burnt-orange blouse suits her and blends with the golden-blonde hair design beautifully!
10. Tousled cute golden-blonde long haircut with fringe
It's a long time since we've seen this shade of straw-blonde in the fashion spotlight, but it's a great yellow-golden shade that suits women with blue eyes perfectly! The light, straight-across fringe and flipped-back layers create a retro-look, with a shaggy vibe from the 1970's. The tousled texture makes the hair appear thicker, as does the lightening process to this level, so it's suitable for fine hair. But don't wear fine hair longer than shoulder-length, or it will start to look straggly.