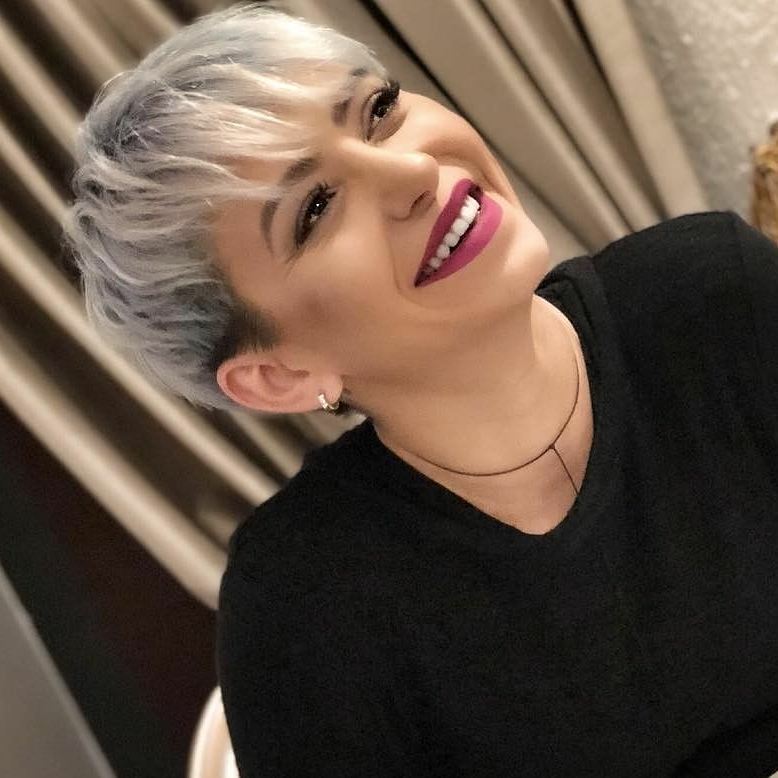 10 Latest Short Haircut for Fine Hair & Stylish Short Hair Color Trends
Silver-, platinum-, gold-, beige- and pearlized-blonde shades give these short haircuts for fine hair a totally new and stylish vibe.  And to match the new colors, these cuts include fabulous new ideas, like quirky side-quiffs, squared side-points and V-shaped nape details.  So whether you're enjoying the heat of summer or the cold of winter pick yourself a perky, 'cool' short haircut here!
Forward styled bangs in silver-white – latest short haircut for fine hair – stylish short hair trends
Gray and white hair have never been trendier than they are right now!  So embrace your graying hair or opt for this silver-blonde color design with trendy charcoal roots.  It's a youthful cut that suits lots of different face-shapes and ages.  These days the latest short haircuts for fine hair know no age-barriers and make excellent over-50's haircuts for women not ready to give up their modern style.  It's a great way to cover forehead lines or a brow that's too high or wide, too!
Pale golden-pink twisty pixie – latest short haircut for fine hair – stylish short hair trends
Here's a fabulous new take on the twisty pixie look.  The back has an asymmetric parting dividing smooth, short texture and longer layers styled upwards towards the crown! The asymmetrical theme continues at the front in the side parting and long, side-swept fringe.  The lovely twisting waves create lots of attractive volume and 3-D texture.  And the perfect finishing touch is this gorgeous new color design, combining pale beige with ash-blonde, pink and gleaming pearlized gold!
Platinum-blonde softened with beige – latest short haircut for fine hair – stylish short hair trends
This straight short haircut is an updated 'street-blonde' look with 'attitude'.  It sports the current forward styling with a long fringe separated to emphasize the highly textured, spiky tips.  The look has been updated with a little beige added to soften the platinum color and only a short section of punky black roots.  This gives a softer look in tune with the model's carefully applied modern make-up in natural earth tones.
Full-on silvery ash-blonde with pink toner –  latest short haircut for fine hair – stylish short hair trends
This stunning cut and color is another modern look suitable for young women and a fabulous over-50's short hairstyle idea, too!  It's a really easy-care style that you can achieve on fine or thick textured hair, giving a highly fashionable look.  The hair is styled forwards into an extra-long fringe swept to one side, for a flirty peek-a-boo finish.  This diagonal-fringe style is perfect for making a long face appear shorter and also suits round faces.  The stunning ash-silver blonde shade is highlighted with white-blonde balayage and a hint of pink toner that contrasts nicely with the blue-gray tones.
Chic pearly beige-blonde short bob – latest short haircut for fine hair – stylish short hair trends
The natural beige-blonde color of this versatile short bob haircut is the perfect complement to this model's natural beauty.  And soft-beige is a great choice for anyone with pale skin that has warm undertones.  Fine, straight hair looks great cut into this trendy, asymmetric bob, which can be worn smoothly curved or in ripple waves.  There are subtle balayage highlights in lighter-blonde vertical lines, emphasizing the texture and movement.  And a gorgeous pearlized gleam completes this very flattering cut and color!
Choppy texture on V-back silver-blonde short haircut
Adding texture to fine hair is a great way to make it appear thicker and here's a fine example of modern, choppy haircut.  The cut is layered all through, so hair is light and easy to 'fluff-up' for flattering volume.  This pic shows off the latest V-shaped nape detail, with the hair blunt cut to create a choppy line.  The all-over, silver-blonde color is very contemporary and chic. And subtle white balayage plus hints of ash and beige toner create interesting light and dark shading.  Lightly waved texture completes a gorgeous, modern hairstyle for fine – to medium hair.
Quirky windswept quiff on ash-blonde short haircut
This is one of the truly cutting-edge, hair-fashions that are introducing us to completely new ways to wear our hair.  It's s a futuristic, 21st century look in trendy,  all-over ash-blonde – without last season's obligatory dark roots!  The cut has closely-clipped sides and carefully sculpted side points, which create a dainty frame for the eyes.  The deep, side-part gives an asymmetrical vibe with lots of texture and movement in the quirky, upswept quiff.  And there's a highly stylish divide at the crown with top layers styled forwards and then back to form textured layers down to the nape!
Mid-ash-blonde geometric haircut with squared side points & V-back
With crisp, clean lines this geometric short bob haircut has a totally modern vibe.  The medium ash-blonde color is complemented by the darker color of the buzzed back section.  It's an asymmetric style with a deep side-part and ultra-trendy squared-off side-points. There's also a super, decorative detail at the back with the squared-off nape creating a dramatic background to the fabulous, silvery V-shape above! Choose this if your hair isn't thick enough for a stacked-back cut and you love to be ahead of mainstream hair fashion!
Retro 70's Purdey – short symmetrical haircut in baby-blonde
This is a super-trendy style that's back in fashion as our love for everything 1970's spills over into every aspect of fashion.  It was originally worn by the character called, Purdey, in the U.K. tv show, The Avengers, which was an unmissable style guide back then!  In keeping with the trend-setting style of the show, this was a completely original haircut for a hard-hitting, crime-fighting new woman.  Popular with the fashion-conscious young women of the Mods fashion tribe, this cute, symmetrical style gives oval faces a fab contemporary look.
White-blonde geometric haircut with trendy straight-across fringe
I love the contrast of this white-blonde haircut with the model's deep brown eyes.  And the beige-blonde, rather than ash-blonde, color has been chosen well to suit skin with a warm undertone.  This is another style that moves away from the asymmetric short haircuts to the symmetry of a deep, straight-across fringe.  This expertly layered short haircut has clean lines and pretty, long side-points which create a flattering frame for eyes, cheekbones and lips!  With no added height on top, this is a good style for shortening a long face or hiding a wide forehead on a heart-shaped face.