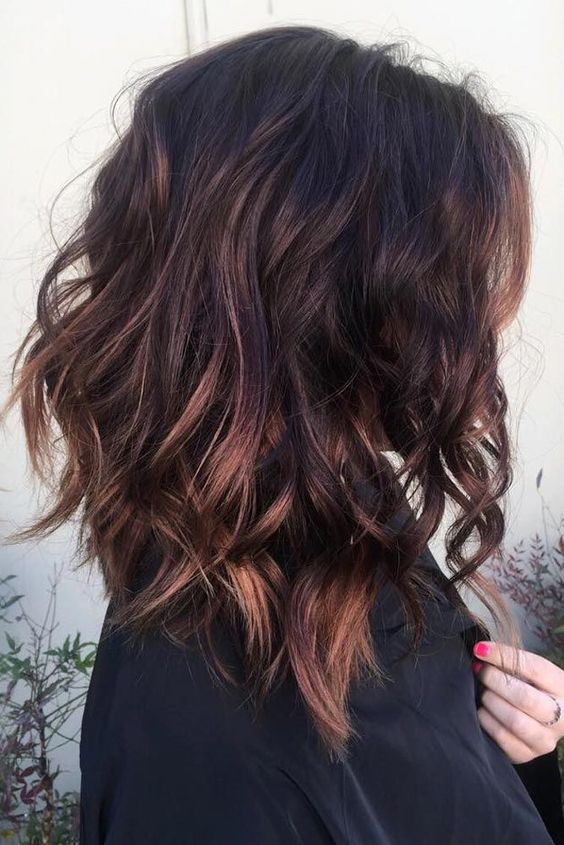 10 Messy Medium Hairstyles for Thick Hair
This gallery of exciting messy, medium hairstyles for thick hair mixes it up with classic, messy, shaggy and uneven cutting-techniques that all have fabulous, fashion style!  The latest haircolor ideas are some of the classiest brunette and blonde balayage-ombré options this year.  And worn with an edgy, messy haircut you get a special look that's great for any occasion.   So here are the best, medium hairstyles for thick hair right now!
Autumn leaves color design – messy medium hairstyles for thick hair
Let's start off with a lovely luxury look inspired by the rich colors of autumn leaves!  The brunette base color has been given a touch of purple toner, which is a complementary color for the coppery balayage below.  The layers are long, cut to create messy texture in the last few inches and accentuated by the soft ash-copper balayage.  Heavily textured tips create finely tapered tips, which are light enough for a beautifully messy finish!
Totally trendy texture – messy medium hairstyles for thick hair
This trendy medium hairstyle for thick hair is a daring look, full of texture and 3-D color depth.  In a lighter shade of blonde, this could easily tip into a 'trailer-trash' look because the hair does look a little bit 'damaged'.  But in the confident hands of this colorist, the fabulous 4 shades of mid golden-blonde, over golden-brown roots, creates a mellower image.  We love how the vertical sections have been styled as defined strands – neither straight nor wavy – but natural and casual!
Soft & lovely beige tones on messy medium hairstyles for thick hair
I have to confess that I absolutely love the way beige-blonde is being used this year!  Soft beige has often been laughed at as a safe, boring color in fashionwear, but as a way to add loads of class to blonde hair, it can't be beat!  This messy medium hairstyle for thick hair may be a casual, summery look, but in beautifully blended beige and brown colors, it's also an 'expensive' look.  These colors are great for any season and women of all age-groups who love simple, but chic haircuts for thick hair!  Suits medium skintones with a warm undertone.
Pale neutral-blonde with ash-blonde roots – messy medium hairstyles for thick hair
So, if warm beige-blonde (above) is a great color for medium skin with warm undertones – and ash-blonde is fab for pale skin with cool undertones – what have we got here? Well, this is oat-blonde, a great shade for pale skin with warm undertones.  So if you look good in clothes that are dark-gray, like the model's wearing, you'll also look fabulous with this neutral blonde hair design.  There's a touch of warmth around the roots from pink toner, in this chic alternative to platinum-blonde!
Windswept natural golden shades – medium bob hairstyle for thick hair
One of the benefits of medium hairstyles for thick hair is that once you've got a good cut, from a stylist who knows how to shape thick hair, it's virtually 'wash and go'!  The windswept medium bob hairstyle has long been a favorite with runway models, because it's easy-care for busy, working women. This trendy hairstyle has 'sliced layers' cut to form defined waves, with the weight taken off the tips for a lighter, fluffier texture!  A 'straight-across' back is the latest change from A-line bobs and those pale-gold, uneven tips add an edgy touch of 'bed-head'!
Stylish neutral-beige ombré on brunette wavy hairstyle
Going blonde doesn't have to look obvious and complicated with the tasteful shades of beige-blonde currently on offer!  The emphasis is currently on more natural blonde colors, that enhance brunette hair, rather than overwhelm it.  Here's a super example of how soft beige balayage-ombré adds terrific texture and movement to the model's natural brown hair.  And wavy, tousled layers highlighted in natural-beige gain tons of style and casual sophistication.
Dashing disconnected layers on golden-blonde shaggy haircut
Correct layering technique is essential to get the shape, texture and movement that shows thick hair to advantage.  And one of the latest cutting options is 'disconnected layers' used to create a shaggy, uneven texture.  This gorgeously golden haircut gains volume from layers with textured tips, cut mid-way down the hair.  Removing some of the 'weight' allows thick hair to be more springy and rounded on top.  And this contemporary cut is perfectly finished with choppy lower layers, lowlighted in brown balayage!
Chic white-blonde with ash-brown balayage
White-blonde hair is one of the year's most stunning blonde options!  And this is a fabulous example of oat-blonde, with light touches of beige, blue and ash-brown.   The medium inverted bob hairstyle with tousled texture is simple enough to carry-off this gorgeous fashion color.  And whether teamed with a dark suit for a professional work image or a little, black dress for a cocktail party – all eyes will be on you!
Choppy texture updates a classic inverted bob
Not everyone wants a high-fashion, windswept look, but we all want to look modern!  So even if you stick with the same basic style, making simple changes can show you're a fashionable woman.  This inverted bob is a classic medium hairstyle for thick hair.  It stays popular because it's easy-care, and flattering to both young and mature faces.  The subtle vertical, blonde highlighting is also a classic color for a natural-blonde look.  But add a touch of choppy texture to the tips, and you get a trendy, uneven finish that brings your image right up-to-date!
Neutral-blonde & brown blend on shaggy medium hairstyles for thick hair
The shaggy haircut was invented to create an edgy, rebellious look for thick hair!  And it's the perfect style to project a relaxed, trendy outlook on life.  Today's best shaggy hairstyles are full of lively movement from techniques using 4 or 5 closely-toned colors.  With neutral-blonde balayage and brown lowlights, this uncombed hairstyle becomes a glamorous, modern look!