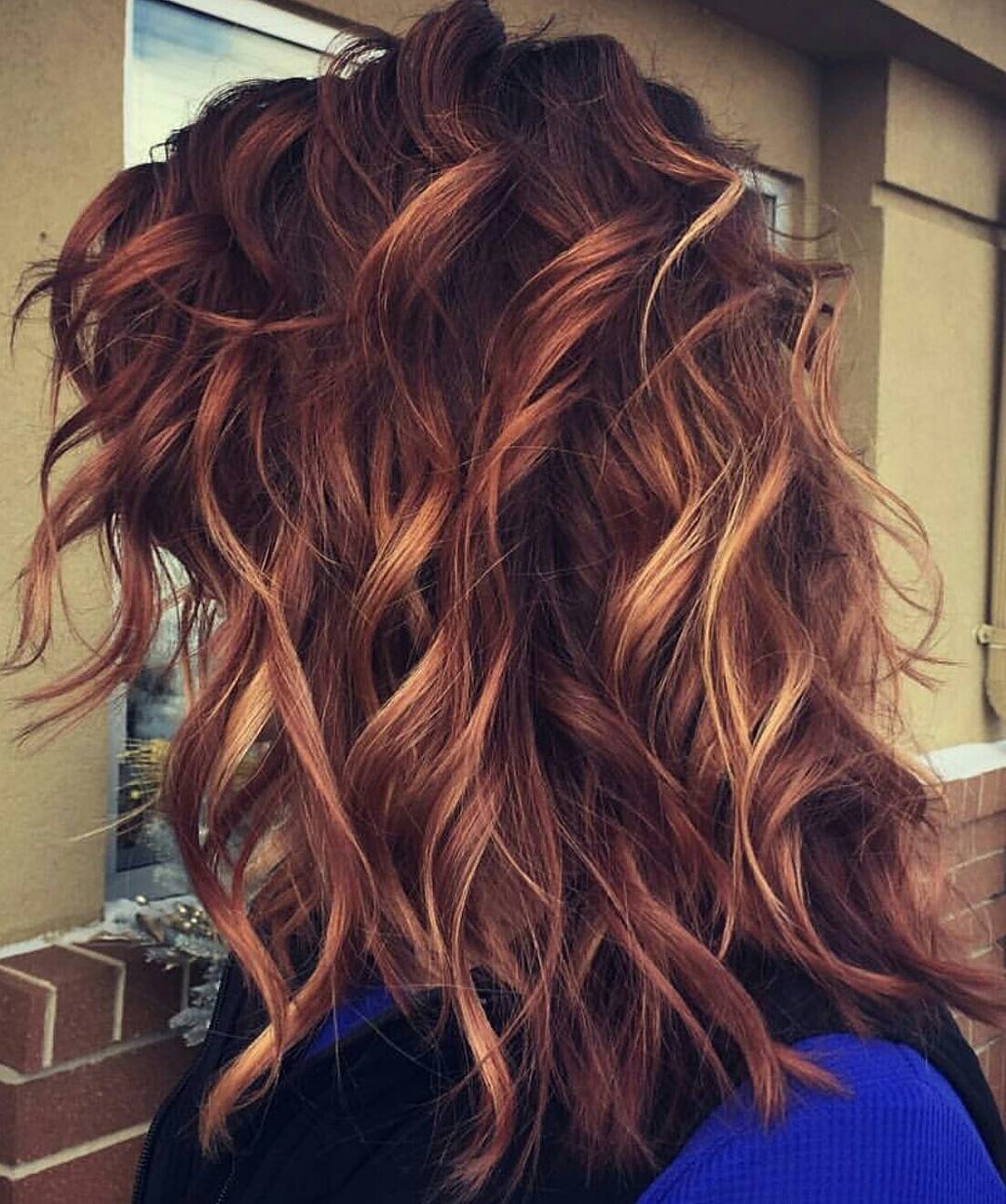 10 Medium Length Hairstyles for Thick Hair in Super Sexy Colors
From special FX tricking the eye, to face-softening beige, via cute gold, flaming red and icy ash blondes – these are the freshest medium haircuts!  So step right in and enjoy our gallery of medium hairstyles packed with fab, new wave patterns, the shaggy, raggy styles and totally trendy smoothies!  And some very cute and sexy new hair color ideas!
3-D color tricks on medium length hairstyles for thick hair
Intense copper hair color is a popular hair color trend for brunettes this season!  And not only for brunettes, many dark blonde or mousey haired gals have found their inner goddess by opting for this rich, sexy look!  And showing that medium length hairstyles are anything but 'middle of the road', this one has a fresh look from tousled waves and inspired blonde highlighting!
Dangerous lady in red – sexy medium length hairstyles for thick hair
And if you're after a seductive look, this medium length hairstyle's obviously red hot!  With expertly tapered tips and tousled, defined waves like red flames, this gorgeous red ombré will set many a male heart afire!  This red hair color design also looks wonderful in up-styles and braid details, so wear this look to project a self-confident image wherever go!
Romantic copper-beige-blonde medium length hairstyles for thick hair
Here's another exciting color design that makes hair look thicker with touches of white-blonde balayage in a 3-D optical illusion.  Loose, defined waves have a soft, warm look from expertly applied pink, pale copper, beige and white highlights over brown roots! Ask for pearlized blonde shades to get this gorgeously soft and romantic glimmer and a totally new hair color!
Playful mulberry-pink on medium length hairstyles for thick hair
This is another great way to jazz up straight, medium-length hairstyles with cute, color inspiration from nature!  The light-brown 'mousey' base color lacks personality, but adding trendy apricot blonde and muted, mulberry-pink balayage adds a lively dose of fun and fashion to this simple haircut!  Muted pink is the favorite pink this season fitting in with the huge trend for softer beige-y shades.
Shimmering light-ash blonde on long bob haircut
Although this is one of the very lightest ash-blonde shades, the neutral tone and slightly darker beige roots keep the color looking natural.  Natural blondes often have beige roots showing hair-growth through the winter months, which gets sun-bleached in summer.  This pretty, pale ash-blonde bob cut is slightly layered about 3 inches above the ends and suits cool-toned skin best.
Easy-care & fashionable forward waves
This mid-length haircut is the perfect length for being easy-to-style and easy to wear in a variety of up and down hairstyles!  The attractive balayage-ombré in medium golden-blonde is a very flattering shade for the over 30's age group, too.  Well-textured tips add a fashionable finish whilst coaxing thick hair to behave. And the trendy angled bob gains a contemporary twist from forward styled waves!
Gleaming gray hair color hits the headlines – Balayage shoulder length hair
Until recently, we would rarely see gray hair in a long wavy bob like this youthful style.  But gray hair color has been a big hit this year, stealing the style from seniors and making everyone more relaxed about early gray hairs!  This gray color design has dark roots and light ash-blonde balayage for a natural look with a soft and healthy shine.
Cute baby-pink & black roots on center-part style – Straight lob hair style
Here's a great look for anyone seeking an individual hairstyle!  The baby-pink shade looks super-cute against this teen's pale skin with a cool undertone.  But there's an edgy touch of attitude in the stark black roots, echoed in her dark eyebrows.  The dead center parting suits oval faces perfectly and pretty pink curtains of hair accentuate her blue eyes and pink lips!
Chic shaggy long bob hairstyle with beige & ash-blonde balayage
Adding a classy blonde vibe to your brunette hair is easier to achieve with beige-blonde ombré softening the color contrast.  This style draws together several different hair fashion strands to produce a sophisticated version of the shaggy long bob.  The front is layered to flatter the face and the tips are highly textured to form a trendy, ragged touch at the ends.
Trendy & classy angled bob for long face shape
Today's final medium-length hairstyle for thick hair is this fab angled bob haircut with ragged tips.  It's also an excellent hairstyle to balance out a narrow or long face shape. Waves begin half-way down the head, creating side volume that makes the face look wider.  And bringing the shape back in at the tips, will also 'shorten' a long face.  The triple balayage-ombré – gold-brown low-lights to paler-golds with a hint of ash toner, create a very classy color design!