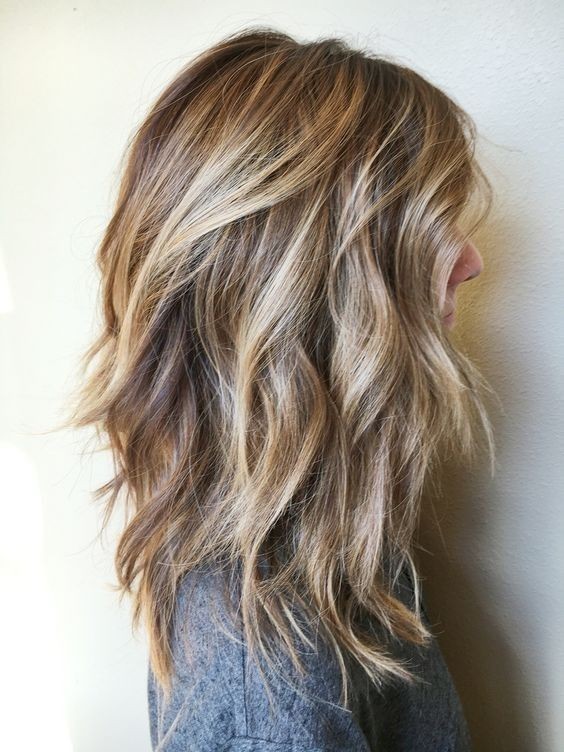 20 Lovely Medium Length Haircuts for Your Next Look
Medium length cuts are ideal for the lady who wants a little extra room for styling without going too short. If you're looking for your next medium length hairstyle, you'll find it on this list, whether you're just looking for some trendy color inspiration or a new way to chop at those ends.
#1. Half Up Half Down Starry Surprise: Medium Length Haircut for Thick Hair
Finishing the gallery with one of our favourite looks from the bunch is this absolutely stunning medium red hairstyle. This lady is blessed with the most stunning shade of copper locks, which she's chosen to show off by working into a twisted half up half down style, pinning it and securing it so that the hair cascades down her back. She's accessorised the style with gold stars and sequins to add a touch of sparkle and we are simply in love with the end result.
#2. Brown Balayage Wavy Lob
Rich dark chocolate roots are subtly and elegantly highlighted with some gorgeous caramel highlights for a silky finish that looks undeniably pleasant on a long bob lined with bouncy waves. It's flirty, youthful, and very on-trend for fall.
#3. Highlighted Layered Cut: Chic, Ombre Hairstyles for Medium Length Hair
Darker roots can get a perky, light makeover with some dark blonde highlights tossed in, paying extra close attention to the ends to dive into that Ombre technique a bit. Add some layers for some extra bulk and do a subtle graduated lob style for more edge and style.
#4. Chunky Copper Streaks: Balayage, Wavy Medium Hairstyles for Thick Hair
This lady has chosen to lift her beautiful brown hair with a selection of chunky copper highlights, and we think the results are absolutely incredible. The copper and brown shades work together so perfectly, and when you combine them with the gorgeous chunky barrel curls added from start to finish, you've got a style which is simply sublime. This style would look equally as special when straight too!
#5. Brown Balayage Medium Bob
A bob cut right above the shoulders instantly gives your look some adorable bounce, but what really brings this hairstyle to life is the delightful caramel strands thrown into darker brunette roots. Such a beautiful sight with girly appeal!
#6. Copper Blonde Wavy Lob: Shoulder Length Hairstyle for Thick Hair
This unique hair color sets itself apart from the crowd with its interesting touch of copper and darker blonde highlights. The shade looks lovely when dazzled up with some loose waves!
#7. Dramatic Curly Balayage: Stylish Wavy Haircut for Women Medium Hair
If a dramatic style is to your taste, then let this lovely lady's hair inspire you! She's opted for a deep side parting for her medium hairstyle, which leaves her with a lovely long sweeping fringe on one side. Her hair is naturally a dark brown shade, and she's used the balayage technique to add light and lift to her locks with a series of golden brown and blonde colours at the tips. The look is finished with dramatic and voluptuous curls which we cannot get enough of!
#8. Caramel Blonde Shaggy Cut: Balayage Hairstyle with Thick Hair
Give your look some of that 70s appeal by tossing in plenty of layers for a shaggy finish. Introducing some caramel into your dark blonde locks ensures there's some definition, bringing those layers to light in a fun and effortless way.
#9. Light Brown A-Line
This fall-ready style has plenty of chic inspiration and cool tones to pair up with your sweaters and boots in a flash. Leave it stick straight to intensify that edgy a-line cut, or add in some wave to escape the rigidity and go for something more dainty.
#10. Subtle Blonde Ombre, Balayage
The beauty of the balayage trend is that it allows you to work many different colours into your hair in a completely subtle and natural way, just like this lovely lady has proved! Her medium length hair works from a lovely light brown to a beautiful bright blonde in the most natural blend we ever did see. To complete the style, she's added loose curls from the mid section of hair to the tips for a soft wave effect.
#11. Neon Ombre Blend: Curly Hair Styles
Bright is beautiful isn't it? So why not take that phrase to the next level! This bold and brave lady has opted for a neon ombre hairstyle working from bright yellow to bright green, and though the results are certainly eye-catching, we think that they're absolutely fabulous. This stunning style is worked throughout with romantic curls which are wispy and glorious, creating the prettiest silhouette we ever did see.
#12. Brunette Blunt Lob:  Straight Lob Hairstyle
Thinner hair doesn't need layers to make it more bouncy- a blunt cut can do wonders for creating the illusion of bulkier hair. Her blunt Bob is adorably set right at the shoulders to frame her face, while a pinch of highlights strewn in adds a touch of contrast to her darker mane.
#13. Blonde Subtle Graduated Lob
Cutting your hair a little shorter in the back with longer pieces around the face creates instant bounce and grace, a great match for this striking blonde color that's summertime ready.
#14. Lovely Red Lob: Stylish Balayage Hair Styles
You can't go wrong with red hair: it's sultry, desirable, and undeniably enticing. Opt for a lighter shade of red and throw in some rose gold pieces for a dainty style that looks downright beautiful on this waved up lob.
#15. Curly Chestnut Ombre Lob
Such a stunning deep hue of copper plays well off ultra-dark roots, creating a fall-friendly shade that will work all season long. For a voluminous, romantic touch, use a large barreled curling iron to produce those luscious curls on your lengthy Bob.
#16. Brown to Lilac Romantic Curls
Romantic curls create the prettiest look for a special occasion or night out – just take a look at this lady's impeccable hairstyle! Her gorgeous medium length hair works from a light brown through to an amazing and totally trendy shade of lilac through an ombre blend, and she's worked the curls throughout for a dramatic and oh so romantic look which we simply adore.
#17. Brown to Blonde Balayage – Layered Wavy Haircuts for Medium Hair
We're starting this gallery with a simply stunning hairstyle, full of lovely loose curls for a bouncy effect. This lady has worked her mid length hair which falls a couple of inches below the shoulder into these wavy curls all over, highlighting the amazing brown to golden blonde balayage colour transition of her luscious locks. We simply cannot get enough of this look!
#18. Pink to White Blonde Ombre Blend
Why not dress up your medium length locks with a vibrant colour choice? This utterly fabulous and fashionable lady has done just that, opting for a gorgeous hot pink at the root of the hair which blends into a striking white blonde at the tips, thanks to the ombre transition we know and love! To show off the amazing colours at work, she's added loose ringlets throughout for a wonderful lift.
#19. Textured Highlighted Lob – Layered Shoulder Length Hair Style
Do blondes really have more fun? This gorgeous lady has made it her mission to find out! She's taken her lovely long bob which falls just around the shoulders and worked golden shades of blonde highlights from the root to the tip, adding a light and lift to this cut that is simply to die for. She's loosely tousled the hair for an amazing textured finish which is perfect for a day to night style.
#20. Lilac to Silver Graduated Long Bob – Ombre, Balayage Lob Hair Styles
We thought it was about time we featured a graduated bob in our medium hairstyles gallery! This lovely bob is longer at the front and shorter at the back, parted to the side with a long fringe section. As if this gorgeous cut weren't quite enough, this lovely lady has opted for a stunning hair colour too, choosing to blend a lilac purple into a fashionable grey. Add a loose tousle to recreate this look and create a striking style.
Medium hair can be so incredible versatile, as we'd like to think we've proved in this gorgeous gallery, and we hope we've provided you with plenty of hair inspiration for your new mid-length hairstyle!