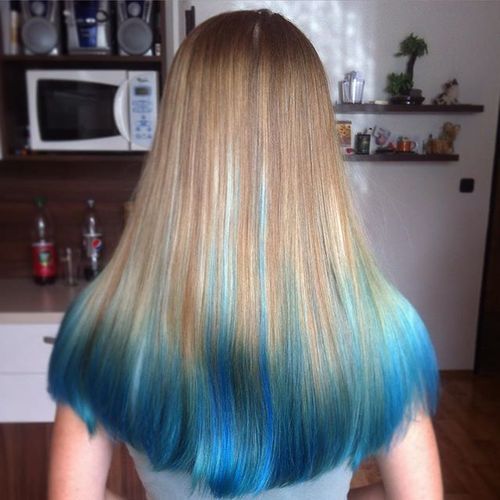 20 Captivating Blue Hair Color Designs: Ombre Hairstyles
Blue hair is a really popular style right now, but that doesn't mean you have to stick with just one shade of blue. We've come up with a wild collection of midnight blues, electric blues, even silvery blues- and so much more! You have to see these captivating blue ombre hair color choices.
Straight Blue Mermaid Melt: Ombre, Balayage Hairstyles with Straight Long Hair
The mermaid style is undeniably trendy right now, so if you have lengthy hair that needs to be revamped with some majestic appeal, consider a subtle mermaid blue color melt. The turquoise and deep blue shades below really add some delightful depth that aren't too abrupt.
Black and Dark Blue Ombré
We simply can't get over how much we love black and dark blue together! The two colors just look so pleasant and admirable together, and this look can work for girls of all hair lengths.
Neon Mermaid Blend: Pastel Ombre
Long hair is the perfect platform for unique colors, and if a neon dream is what you're after, then this is it. A deep neon purple is the base for this mane, contrasted and enhanced immediately by a luscious blue/green mix on the tips. You're sure to turn heads with this extraordinary look.
Natural Blonde and Blue Balayage: Shoulder Length Hairstyles
Natural blonde hair is a great base for blues, as it complements any shade of blue instantly and it's rather easy to add color to a light base. She opts for an electric midnight blue shade to really intrigue the eyes, with a few subtle highlights found near the roots to tame down the contrast a bit. Add curls for a very feminine, yet bold look.
Electric Blue Tips
Having blue ombre hair doesn't mean you have to be a walking 'OPEN' sign or look like a mermaid fresh out of the water. While these electric blue tips are distinct, they're placed in a classy, subtle manner that really add some boldness to her jet black base. Keep things simple and easy with electric blue tips!
Silver/Blue/Lavender Color Collection
A broad collection of dainty colors is found in this retro-inspired numbers, from her thick eyebrow-skimming bangs to her dazzling loose curls. Fall in love with this dainty hairstyle and enjoy the charming hues of blues, silvers, lavenders, and even blondes.
Electric Purple and Blue Waves
A bouncy bob is the perfect platform for vibrant colors! Your shoulder-length haircut will look striking with an electric purple and blue ombre, and tossing in some tight waves really add to the flirty, rockin' bounce of this 'do.
Midnight Purples and Blues
For the colder seasons when feeling warm and looking alluring is key, this is the perfect hairstyle choice. The rich, delectable shades of purples and blues combine together beautifully for a deep finish that's sultry and heavily seductive.
Silvery Blue and Lavender
There is something so enchanting about the planets in our galaxy, and you can take a style note from them and indulge in an enchanting ombre shade like this. The silvery blue reminds us of the glistening stars in the sky while lavender tips make us think of the rings around saturn. So fascinating, we're in love with this majestic, bright hairstyle.
Ash and Indigo Tight Ringlets: Curly Hairstyle for Medium, Long Hair
Ash locks can be a bit mundane when left alone, but adding an indigo lower half really spices things up a bit. To make those color collections stand out, indulge in some tight ringlets that flow those colors together magnificently.
Dark Teal Ombre
In a world where mermaid locks are at their height of popularity, it may be hard to stand out from the masses; but you can shake things up a bit and stick out with this luscious hairstyle. A dark hue of teal is found on the bottom half of these lengthy locks, with a dark chocolate brown base that contrasts beautifully. Certainly a sultry take on the classic mermaid style.
Platinum and Sky Blue Ombre
A lighter shade of blonde glistens in the sunlight, but to add even more bright dimension to your charming roots, try out some sky blue tips! Both colors are delicate and delightful, and this summery style will look excellent poolside in your bikini.
Black and Blue Ombré: Pastel Hair Color Ideas
There's really no better combo between jet black and midnight blue- it's SO striking! But to tame things down just a tad, there's a hint of yellow placed strategically between the black and blue for a bit of a subtler transition. Still, so sexy and mermaid-like; especially with that tousled bed head style!
Aqua Blue Ombré
If you prefer a brighter shade of blue that's sure to steal the eyes of the crowd, then indulge in this rich hue of Aqua. There's a tinge of darker blues melted throughout to create a charming contrast that looks delightful whether it's slick straight or enhanced with loose curls.
Blue/Green Galore
Staring at the ocean you're swiftly brought to a peaceful, enchanted center; and that's exactly what this hair provokes. This stunning look combines depths of blues with a gorgeous light sea foam green lower half for a dainty, yet striking finish that reminds us of the beautiful sea. Mermaid look-nailed it!!
Platinum and Dark Blue Ombré
Striking hair needs only one thing: some MEGA contrast! This incredibly fierce look combines the sassy and bright platinum coloring with a rich, deep hue of blue for one very illuminating finish. With a hint of light blue streamed through the center, it's a desirable transition that's given beautiful body with voluminous curls.
Green/Indigo Color Melt: Balayage Long Hair
Melting crayons is a favorite summertime activity, watching favorite colors melt together beautifully; why not use that same technique with your hair? This enchanting look melts together neon greens with stunning indigo for a pleasing combination that's quickly enhanced with luscious loose curls.
Dark Blue to Silvery Lavender
Shock the nation with these delightful hair colors, a deep shade of blue found up top with a silvery lavender hue below. The look is surely an eye-catcher, and the vibrancy of these colors makes it a standout in any situation.
Straight Blue Mermaid Ombré: Straight Medium Hair
Her choppy medium-length cut is certainly cute, but it's given a regal, majestic makeover thanks to this enticing ombré. The half-n-half straight locks leave jet black roots with a tantalizing blue/green lower half that reminds us of the beauty of the ocean.
Double Blue Blend Ombré
Why settle for just one shade of blue when you can combine hues for a really fascinating finish? Leave your roots alone and let the lower half of your mane do the talking. This mix of light and dark blues is certainly pleasing to the eye while adding unique depth to her hair.